April 5, 2019 at 1:40 pm EDT | by Michael Radkowsky
ADVICE: paranoid after being cheated on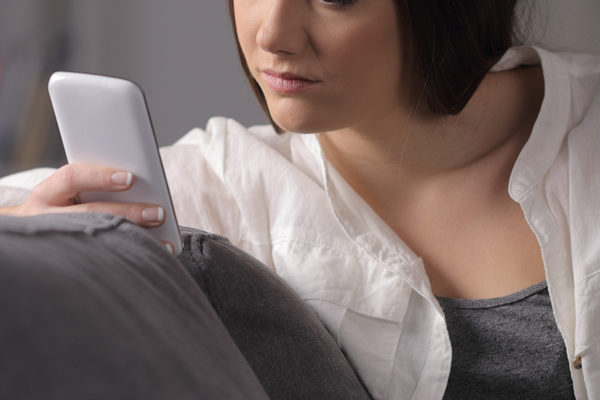 Dear Michael,
Last year I was in a terrible relationship with Paula. She was cheating on me with Linda, who was a friend of both of ours. I thought something was going on, but every time I asked, Paula convincingly lied.
After I saw a really suggestive text thread between her and Linda, Paula changed the password on her phone so I couldn't see anything. One night I really thought something was going on and listened outside Paula's dorm room and heard her having sex with Linda. I'm not proud of my behavior but if I hadn't snooped I would probably still be with her.
Now I am dating Kathy and can't get over my fear that I'm being cheated on. I think I'm being paranoid, but after last year it's hard to trust.
I am always paying attention to how Kathy is with other girls. Like the way she looks at an attractive woman or when she is spending time with someone else. Right now she is working on a project with a gal that I sense Kathy has some chemistry with and I am always anxious when they are getting together.
Kathy gets mad when I want to know where she is or when I ask her if she is interested in this or that person and tells me I should trust her. The problem is that Paula told me the same thing.
This really came to a head last week. I came into Kathy's dorm room when she was on her computer and she closed her browser window right away. When I asked why she did that, she told me I was being intrusive. Now I'm worried she isn't being honest with me.
I want Kathy to let me check her phone when I'm anxious, just to be sure everything is OK and she has refused. She said she is insulted that I don't trust her. I know I am being a little crazy but isn't this a reasonable request given my history?
I'm angry that Paula made me not trust people. I want to move on, but I wish Kathy would understand that I am on shaky ground right now and could use some reassurance.
Michael replies:
Stop asking Kathy for reassurance, pronto. You are going to have to find a way to reassure yourself.
How? By strengthening your ability to discern when you should trust your own judgment.
Here's the good news: You were suspicious of Paula when she really was cheating on you. This tells me you pay attention and have a good sense of reality.
So the question to ask yourself is how you decided to overrule your judgment when you suspected, over and over again, that something was amiss. It is worth your getting clear why you chose to keep listening to Paula to reduce the likelihood of ignoring your own wisdom, going forward.
I'm not saying that you should always trust yourself when you think something is amiss. There is no foolproof way to know when your intuition is right. But you certainly could get better at knowing when to pay attention to your sense of what's really happening.
Let's look at your current predicament through this lens. You think you are being paranoid. Should you trust your judgment of yourself here and conclude that Kathy really is being honest with you? Or not?
A complicating factor to consider is that you recently went through a betrayal that has left you hyper-sensitive to the possibility of more betrayal. This is a perfectly understandable response to a traumatic experience.
Knowing this, recognize that you are now looking at Kathy through a pair of glasses whose lenses are distorted by your experience with Paula. Being aware of this distortion may help you to see Kathy more clearly and clarify whether or not you want to trust her honesty.
Another factor to consider: There's no sure way to avoid future heartbreak or betrayal, short of staying single. So if you want to be in a relationship again, you're going to have to tolerate the possibility of being hurt.
In any event, repeatedly interrogating Kathy is an awful move for you to be making. You certainly can ask questions when there is reason to be suspicious. And if this is a serious relationship (or becoming one), Kathy's role as a loving and compassionate partner is to behave in ways that don't re-traumatize you.
But it's not Kathy's job to continuously soothe your old wounds. Questioning her every move or wanting to view her cellphone contents, simply because your previous girlfriend betrayed you, is insulting and intrusive.
Michael Radkowsky, Psy.D. is a licensed psychologist who works with LGBT couples and individuals in D.C. He can be found online at michaelradkowsky.com. All identifying information has been changed for reasons of confidentiality. Have a question? Send it to Michael@michaelradkowsky.com.