April 8, 2019 at 9:50 pm EDT | by James Wellemeyer
Md. House Speaker Michael Busch dies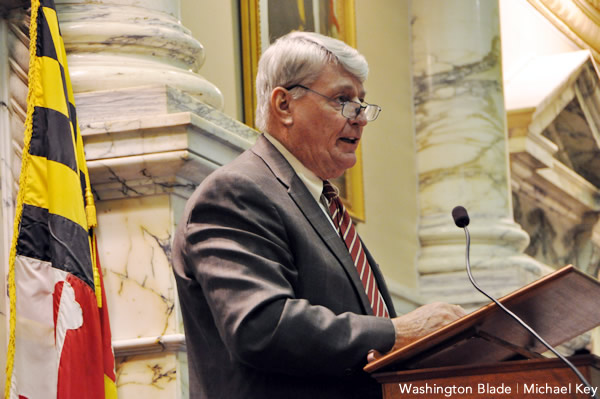 Maryland House of Delegates Speaker Michael Busch (D-Anne Arundel County) died of pneumonia at the University of Maryland Medical Center in Baltimore on Sunday. He was 72.
Doctors diagnosed Busch, who was the longest serving House speaker in the state history, with pneumonia after a follow-up procedure to his 2017 liver transplant. He originally received the transplant from his sister after doctors diagnosed him with nonalcoholic steatohepatitis. Busch told members of the House last week that he would miss the end of the legislative session due to his pneumonia.
Busch, a Democrat, became speaker in 2003 and played an important role in advancing LGBT equality in Maryland in the latter stages of his career. His advocacy largely began with the fight for marriage equality in 2012.
"When I first got to the legislature, he wasn't somebody who worked against us. But he wasn't our ally," former Maryland state Del. Heather Mizeur told the Washington Blade on Monday.
However, after a conversation with his two daughters, Busch became "our greatest ally," Mizeur said.
"He was pushing marriage before it was popular or easy to do, and I'm really honored that I had an opportunity to work under him," she told the Blade.
State Del. Luke Clippinger (D-Baltimore City), an openly gay member of the House who took office in 2011, remembers working with Busch to pass the marriage legislation.
"We thought we were four votes short in the House, and he asked me if I thought we should put a vote on the board anyway," Clippinger said. "The trust that he put in me, the trust that he put in other LGBT members is immense."
Then-Gov. Martin O'Malley signed the law in March 2012, but it was brought to voters through a referendum.
In the lead up to the November 2012 election, Busch and O'Malley co-hosted a fundraiser for the campaign to defend Maryland's same-sex marriage law. Voters upheld it, and it took effect on Jan. 1, 2013.
In 2014, Busch helped pass a bill in the House that banned discrimination against transgender Marylanders.
Clippinger, who sponsored the legislation, called Busch "a very strong supporter of the bill."
Beyond championing LGBT rights, Busch also backed the repeal of the death penalty, the decriminalization of small amounts of marijuana and the expansion of gambling. Busch also fought for environmental protections, and supported efforts to raise the minimum wage in the state during his tenure as speaker.
Busch joined the House in January 1987. Before his career in politics, he worked as a history teacher and sports coach at St. Mary's High School in Annapolis.
Maryland flags will fly at half-staff until Busch is buried.
In a statement on Sunday, Republican Gov. Larry Hogan called Busch "a giant in our government" and said the former speaker "cared deeply about improving the lives of Marylanders, and his legacy is evident in his many legislative achievements."
One of the top contenders to replace Busch as speaker is state Del. Maggie McIntosh (D-Baltimore City), an out lesbian.