April 9, 2019 at 11:17 am EDT | by Brock Thompson
10 great things about Mayor Pete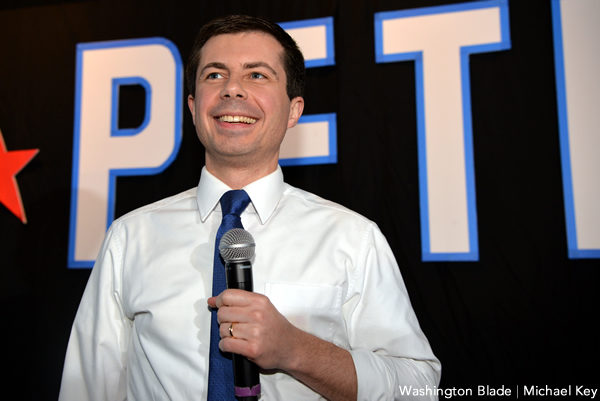 America is falling in love with Pete Buttigieg.
The gay mayor of South Bend, Ind., is in the exploratory phase in seeking the Democratic nomination for president. He's finding himself, among a very crowded field, being taken very seriously. And from what I've seen and heard, he's got a powerful combination of Kennedy youth, Bill Clinton's ability to connect, and Obama intelligence that might prove unstoppable during the primaries. He's now promising a serious announcement this Sunday. And ahead of that, I've assembled 10 awesome things about Mayor Pete.
Chasten Chasten Chasten! Let's just start with the obvious, this guy would make a great First Gentleman. Often introducing Mayor Pete at events, husband Chasten has a smile for days. A school teacher, a social media phenom, Chasten Buttigieg's warmheartedness and keen sense of humor makes a perfect match to Mayor Pete's calm and modest style.
Buddy the One-Eyed Dog. Chasten and Mayor Pete adopted a one-eyed shelter dog named Buddy. Buddy shares the home with Truman their other dog who currently has more Instagram followers than I do.
'Ulysses,' He Actually Read It. I've always contended that no one has ever actually read James Joyce's "Ulysses." Even Mayor Pete contends that it's a book that's more 'studied' than 'read.' But it remains his favorite book, so I have to believe he's indeed the only one. But gays have been known to connect with Ulysses and lines like ". ..think you're escaping and run into yourself. Longest way round is the shortest way home." Mayor Pete's memoir is titled "The Shortest Way Home." For all I know, he could have read "Ulysses" in Norwegian.
Did I Mention He Speaks Norwegian? Last month he was caught talking to a Norwegian reporter in fluent Norwegian. Apparently he's a polyglot. And I am clearly not because I had to Google that word. Mayor Pete speaks Farsi, Arabic, French, Italian, Spanish, and (no kidding) Maltese. Stack this up with the current occupant of 1600 Pennsylvania who at best speaks .75 languages and only speaks at a fourth-grade level according to a recent study. 
He's Adorable. He's just adorable. I mean, his political meet-and-greets are called "Pete and Greets."
And He's Unashamedly Christian. Last weekend as he toured the Sunday political news circuit, Mayor Pete took Trump, Pence, and their evangelical supporters to task, calling them out pointblank on their hypocrisy. If you're like me and are simply tired of conservatives acting as they own Christianity, this sort of rhetoric comes as welcome relief.
And he's a veteran. Mayor Pete was commissioned an officer in the Navy Reserve in 2009. He was even deployed to Afghanistan in 2014, that is, during his term as mayor of South Bend. If elected president, he'd be the first veteran to do so since George H.W. Bush. Important, considering conservatives have seemingly claimed patriotism with the same vigor as they have done religion.
And that makes him the anti-Trump. Soft spoken, intelligent, dedicated — many, many things about Mayor Pete make him the anti-Trump.
And the anti-Pence, too. If Mayor Pete doesn't secure the nomination, him securing a spot on the ticket is a very real possibility. And wouldn't it be great to match up two Indiana boys for that spot? One, an openly gay veteran against the other, the current Vice President who happens to be the most homophobic politician this country has ever produced. That's a match up I'd like to see.
And he's just 37. So if it's not his time right now, there's still plenty of time. But whatever shakes out during this process, I'm sure we'll be hearing a lot more about Mayor Pete.
Brock Thompson is a D.C.-based writer. He contributes regularly to the Blade.