April 11, 2019 at 4:06 pm EDT | by Evan Caplan
Hula Girl owner extols virtues of Spam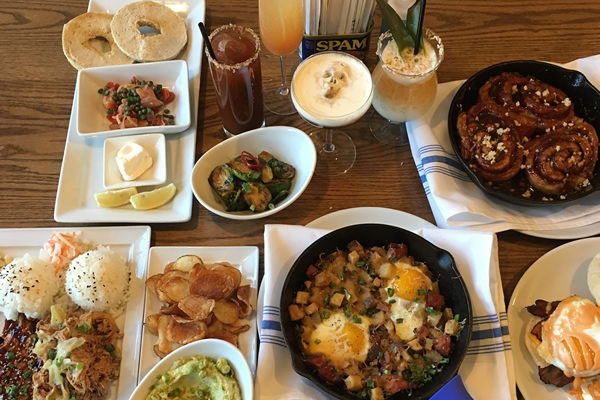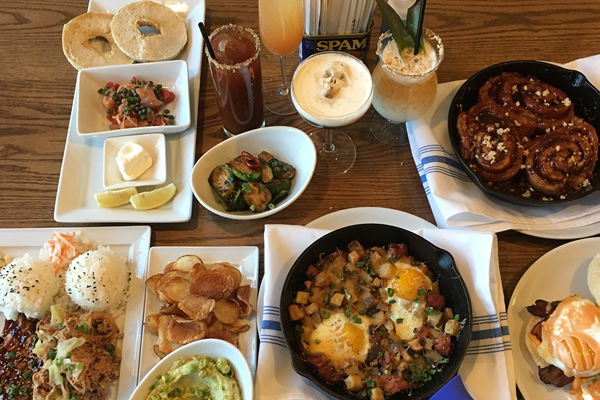 From rocker chick to Spam champion, Mikala Brennan of Hula Girl Bar & Grill (4044 Campbell Ave., Arlington), brings her signature mahalo island vibes to D.C., all while being loud and proud.
Self-styled as "chef/owner/dishwasher" of the restaurant, Brennan's tiki roots and gay identity mean that she likes to stir things up, whether at the bar or "slinging Spam to the masses," she says.
In 2011, Brennan introduced her love and passion to D.C.: Hawaiian food. Before that, however, she was a bit of a rocker.
"I lived in San Diego for 10 years where I learned to cook and also had a band," she says. After moving to D.C. to work for Marriott and then traveling as a hospitality consultant, Brennan settled back in the District to return to her food (and family) roots.
"The truck was inspired by my mom, who ended up in Hawaii after meeting my dad on the beach," she says. And as a child, there was always cooking in the kitchen and kitsch in the living room.
"My mom had a lot of gay friends," she says. "They would come by the house, drink horrible Mai Tais, and do everyone's hair. By the end, they were totally sauced." Brennan says her own hair took weeks to recover from that hangover.
But Hawaii was conservative culturally and it took her leaving home to come out. But while the girl has left Hawaii, Hawaii hasn't left the girl.
The truck — and later restaurant — pay homage to her family's culinary roots.
On the truck, Brennan's focus was "plate lunch": a meat, like braised pork or grilled fish, atop rice and alongside macaroni salad.
Of course, there's the true Hawaiian special, the Spam musubi.
Brennan's true love is for this beloved tinned meat.
"It's so damn good," she says, but "it gets a bad rap."
Spam musubi is a convenience-store special of marinated grilled Spam resting on a rectangle of rice, wrapped in nori. Brennan also serves it tempura-style, deep-fried and touched up with teriyaki and spicy mayo.
Though Andrew Zimmern, on his "Bizarre Foods America" show, expressed dislike for it, Brennan says "most people that try Spam love it. And the official Spam handle even follows us on social media."
For her, the truck became not just a passion, but a job.
"There were so few of us back then — we helped define an industry here in D.C.," she says. (Brennan even took a couple shifts at fellow gay-food-trucker BBQ Bus to get her feet wet.)
Having served Spam on TV, Brennan wanted to go brick and mortar. In November 2015, Hula Girl Bar & Grill arrived in the Village at Shirlington.
Brennan keeps the restaurant low-key, in Hawaiian spirit. Sure, surfboards hang from the ceiling and flip flops from the wall. Requisite dancing hula statuettes sway in grass skirts (including one of President Obama, himself a Hawaii native). But the blonde wood paneling and retro low-slung blue vinyl chairs give off more calm than crazy.
The restaurant also "was set up to be non-gender-specific. I take great pains to have a safe workplace," she says. Brennan earned her cooking education in progressive California kitchens, not at formal French institutions.
As it happens, she has an all-female kitchen staff. They helm spots that "aren't usually run by women, like the grill. It's a very different vibe," she says. "I've brought on men with incredible pedigrees, but they just don't last."
These chefs churn out street food while also elevating a cuisine that has too often taken a back seat to tropical cocktails (though those make appearances too).
Hawaiian food "is a melding of cultures, including traditional island, Japanese, Chinese, Filipino, American and Portuguese, but it's comfort food at the end of the day."
Diners may gravitate toward trendy poke bowls, but Brennan steers them to items she's just as passionate about.
Among napkin-necessary starters are the sticky glazed root-beer ribs. Mains include banana-leaf ensconced pork and cabbage, and the Loco Moco: two burger patties and two fried eggs smothered in mushroom-onion gravy. And there's always Spam.
Brennan wouldn't be herself without something shaking behind the bar. The signature cocktail is the Hula Girl Mai Tai, of rum, ginger, bitters, juice and a black rum float ($14). Also Hawaiian: the pineapple sparkling wine, straight from Maui. Hawaiian draft beers also make appearances.
Hula Girl, though infused with rocker-girl fun, is about inclusion.
"I just want people to fee like they belong."