April 26, 2019 at 10:23 am EDT | by Evan Caplan
Gay-welcoming straight bar Ugly Mug makes up for losses on Barracks Row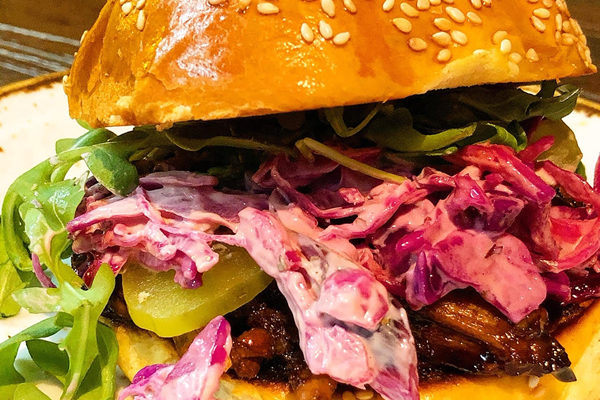 When one bar's doors close, another bar's doors open even wider.
The gay scene in Capitol Hill has felt some pain over the past several years after the closing of Remington's and Phase 1. Enter The Ugly Mug, an unlikely replacement to as host for that neighborhood's LGBT community.
It's like Nellie's in reverse.
An unassuming sports bar, The Ugly Mug sits along 8th St., S.E. on busy Barracks Row. The far side of swank, it attracts Capitol Hill staff, Southeast locals and sports fans seeking a no-judgment atmosphere and classic pub snacks. During its 15-year tenure, the bar has added some elements, a new retractable roof, for instance, but has maintained its relaxed, no-pretense atmosphere. Yet over the bar's service of slinging beers and burgers, the city has changed and the bar's clientele with it.
At its outset, owner Gaynor Jablonski (who's straight) says he, "saw a need for a place where Hill interns, neighbors and everyone in between could just grab a drink and watch the game. And that's still at the core of our business — sports and beer."
He says the bar has always been an inclusive space. As the LGBT-forward bars closed, "the customers who frequented them are still here," he says. Plus, Barracks Row still has its charm — it's its own little community — so it's really about reminding everyone that they're welcomed here."
While those same customers reported having trouble finding bars that were truly open to them, "that was never an issue for us," Jablonski says.
The beginning was simple. A local LGBT group held one event there. Later, "the organizers realized that their crowd really enjoyed the experience and our team also enjoyed it," he says.
Of course, Jablonski recognized that taking in these new customers signifies business gains, especially on nights that might otherwise be quiet. But at the same time, the bar has explicitly created an atmosphere of welcoming inclusivity.
"We're glad that we can provide a safe space," he says.
Some local organizations that now make a home at The Ugly Mug include D.C. Rollergirls and Ebony Pyramid. For D.C. Rollergirls, a flat-track skating league with a strong lesbian presence, the bar provides food and drinks during the team's exhibitions. Ebony Pyramid, a social and charitable group with a mission to serve African-American and minority LGBT communities, hosts many of its own events at the bar, including weekly gatherings on Tuesday evenings.
The Ugly Mug will play host to Black Pride events in association with Ebony Pyramid.
Jablonski says The Ugly Mug has stayed true to its roots, offering "all the great things about sports bars," like rotating draft beers, a full bar and pizza, burgers and wings, as well as karaoke and live music nights.
Yet because The Ugly Mug recognized that the neighborhood residents needed a place to go and be comfortable, to carve out a niche that no longer existed, the bar has become more than just a place to catch a Nats game.
The owner and staff don't consider The Ugly Mug to be a gay bar, but the establishment's evolution to a space that is treated and understood as one sets it apart. More than accepting, it actively supports the LGBT community. As some LGBT bars close, and others completely or purposefully lose their LGBT identities, The Ugly Mug represents a move in the opposite direction.