April 19, 2019 at 9:42 pm EDT | by Kevin Majoros
Local hockey enthusiast working to revive gay D.C. league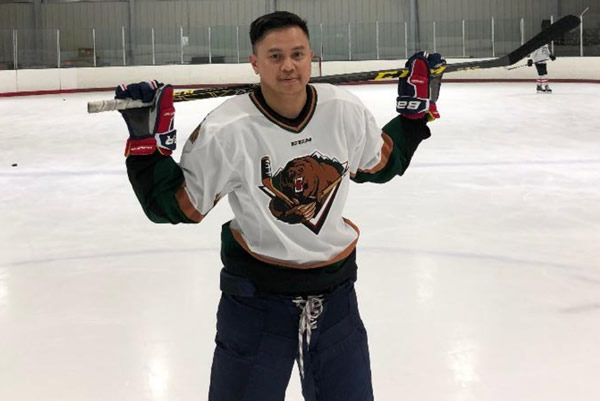 After a long absence in Washington, hockey for gays has reemerged as Gay Hockey D.C.
In the mid-2000s, a loosely held together group of LGBT hockey players were active in D.C., even fielding a team for the Gay Games. When Justin del Rosario began searching the area for an LGBT-inclusive group, he discovered they had disbanded.
Growing up in the San Francisco Bay area, del Rosario participated in judo but found the competitive aspect to be stressful.
At the University of Utah, he was in the ROTC program and served in the Utah Army National Guard. He was called to active duty after 9/11 and his duties included a stint in Hawaii with the Department of Defense.
A new assignment brought del Rosario to the D.C. area and after turning 40, he began setting new goals for himself including learning how to play hockey.
Last July, he began taking adult classes at the MedStar Capitals Iceplex and has advanced through its hockey skating skills curriculum. Realizing he loved what he was doing and wanting to share it, he began the research to form an LGBT-based hockey group.
"I want to provide a foundation for people who are interested in the sport," del Rosario says. "I am drawing on my professional work experience which includes an ability to organize people."
He started by contacting a local coach and reaching out to the Washington Capitals. He then established communication with other LGBT-based hockey organizations like the New York City Gay Hockey Association and Boston Pride for guidance on their experiences and partnerships.
Last fall, Gay Hockey D.C. began hosting periodic Hockey Brunch Sunday events to solicit perspective members. It was an opportunity meet people, learn about their experiences and build momentum.
"We are customizing what we offer to fit the hockey climate in D.C.," del Rosario says. "Hockey players tend to join multiple groups and there are a lot of beer leagues in the area."
On Saturday, April 20 from 1:30-2:40 p.m., Gay Hockey D.C. will hold its first "Stick-n-Shoot" event at MedStar Capitals Iceplex. It will be the first step on the ice in the journey to forming a team.
"I have been drawn to hockey since watching it as a kid at the Olympics," del Rosario says. "We are hoping to build a strong gay/straight alliance and share the sport to a wider community of people who might not have played otherwise."