April 19, 2019 at 7:58 am EDT | by Patrick Folliard
Signature's 'Grand Hotel' is character-driven wonder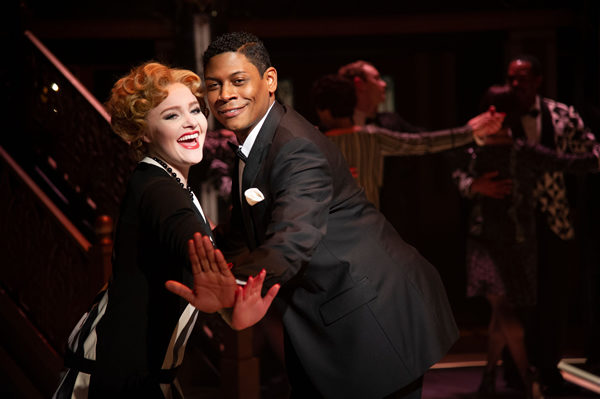 'Grand Hotel'
Through May 19
Signature Theatre
4200 Campbell Avenue, Arlington
$65-112
703-820-9771
"Grand Hotel" (now at Signature Theatre) is open for business. And from the look of the Berlin hotel's swank lobby, it seems the epitome of elegance and order. But beneath that sleek façade lies something entirely different.
Both guests and staff have a story and Robert Wright & George Forrest's score gives them a chance to tell it. For instance hotel resident Colonel-Doctor Otternschlag (Lawrence Redmond), a veteran of the Great War with the scars and a morphine habit to prove it. His stabbing a needle into his forearm gives a glimpse into the place's underbelly.
Gravely ill Otto Kringelein (out actor Bobby Smith), the shabbily dressed accountant whose room reservation is reluctantly honored only after prized guest Baron Felix von Gaigern (Nkrumah Gatling) vouches for him, is one. He's cashed in his life savings to at last live large and shake his lifelong schlemiel status before he dies. And the handsome, young Baron who came to his assistance? He's living on lies, theft and his good looks.
In large sumptuous rooms, fading prima ballerina Elizaveta Grushinskaya (Natascia Diaz) seeks refuge from her very public professional demise. She wants to be alone. Her slavishly devoted assistant Raffaela (Crystal Mosser) longs for her boss to retire so they can retreat to a romantic villa far from what's left of the fans and entourage. Just when it finally seems that dream is near, the Baron reinvigorates the dancer's passion as evidenced in the actors' chemistry.
And then there's Flaemmchen, a bleached blonde secretary with Hollywood ambitions, who isn't averse to trading on her youth to hurry things up. Winningly played by Nicki Elledge (who looks plucked from the era), the appealing Berliner is called to the hotel to take dictation from an increasingly unsavory businessman, General Director Preysing (Kevin McCallister), and reconsider her destiny.
Set in the 1928, the show hints at portending economic and social upset, but for the moment, it's a frantic pursuit of fun. In the hotel bar, there's Charleston dancing, flowing cocktails, a male couple tangoing and The Jimmys, an African-American song and dance team played by Ian Anthony Coleman and Solomon Parker III, singing their jazz hot number, "Maybe My Baby Loves Me."
But a harsher reality exists below stairs for the hotel's underpaid scullery workers, telephone operators, and onsite hookers. Young reception clerk Erik (Nicholas McDonough) works endless back-to-back shifts and deflects unwanted passes from his amorous boss Rohna (out actor Ben Gunderson) while his wife languishes in a hospital across town. It's not easy.
The Tony-winning 1989 musical is based on Austrian writer Vicki Baum's 1929 novel. The book was also adapted to the big screen with the star-studded 1932 MGM film featuring Garbo, two Barrymores and an ascendant Crawford.
At less than two- hours without intermission, Signature's fleet-footed production confidently helmed by Eric Schaeffer, features peppy numbers choreographed by Kelly Crandall D'Amboise and melodic if not particularly memorable music, played by an able orchestra tucked out of sight behind a scrim on the lobby's mezzanine floor.
Set designer Paul Tate dePoo III transforms Signature's large Max space into a luxe two-story art deco oasis. Out designer Robert Perdziola's costumes the cast in a grayscale palette of clothes from era. Diaz's ballerina is in fur trimmed, Erté-inspired traveling attire. Each look suits the wearers' function and rank.
Ultimately, stories wrap up abruptly and somewhat unsatisfyingly. The evening's most compelling aspect is its look into the lives of two woman — one chasing a dream and the other losing her grip on success. While very different, Flaemmchen and Grushinskaya, (excellently assayed by Elledge and Diaz) are both resilient and moving forward.
In "Grand Hotel," classes and kinds intersect, if only for a short time, creating a mix prime for intrigue, romance, friendship and tragedy.