April 12, 2019 at 5:20 am EDT | by Patrick Folliard
Rarely performed Tennessee Williams work cleverly staged by Rainbow Theatre Project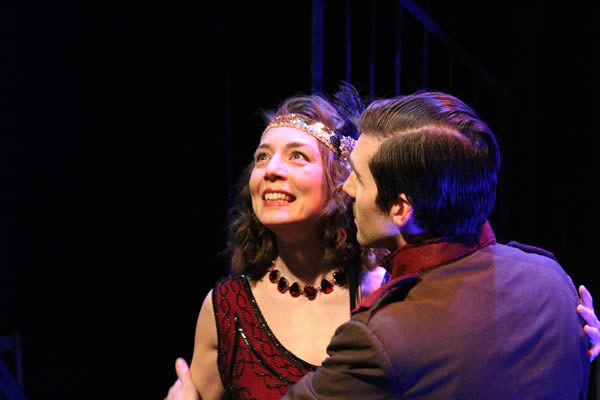 'Clothes for a Summer Hotel'

Through April 28

Rainbow Theatre Project

DC Arts Center

2438 18th St., N.W.

$35
"Clothes for a Summer Hotel" may never be your favorite Tennessee Williams' play, but it's definitely worth seeing. And now's your chance with Rainbow Theatre Project's engaging take on the legendary out playwright's seldomly staged, poignant late work.
By peeking into the failed relationship of famed novelist F. Scott Fitzgerald and wife Zelda, Williams' also explores his own struggles. He employs metaphor, lyricism, his trademark wit and returns to subjects close to his heart: madness and tragic women. Tales of the Fitzgerald's high times — jumping into fountains, dancing and popping Champagne corks — aren't the focus here.
From the top, Williams tells us it's a "ghost play," all of it characters are dead and time and place are fluid. So, unlike "A Streetcar Named Desire" and his memory play "The Glass Menagerie," chronology isn't straightforward. The characters know their pasts, presents and their future fates. This lack of linear narrative is one of the reasons the play was almost uniformly panned by reviewers when it premiered on Broadway in 1980. But don't let that deter you.
The action takes place over a one-day visit at Highland, a windy hilltop asylum near Asheville, N.C., where Zelda Fitzgerald (Sara Barker) spent time and ultimately died in a fire in 1948. When we meet her, she's futilely pursuing ballet and undergoing insulin shock therapy.
After a long absence, Scott (Aiden Hughes) has flown in from Hollywood where he scribbles screenplays without much success. He's in ill health and his star has dimmed (it will regain its literary luster in a decade or so); still he's eager to see his wife whom he's been told is a dramatically improved. Instead, he finds a disheveled woman dressed in a sad tutu, angry and unhappy.
Looking equally out of place in his summer suit and white bucks (he packed in haste), Scott is peeved. He's uncomfortable with the familiarity shown his wife by some of the Highland staff, particularly a soothingly creepy intern (Brian J. Shaw). Soon, it's revealed that the couple's storied marriage is over amidst an almost ponderous exchange of recriminations.
Clearly, Williams finds in Zelda yet another wronged, faded belle. She's vulnerable, tough and borderline hysterical. As Zelda, Barker gives glimpses of the beauty and wit that made her the Jazz era's favorite party girl, and the pathos and frustration brought on by mental illness. Barker's is a nuanced performance.
Out director Greg Stevens has lovingly made some additions including The Writer, a stand-in for Williams played by actor Matty Griffiths, who is creating the play as it unfolds. Perched upstage sipping gin, pecking at his manual typewriter, he occasionally reads aloud  Williams' lively stage directions. A pair of German nuns (Barbara Papendorp and Mary May) made jolly by the contents of a shared silver flask, stand guard at the asylum's looming Gothic iron gates (designed by Stevens). And talented Erin Gallalee who plays a manic former Hollywood hairdresser, now patient, intermittently sings bluesy songs from the era. 
The second act take a break from the sanatorium, and gives the able cast further opportunities to shine. It's the 1920s, Scott and Zelda are killing time on the French Riviera where Zelda (turned out in in a chic gown compliments of designer Maria V. Blissex) is consummating a flirtation with Edouard (also Shaw), a dashing French aviator, while a briefly sober Scott holes up alone, trying to write.
Next, it's a swank party at a nearby villa belonging to famed American golden couple of convenience, Gerald Murphy (Seth Rosenke who also plays Zelda's psychiatrist) and Sara (May). On hand are Scott's contemporary Ernest Hemingway (wonderfully underplayed by Griffiths) and wife Hadley (Gallalee). Barbara Papendorp is a hoot as partygoer Mrs. Patrick Campbell, a grand dame and former actress who deflects insults and levels witticisms with equal aplomb.
But among the revelers, Zelda and Scott are singularly miserable: She because Edouard has left her and he because his literary idol Joseph Conrad has died and no one seems to care. Certainly, Sara is more concerned with a drunken Scott possibly breaking her baccarat crystal.
In a subtly rendered and well-acted scene, Hemingway and Scott slip away to discuss their uncomfortable friendship. They reminisce about a trip to Lyon when a vulnerable and still pretty Scott became ill and Hemingway nursed him through the night. What else might have happened that night is pure conjecture. But Williams fans the flame of rumor. 
Throughout "Clothes for a Summer Hotel," Zelda is haunted by a fiery red-colored bush on the asylum grounds. At one point, she recalls how she was never afraid of death, but that was before she knew how she would die. Pure Williams. Poetic and unsettling.