April 25, 2019 at 1:49 pm EDT | by Mariah Cooper
'Andi Mack' canceled after three seasons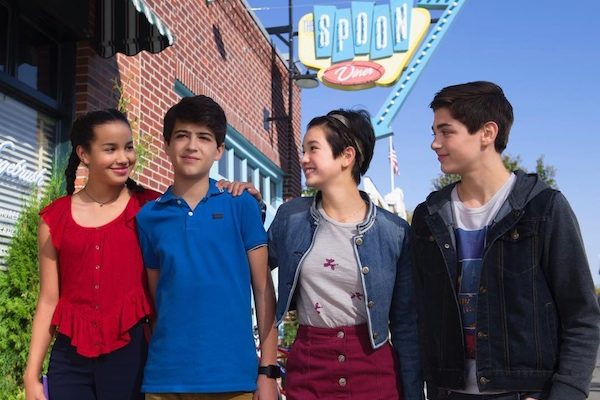 Disney Channel has canceled its groundbreaking coming-of-age tween series "Andi Mack" after three seasons.
The series was the first Disney Channel show to feature a coming out storyline on its channel. It also was the first show to have a character say the words "I'm gay" on the channel.
"Andi Mack was a labor of love for a room of impassioned, inventive writers, a talented and dedicated crew, and an extraordinary, miraculous cast who inspired us all," series creator and executive producer Terri Minsky said in a statement via Deadline. "We had the honor of breaking a lot of new ground for Disney Channel. We were its first serialized show, its first series centered around an Asian American family, and its first to feature an LGBTQ character who spoke the words 'I'm gay.' But the best part of making Andi Mack was our audience, who let us know we mattered to them. The series finale is for them."
Deadline reports that the series finale will air on Friday, July 26. New episodes begin airing on Friday, June 21.
Fans expressed their frustration with the show's cancellation on social media.
what andi mack has:

cultural rep
gun control rep
lgbt rep (CANON gay character)
female empowerment rep
mental illness rep
disability rep
just the amount of inclusivity and diversity is insane + it was and IS their most popular show

why it was canceled is beyond me.

— kira 𓃵 | blancita | JASMYNS DAY! (@lannistersjoy) April 24, 2019
isn't andi mack like one if the most watched shows on disney? this is bullshit they're literally so dumb

— alex is gonna floor Disney (@godtiertyrus) April 24, 2019
there's not a single disney show that gave us as much diversity & awareness of such complex and important topics the way andi mack did. learning disabilities, asian representation, lgbt rights, anxiety/panic attacks, teen pregnancy, deaf representation. wake tf up #saveandimack

— rafiah | #saveandimack (@rafiahtarannum) April 24, 2019