April 25, 2019 at 12:35 pm EDT | by Lou Chibbaro Jr.
GLAA celebrates 48th anniversary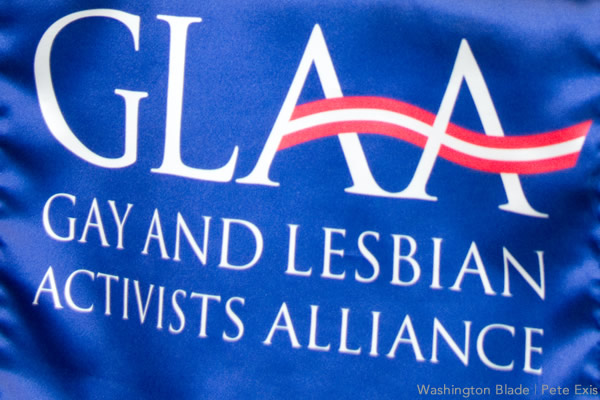 D.C. Council Chair Phil Mendelson (D-At-Large) and fellow Council member Jack Evans (D-Ward 2) were among more than 50 community leaders and LGBT activists and their supporters that turned out on April 18 for the Gay and Lesbian Activists Alliance of Washington's 48th anniversary reception.
GLAA is the nation's oldest continuously active LGBT civil rights organization. It has been credited with playing a lead role in advocating for and monitoring the implementation of virtually all of D.C.'s LGBT rights laws and policies, including the city's 2009 law legalizing same-sex marriage, since its founding in 1971.
The event took place at the Lost Society restaurant and nightclub at 2001 14th Street, N.W.
Also attending the event were Monica Palacios, director of the D.C. Office of Human Rights; and members of the D.C. Metropolitan Police Department's LGBT Liaison Unit, including the unit's supervisor, Sgt. Nicole Brown, and Lt. Brett Parson, who oversees all of the department's liaison units.
Mendelson and Evans presented the non-partisan GLAA with a ceremonial resolution passed unanimously by the D.C. Council praising GLAA for its work on behalf of the LGBT community and the city as a whole, among other things, for its longtime advocacy for D.C. home rule and against congressional interference in D.C.'s local affairs.
Sheila Alexander-Reid, director of the Mayor's Office on LGBTQ Affairs, presented the group with a proclamation issued by Mayor Muriel Bowser recognizing GLAA's work over its 48-year history and declaring April 18 Gay and Lesbian Activists Alliance Day in the District of Columbia.
D.C. Congressional Delegate Eleanor Holmes Norton (D-D.C.) earlier this month spoke on the floor of the U.S. House of Representatives about GLAA and its work.
"Today, I rise to ask the House of Representatives to join me in recognizing the 48th anniversary of the Gay and Lesbian Activists Alliance of Washington, D.C.," Norton said in a message recorded in the Congressional Record.
GLAA used the occasion of its anniversary reception to present its annual Distinguished Service Award to two organizations and an individual in recognition of their service to the LGBT community and the city.
The Distinguished Service Award recipients this year included Center Global, a program of the D.C. Center for the LGBT Community that provides support and services to LGBT immigrants seeking political asylum in the United States; Compassion & Choices, a national organization that advocates for end-of-life care and choices for terminally ill patients; and Diego Miguel Sanchez, an award-winning international public relations, marketing, and diversity management expert, transgender rights advocate and current Director of Advocacy, Policy & Partnerships for the national LGBT group PFLAG.
"A lot of folks think that with the accomplishment of marriage equality in the District the work of GLAA has passed," Mendelson told the Blade at the GLAA reception. "But civil rights is never ending and the work of GLAA needs to continue," he said.
Evans agreed with that assessment, saying it's important that the younger generation of activists know about GLAA's long history in pushing for LGBT equality in D.C.
"Our work is never done. It can slip away as fast as we got it," Evans said. "And particularly what you see with the Trump administration there are those who would turn the clock back," he said. "And so we have to be vigilant, we have to be ever forceful and we have to always advance the cause, and that's why GLAA is here today and will be here tomorrow," Evans said.
"I felt we had a wonderful event," said GLAA President Bobbi Strang. "We could not have done it without all the assistance from our different members and we had wonderful honorees this year," she said.