May 3, 2019 at 8:30 am EDT | by Marion McFadden
Hey, you with the ovaries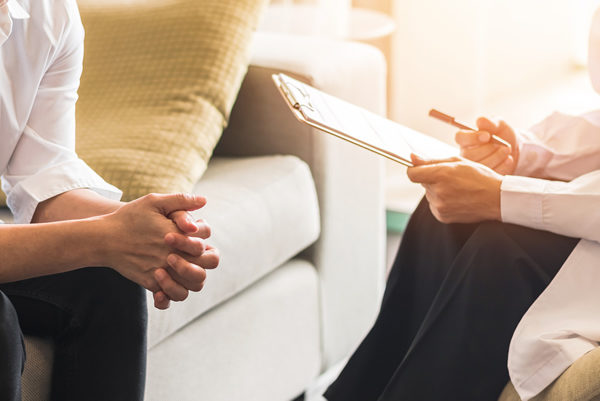 Trans men who have preserved your reproductive system and cis female queers, I'm talking to you. I want the chance to save your life.
I first heard the word ovarian when I was 10 and developed a cyst the size of a grapefruit. I had been feeling bad off and on for months, suffering from abdominal pain that my pediatrician said was simply made up so I could get out of going to school. The doctor's dismissiveness seemed off to my mom, since I liked school, but she didn't push for a second opinion. It came to a head when I was at a sleepover at my best friend's house and I said no when she asked me to go swimming. It was so out of character for me to lie around passively that my parents were called. A few hours later I was in the emergency room, sliding slowly and painfully flat on my back through a CT machine. Both the cyst and the ovary were removed the next day, and after recovery I didn't give it too much thought.
At some point last year, at 45 years old, I felt sick in several different ways, but didn't understand how serious the combination of subtle symptoms could be. I had unusually bad cramps, which I haphazardly decided that meant I was going into early menopause. I felt bloated and attributed it to drinking too many fizzy drinks, even though it never went away. I had an upset stomach that didn't respond to over the counter medications so I thought maybe I had IBS or had become gluten intolerant. Even though I was eating less, I got bigger around the middle, but by then it was the holidays so I shrugged it off. I had to urinate frequently at night, but I thought maybe it meant my diabetes medication needed to be increased, so I made a mental note to mention it at my next trip to the endocrinologist. I had lower back pain, which I figured was just a normal middle age thing. I blamed my incessant work travel for my swollen ankles and fatigue.
On their own, each of these symptoms was subtle, explainable. I had gotten an annual checkup with Pap smear less than a year before, so a gynecological problem never crossed my mind. Then the bloating demanded my full attention. I felt full most of the time, and there was a hard spot in my belly like constipation that wouldn't go away, even though I was occasionally having diarrhea. When I looked down at my belly and it reminded me of being pregnant, there was no explaining that away. Soon I was flat on my back, getting ultrasounds and sliding through a CT machine, as scared as when I was a child. Tests identified an ovarian tumor roughly the size of a football, which was determined during surgery to malignant.
Because the individual symptoms of ovarian cancer are subtle and there is no early detection screening, most people are not diagnosed until the cancer has metastasized to stage 3 or 4. This means that more than 50 percent of us do not make it five years from diagnosis. However, more than 90 percent of people who are diagnosed in the early stages live more than five years, so listening to our bodies is critical. I am amazed that despite ignoring the warning signs, I still ended up in the category of people diagnosed early, with stage 1 cancer – because the tumor was unusually non-aggressive and had not spread. 
My mother used to say, it's a sign of intelligence to learn from other people's mistakes. Please be smarter than I was. Pay attention if you experience persistent bloating, pelvic or abdominal pain, trouble eating, feeling full quickly, upset stomach, fatigue, changes in your bathroom habits, back pain, or painful intercourse. My oncologist said to seek medical attention if you have these kinds of symptoms for two weeks out of four. Go to your regular gynecologist, Whitman-Walker, Planned Parenthood, or the exceptionally good certified nurse-midwife at Takoma Park Gynecology. Queer-friendly medical professionals are all over the D.C. metro. I'm rooting for you. 
Marion McFadden is a public interest lawyer who lives with her wife of 20 years and their kids in Takoma Park. May 9 is World Ovarian Cancer Day.