May 4, 2019 at 9:00 am EDT | by Brian T. Carney
Dr. Ruth chats about her life in advance of new Hulu doc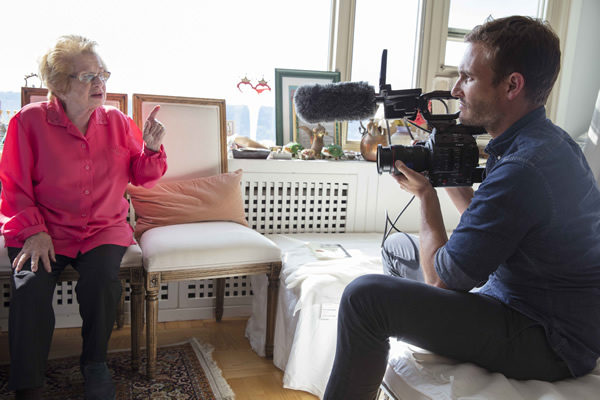 Dr. Ruth's sex advice boils down to one bedrock principle: "respect is not debatable."
And although she's been a longtime champion of LGBT rights, her most basic sex advice could apply to anyone.
"There is not such thing as normal," she says during a phone interview. "Anything two consenting adults do is all right. I hoped that by saying that publicly a lot of people would listen to it. Young people must know there is support for them."
At age 90, revolutionary sex and relationship therapist Dr. Ruth Westheimer is still going strong. The diminutive doctor with the thick German accent, the distinctive voice and the trademark cackle is still teaching college classes, lecturing around the world and working on a new edition of "Sex For Dummies."
She's also promoting "Ask Dr. Ruth," the excellent new Hulu documentary about her amazing life. The movie, which opened at the Sundance Film Festival, opened theatrically in D.C. Friday at the Landmark Bethesda Row Cinema and drops on Hulu on June 1.
Dr. Ruth Westheimer was born Karola Ruth Siegel on June 4, 1928 near Frankfurt Germany. In November 1938, on the morning after Kristallnacht, her beloved father was arrested by Nazis. Shortly thereafter she was sent to a boarding school in Switzerland as part of the Kindertransport.
Both her parents were killed in the Holocaust. In the movie, Westheimer makes a poignant visit to Yad Vashem, the World Holocaust Remembrance Center in Jerusalem, to commemorate their lives and to come to terms with her own status as a Holocaust survivor.
After the war, she moved to Israel where she served a s a sniper and was badly injured in 1948 during the Palestine War. She moved to Paris with her first husband in 1950 and emigrated to America with her second husband in 1956.
She married her third husband, Fred Westheimer in 1961; the two lived together for over 30 years until his death in 1997.
Following years of education and specialized training in human sexuality, as well as a stint working for Planned Parenthood in Harlem, Dr. Ruth stumbled into broadcasting. Her first show, "Sexually Speaking," debuted on WYNY-FM in 1980. Although it only ran for 15 minutes every Sunday at midnight, it quickly became a media sensation. By 1982 it was the highest-rated radio show in the New York market and by 1983 the show was syndicated nationally.
Soon, Dr, Ruth was hosting television shows, making appearances on late night television, writing best-selling books and holding court as a frequent guest on "The Hollywood Squares."
But, in the middle of this media frenzy, there was serious work to be done. Dr. Ruth was a pioneer in openly discussing female sexuality (she famously made talk show host Arsenio Hall say the word "vagina" on air) and in supporting gays.
She was also one of the first public figures to publicly discuss the HIV/AIDS crisis.
"I had a couple of friends that died of that mysterious disease that nobody really had a name for," she says."I remember I went to visit one friend. I brought him a teddy bear and the next day he was dead. Gay people were a despised minority. As a German Jewish refugee, I took it very seriously. I had a lot of friends that died."
Even with the advent of PrEP, Dr. Ruth is still anxious about the transmission of AIDS and other STIs.
"I'm worried about young people," she says. "They say, 'We have a medication so there's no big deal.' That's a terrible mistake."
The media-savvy therapist, who says that she will never retire, thinks that this year's Pride celebrations are a great opportunity to reinforce the message about safer sex.
"You have an obligation to talk to younger people. Use the anniversary of Stonewall to talk about sex."
"Ask Dr. Ruth" is directed by Ryan White, award-winning director of the documentary "The Case Against 8" and the Netflix docuseries "The Keepers." Westheimer and White were introduced by producer Rafael Marmor. Dr. Ruth was reluctant to have a movie made about her, but she agreed after she saw "No Place on Earth," a 2012 documentary that Marmor produced.
"You should mention that film," she says. "It's about 31 Jews who survived World War II in an underground cave in Poland. I watched the film and I was very impressed. I was also very taken by the title because that was my story. After World War II where would I have gone? They had to create Palestine so every Jew had a place to go."
Beyond her advice on good sex and great orgasms, Dr. Ruth is strictly non-partisan and avoids discussing topics where she feels she has not done the necessary research, saying, "I have made it an absolute rule of my life not to talk about things that are not my expertise."
But there are some issues Westheimer does feel compelled to discuss.
"I don't do politics except to stand up when I see children being separated from their families. That's my story. And abortion must remain legal and I am very worried about funding for Planned Parenthood."
Dr. Ruth is also very worried about the rise of anti-Semitism in the United States, but overall, she remains hopeful.
"I'm a big optimist," she says. "I love this country. For me, America is a very wonderful place. It will survive. These are difficult times, but we will survive."
And, as the wonderful documentary "Ask Dr. Ruth" clearly illustrates, Westheimer is definitely a survivor.