Rehoboth legends Pamala Stanley and Magnolia Applebottom primed for summer '19
Their favorite meals, hidden gems, on-stage experiences and more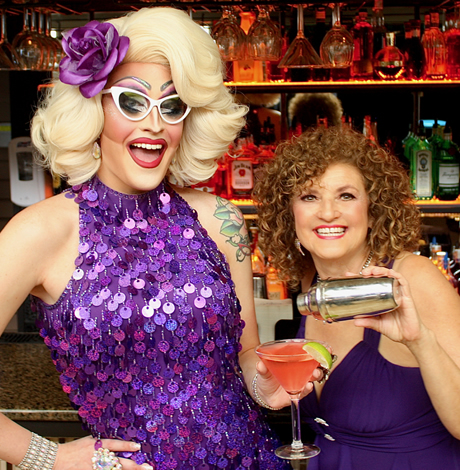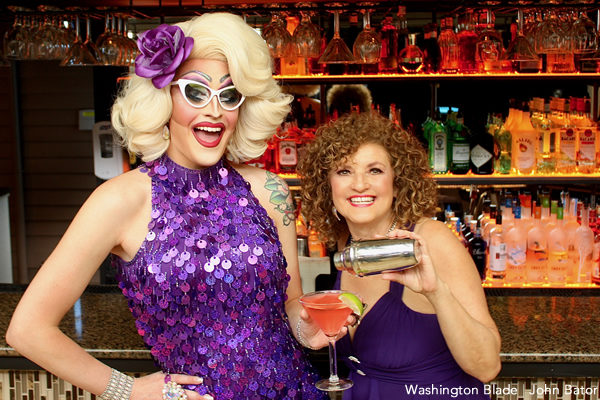 It wouldn't be summer in Rehoboth without the legendary Pamala Stanley and — in more recent years — drag virtuoso Magnolia Applebottom (aka Jeremy Bernstein). Rehoboth regulars know what it's like to experience them in performance, but what's it like from their perspective? Just for fun, we turned the tables on them to find out.
Stanley performs cabaret and dance at the Blue Moon (35 Baltimore Ave., Rehoboth Beach, Del.) Sundays-Thursdays from 6-8:30 p.m. all summer and into September. Magnolia is a very busy lady. She hosts bingo on Tuesdays at 9:30 p.m., "Rehoboth Idol" on Wednesdays nights (through July 3; after that it's "Games With Magnolia in that time slot), the Spotlight Show (drag) Fridays at 9:45 p.m., she's in the Legends show every Saturday at 9:30 p.m. (she does Cher, Celine Dion, Gaga, Reba and Freddie Mercury) and Climax with Magnolia is Sunday nights at 9:30. "Born This Way: a Pride Drag Show" is at the Milton Theatre with Magnolia on June 7. Full details here.
WASHINGTON BLADE: How long have you been in Rehoboth and what drew you here?
MAGNOLIA APPLEBOTTOM: I have been visiting Rehoboth since I was a teenager. I moved to the beach in 2015 after I started working at the Blue Moon full time. Rehoboth Beach has always felt like home to me. I've always felt comfortable and safe. The community was welcoming from the start so I knew I had to live here.
PAMALA STANLEY: I first came to Rehoboth in the '90s and played at The Renegade. Then I was booked in Puerta Vallarta and Tim and Randy, owners of the Blue Moon, saw me perform and asked if I could come to Rehoboth. That was 14 years ago. I fell in love with this sweet town and although I still perform around the country, I call this my musical home.
BLADE: When you're not working, what's your favorite Rehoboth Beach activity?
APPLEBOTTOM: I always enjoy walking Rehoboth Avenue and the boardwalk. It's exciting to see what new shops and restaurants open every year. And having cocktails is fun too!
STANLEY: Walking on the boardwalk or having a lovely drink looking at the water.
BLADE: What's a hidden gem?
APPLEBOTTOM: That's easy! Games with Magnolia at the Blue Moon. It's a one-of-a-kind game show live on stage every Wednesday at 9:30 starting July 3rd! There is nothing else like it in town.
STANLEY: The North Beach and our beautiful park on the ocean.
BLADE: What's the best meal you ever had in Rehoboth?
APPLEBOTTOM: The filet mignon at the Blue Moon is the best steak I've every had. Chef Lion always provides the best dining experience in town.
STANLEY: The lamb at The Blue Moon. I think they are amazing.
BLADE: What performer inspires you?
APPLEBOTTOM: I've always been a fan comedy. I have a long list of idols such as Lucille Ball, Carol Burnett and Joan Rivers. These comedy queens have inspired my character in every way.
STANLEY: Bette Midler
BLADE: What's your most memorable moment on the Blue Moon stage?
APPLEBOTTOM: Every moment on stage is memorable however it's the moments when I leave the stage and mingle with the crowd and I get the chance to talk to everyone. Hearing how I made someone's night just a little bit better or knowing I put a smile on someone's face makes getting ready for two hours totally worth it. And also any moment I share the stage with Pamala Stanley. You never know what she is going to say so you have to be on it at all times. I adore that woman.
STANLEY: Singing this New Years Eve with my two sister Sandra and Robin. It was magical and the crowd was so happy.
BLADE: What's something you see other performers do that you find off-putting or bothersome?
APPLEBOTTOM: When a drag queen takes their wig off while performing is my biggest pet peeve. It totally ruins the illusion and is just plain messy.
STANLEY: Not having eye contact with the audience or singing flat. That kills my ears
BLADE: What's your current favorite song to cover or lip sync to?
APPLEBOTTOM: I am in love with "Juice" by Lizzo. It's so much fun to sing and the lyrics are perfect for Magnolia!
STANLEY: "The Middle"
BLADE: How would you describe Rehoboth LGBT audiences?
APPLEBOTTOM: So loyal. The support the community shows local entertainment is very gratifying. I can't wait to see and perform for our fans every week.
STANLEY: The best ever — they are fun and engaged and just looking for a good time.
BLADE: What are you most excited about for summer '19?
APPLEBOTTOM: Meeting new people and debuting my new Sunday night show "CLIMAX" for the summer crowd.
STANLEY: The people returning from all over. I love seeing old friends and meeting new ones. I never know what an audience is going bring to the table. Each night is unique, like a first date.
BLADE: To what do you attribute your ongoing popularity?
APPLEBOTTOM: Being a hard-working queen. I'm the self-proclaimed hardest working drag queen in Delaware and it shows. I'm always working on new material and always striving to give the audience a fresh Magnolia Applebottom experience. It's a lot of work but it has paid off greatly and I love every minute of it.
STANLEY: Loving the audience and just being yourself. Many people can sing. It is not all about your voice, you must connect with your crowd. Also I believe you should perform each night as if you are in concert whether there are 10 people or 2,000.
DC Center to host estate planning seminar series
Three sessions presented by Murray Scheel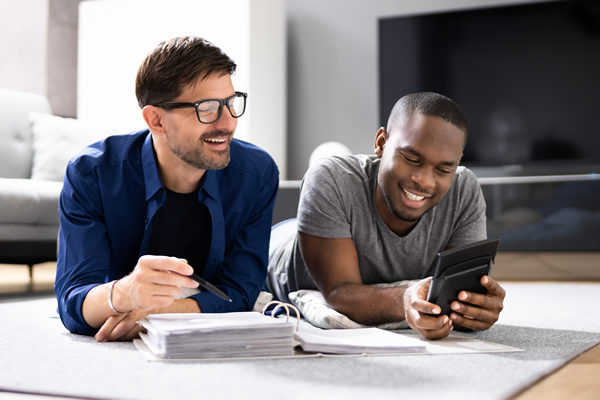 The DC Center for the LGBT Community and the DC Department on Aging and Community Living will host "Estate Planning Tools with Murray Scheel" via Zoom. 
Scheel will walk guests through the process of taking care of the end-of-life planning business that needs to be addressed during the golden years. Scheel is Senior Staff Attorney at Whitman-Walker Health's Legal Services.
This event series will consist of three 1.5-hour sessions:
Jan. 19, 3 p.m. – "Tools for while you're living" (overview, general power of attorney, healthcare power of attorney, disposition of remains, etc.)
Jan. 26, 3 p.m. – "Tools for after you're gone" (living wills, last wills, assets, etc.)
Feb. 2, 3 p.m. – "Healthcare insurance & long term care" (Medicare, Medicaid, correcting misinformation, skilled nursing, hospice care, etc.)
To register for this event, visit the DC Center website.
DC Center to host legal seminar for trans people
Attorney Richard Tappan and paralegal Miranda Shipman to give legal advice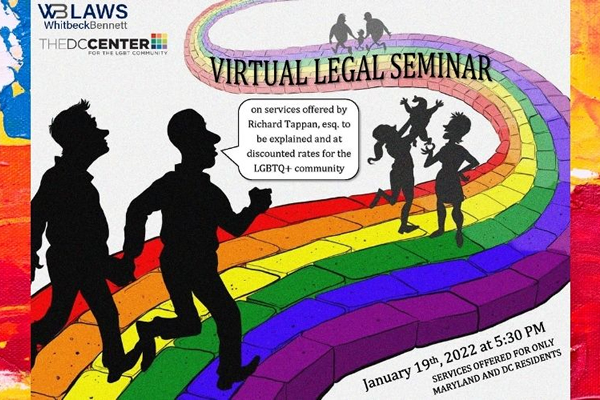 The DC Center for the LGBT Community will host a "Gender and Name Change Legal Seminar" on Wednesday, Jan. 19 at 5:30 p.m. online.
Attorney Richard Tappan and paralegal Miranda Shipman will give legal advice and speak on the importance of the legal community within the LGBTQ community, the difficulties of the LGBTQ community in the legal field and name and gender changes.
Guests can find the link at the DC Center website.
Seeking love and community in Nicaragua
'High-Risk Homosexual' explores author's youth, coming out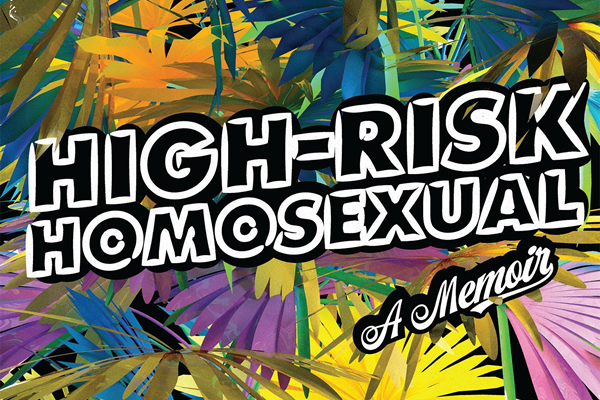 'High-Risk Homosexual: A Memoir'
By Edgar Gomez
c.2022, Soft Skull Press
$16.95/304 pages
Here. Try this.
It fits you, but the color isn't flattering. It's too long, too short, too tight, too loose. That's not your style, so try something else until you find the thing that looks like you. The perfect thing is out there. As in the new book "High-Risk Homosexual" by Edgar Gomez, when something's right, it's right.
He was 13 when he figured out that he was a problem to be solved.
Edgar Gomez' mother had left him in her native Nicaragua with his tíos, just for a while because she had to return to Florida to work. He wasn't there without her for long, but it took years for him to understand that his time with his uncles was meant to make him more masculine.
In retrospect, he says, nobody wanted him to be a man more than he did. He wanted to be liked by other kids and so he told lies in school to make himself stand out. He wanted his mother to see his love of pretty things and say that it was OK. He wanted his brother to acknowledge that Gomez was gay, and to tell him that he loved him.
Instead, after his brother left for college, Gomez got his first boyfriend, a boy he came out to but who couldn't come out to himself. He was called names in school. He came out to his mother, who freaked out about it. He befriended a drag queen, but "Princess" used him.
Things he wanted: a real boyfriend. Love. A ban on the stereotype of a macho Latinx man.
Things he still had, while in college: his mother and older brother. A tormentor-turned-mentor. A part-time job. His weirdness. His virginity.
Things he wanted to lose, while in college: his room at his mother's house. His virginity, but that wouldn't happen until later, during a painful one-afternoon-stand with a hot man who said he had a girlfriend. That hurt, both physically and emotionally but like so many things at so many times, Gomez tried not to think about it.
If he never considered what he didn't have, he says, "I wouldn't miss it."
In a way, you could say that "High-Risk Homosexual" is a book in search of a point. It's really quite random and told (mostly) linearly, but not quite. It has its peaks, but also low valleys. And you won't care about any of this, because you'll be enjoying every bit of it.
Yeah, this memoir is good: author Edgar Gomez's literary wandering makes it feel much like an honest conversation with readers. There are wince-worthy moments that allow empathy here, and experiences that are unique but oddly ubiquitous, that leave space for a sense of sympatico. There are passages that are so wistfully uncomfortable that you might squirm, or start "snort-laughing," or want to stop a moment and just think.
And there's room for that, too, so take your time. "High-Risk Homosexual" is an affable book with just enough seriousness to make it worth a try.