June 5, 2019 at 5:27 pm EDT | by Lou Chibbaro Jr.
D.C. Dyke March to end with Dupont Circle rally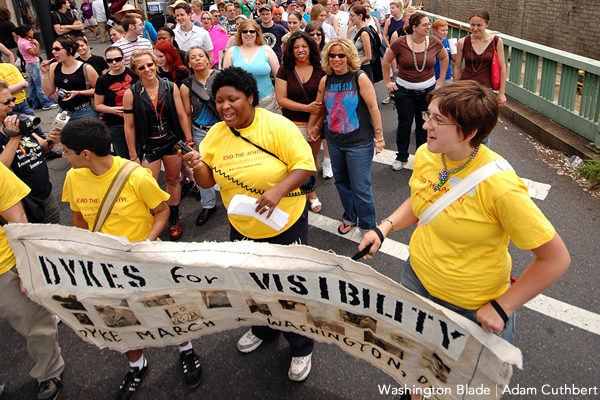 Organizers of the first Dyke March to take place in D.C. in 12 years that's scheduled to take place Friday, June 7, disclosed this week that the march will end with a rally in Dupont Circle after it begins at 5:30 p.m. at McPherson Square.
But according to Dyke March spokesperson Mary Claire Phillips, organizers say they will not disclose the route the march will take from McPherson Square to Dupont Circle until the day of the march.
"Yes, we are a non-permitted March as per Dyke March tradition," Phillips told the Washington Blade in an email. "We have not contacted the Police, but should they reach out to us during the March we have a Police liaison who has been trained in handling communications with cops," Phillips said.
She said that more than 2,000 people have said through social media that they are either interested or planning to go to the June 7 march.
"We estimate the numbers will be a little over half that, but we have no concrete way of knowing," Phillips said.
She said organizers have obtained a permit to hold the rally at Dupont Circle.
The speakers at the rally will not be announced until the rally is held, she said, but they will be leaders or members of several organizations that have partnered with the Dyke March. Among them are the local LGBT or LGBT supportive groups No Justice No Pride, ONE DC, HIPS, Black Lives Matter D.C., Casa Ruby, and Empower D.C.
"Dyke Marches are community driven, grassroots, and meant to bring together all who identify as dykes through marching as an act of visibility and protest," a statement released last month by organizers of the march says.
"It is non-Pride affiliated, with no corporate sponsors, permits or cops – our goal is to encourage activism within our community and center transwomxn, queer womxn, lesbians, and other dyke identities who are oft-marginalized by the mainstream LGBTQ movement," the statement says.
McPherson Square is about one-half mile from Dupont Circle. The most direct route connecting the two locations, should the organizers decide to take it, is Connecticut Avenue.