June 7, 2019 at 10:34 pm EDT | by Joey DiGuglielmo
Letting it all hang out at Pride — did it help us in the long run?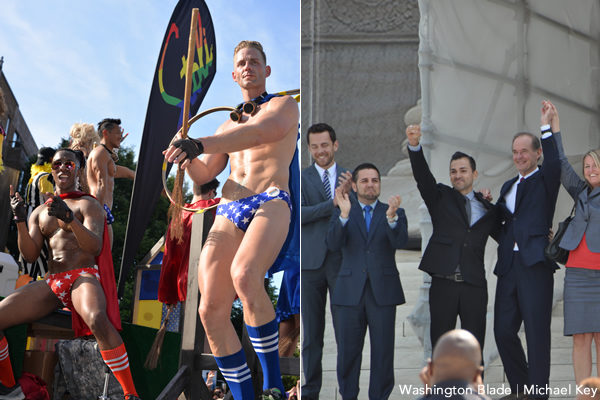 Capital Pride and all Pride events have always been — historically and to this day — a place to let one's hair down and for LGBT folks to be unabashedly themselves.
Washington, widely seen as a more "buttoned-up" town than, say, New York or Los Angeles, was perhaps not as freewheeling as other cities, especially in the early years of Pride here when it was a one-day block party just off Dupont Circle beginning in 1975, but it's grown hugely over the decades and for many years we've had all the revelers one would expect — scantily clad dancers gyrating around on parade floats, drag queens, leather daddies (sometimes in ass-less chaps), dykes on bikes (some topless) and more.
Conversely, the image the movement presented in the marriage wars and with LGBT people seeking elected office, was much different. Barney Frank and Tammy Baldwin dressed as conservatively as their counterparts on Capitol Hill, there was never anything outré about plaintiffs like Edith Windsor and Jim Obergefell and not-so-surprisingly, current "it" boy wonder, presidential hopeful Pete Buttigieg, is a young, heteronormative-type white gay guy who's from the Midwest and goes to church.
The dichotomy has always existed as far back as the late Frank Kameny and the late Barbara Gittings demonstrating (pre-Stonewall) at the White House in skirts (for women) and suits (for men) while the gay masses — practically none out pre-'69 — tended to glom on more to the hippies than the Ozzie and Harriets. One of the organizers of the 1993 Gay March on Washington drew criticism from within LGBT circles for wearing leather to the White House to meet Bill Clinton.
But given the mainstream media's penchant for televising more flamboyant factions in its Pride coverage and political enemies on the right painting Pride gatherings as dens of debauchery, what kind of tension existed between the two extremes? And now 50-some years down the road, did any of it matter? Might we have gotten further faster if we'd somehow reined in our Pride season excesses?
Many folks say either no, it's a self-hating query or it's irrelevant.
Or perhaps we needed both?
That's what Cathy Renna, a long-time PR and media LGBT expert formerly of GLAAD, says.
"We need all of it. Why? Because we are all of it," Renna says. "Our community is all of it and I think it's disingenuous to even try to divide people over this. Why are we always trying to divide each other all the time? There are always gonna be folks out there going to Pride because they just want for that one day or one week out of the year, to let their hair down and celebrate, and when I say celebrate, I don't mean just have a party and get drunk. I mean celebrate our community, celebrate our diversity, celebrate our resilience for goodness sake, celebrate the progress that, in some ways, we're still hanging on to by a thread in the time we live in. Then get back to work the next day."
Renna, GLAAD's national news media director from '95-'02 and a volunteer for several years prior, says the issue has ramifications in how it plays out among LGBT people and outside that sphere.
As for the latter, Renna says historically it wasn't so much about the media playing up "debauchery," so much as it was looking for the most visual, arresting images.
"It was as much about their need to take a photo or shoot video of something different and interesting and highly visual than it was about homophobia or transphobia or wanting to find the more quote-unquote — and please include that because I don't consider this to be true — but extreme parts of our community. Yes, drag queens and leather people are far more interesting than me and … what we fought for and I think eventually successfully achieved was a diversity of representation without diminishing, demeaning, minimizing or criticizing the parts of our community that are, to use the word of the day, flamboyant."
Renna says drag queens and leather daddies at Pride deserve respect.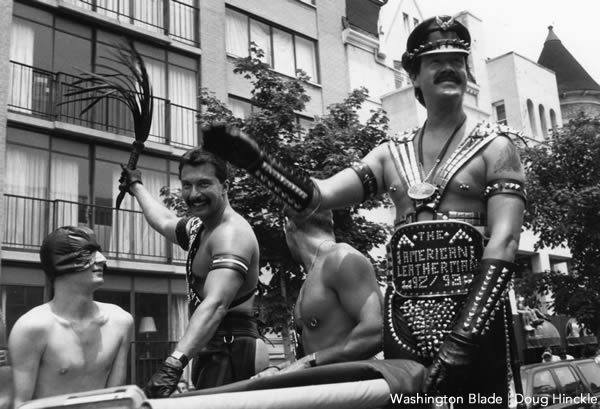 "They were the ones who were brave enough to be themselves and who were raising money for VD clinics before AIDS was even an issue," she says. "People used to say, 'But that doesn't represent me.' Well guess what — you don't represent them. We're a diverse community and this is really about two things — the media's role and how the media works, which a lot of people don't understand, and how we within our own community have our own isms — our own internalized homophobia, racism, sexism and transphobia and how it plays out."
But look at the plaintiffs in the marriage cases and various successful LGBT elected officials, the images they project and it's not a huge leap to imagine there was some vetting and grooming going on behind the scenes. Sure, those arenas are much different than a Pride event, but even so, one imagines movement gatekeepers would have only been doing their due diligence in monitoring plaintiff or candidate deportment at critical times.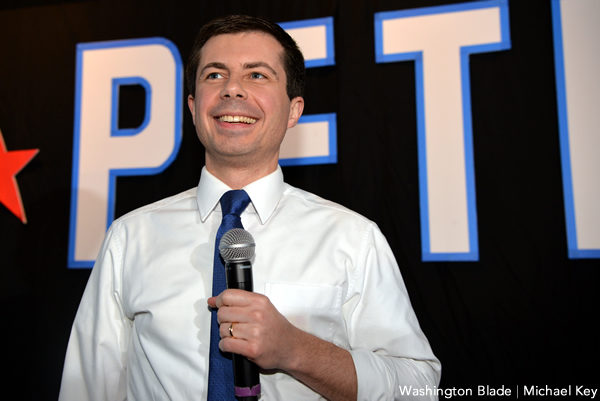 Chuck Wolfe, former president/CEO of the Victory Fund from 2003-2015, says not really.
"I never participated in any conversation like that," he says. "We had kind of an operating opinion at Victory when I was there that all is fair and it takes every part of our community moving the ball forward and one of the reasons we were successful as fast as we were is because there was no one controlling entity saying, 'You have to do this,' or, 'You can't do this,' or, 'You can't do that.' Everybody was doing their part whether it was at a Pride event, testifying on Capitol Hill — all of it mattered, every bit of it."
Patrick Wojahn, out mayor of College Park, Md., who with his partner Dave Kolesar was one of the couples in the 2006 ACLU/Equality Maryland state marriage case, says it was made clear to him and other plaintiffs to be mindful of their status as representatives.
"One thing we were cognizant of and they made sure we understood was that we were representing the entire LGBT community and we were kind of the face of that," Wojahn says. "We weren't supposed to stand in for every single LGBT person out there, but when people saw us, it was understood that how LGBT act, for better or worse, and the political success or failure of what we were doing had a lot to do with how people perceived the LGBT community. It's true in politics as well. It's great to have places like Pride where people can act like freaks and do whatever comes upon them to do, but that's a very different world than say politics where you have to come across as relatable to the people you're trying to advocate for. It's best in political situations if you don't have to overcome that barrier of relatability. If you're trying to sell people on the idea that we're entitled to respect, it's first helpful if they can relate to you on a personal level."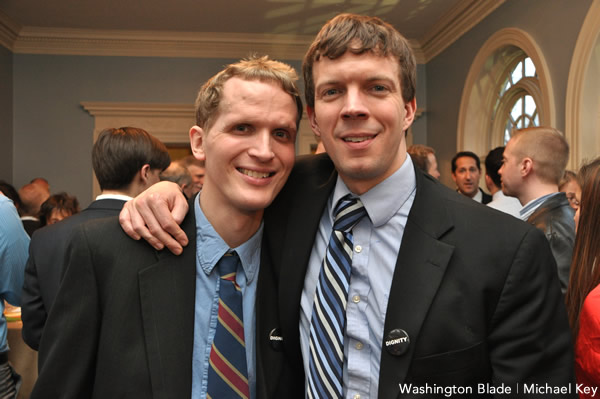 Wojahn says he doubts there was ever much hand-wringing behind the scenes about Pride behavior, but says it's become less and less of an issue over the years if it ever was one.
"Maybe this is just my skewed perspective of living in the D.C. metro area, but I think there's been a growing recognition that not all gay people who live next to you are necessarily like the ones out dancing on the floats," he says. "We're just as diverse as straight and cisgender people. We have a lot of different things we're interested in and do a lot of different things. Not all straight people do crazy things. … It's important to have all different types of people out there being visible."
Not everyone sees it that way, however. Lloyd Shipley, a longtime 17th Street, N.W. resident, is 70, speaks with a deliciously gravelly voice and prides himself on being a sort of D.C. gay resident curmudgeon type. He's been attending Capital Pride for 21 years since coming out of straight life (he was married twice to women) and says both Pride and LGBT people in general have gone increasingly downhill over the years.
"This is just my opinion — I believe in opinions and we can have different ones — but I'm so tired of everything being so sexualized in the gay community," Shipley says. "I feel like Pride has forgotten what Pride is about. You ask nine out of 10 people on Sunday what the theme is this year, they won't know. But ask them what the best party was, they'll all know that. I remember my first Pride, I was in Dupont Circle by myself because I didn't know anybody and I saw float after float and I just cried because they were so meaningful. We should be proud of our accomplishments. Can we knock off the sex shit? Make the floats something to remember. Honor Frank Kameny. Honor Stonewall — not a bunch of guys walking around with their asses hanging out with squirt guns."
Shipley says it's not just a Pride problem, but overarching issues he considers rampant among D.C. gays just end up getting writ large there because of the size of the gathering. He says friends in his age bracket are equally fed up.
"I know a lot of older people who say, 'You know what? I'm done with it. We haven't been in 15 years.'"
He used to open his home to friends to watch the parade but got tired of ending up with a houseful of 50 people half of whom he says he didn't know. It took the cake the year he says he found two guys he didn't know having sex in his bed. This year he's just inviting a few friends over. They may or may not watch the parade.
"It's so disorganized," he says. "It goes on and on, there are huge gaps in the flow, you'll see float after float after float and none of them reflect the theme whatsoever. It's gotta mean something. It can't just be a bunch of half-naked guys throwing beads and squirting people. … I'm gonna write a book someday called 'Thine Own Worst Enemy.' We moan and groan about how things are but how much of it is our own damn fault?"
Renna says sensationalizing or using Pride footage as a scare tactic for Middle America may have worked in the short term here and there, but ultimately wasn't successful.
"I think it did us a favor in that it pushed our visibility," Renna says. "We pushed through it and it taught us that we need to be better at showing the full diversity of our community. It's not about don't show drag queens and leather people, it's about don't just show drag queens and leather people."
Renna says the issue came up constantly in her years of media training. LGBT activists, especially, she says, in smaller markets, lamented the attention the drag queens and go-go boys would get.
"It's because they're interesting," she says. "Be creative, do something interesting. I used to tell GLSEN chapters, rent a school bus, fill it with people, get creative, dress as crossing guards, be fun, be visible. People walking down the street in khakis and T-shirts? Not interesting!"
Wojahn says the whole thing can be touchy.
"If you're trying to sell people on the idea that we're entitled to respect, it's first helpful to relate to them on a personal level," he says. "You may be taking on a bit more than you can chew when you say, 'I want you to accept that I'm LGBT, am in a committed relationship and want legal representation with this person, but I also want you to deal with the fact that I'm standing here topless with piercings."
We asked some early Capital Pride participants for their thoughts.
Ella Fitzgerald, drag queen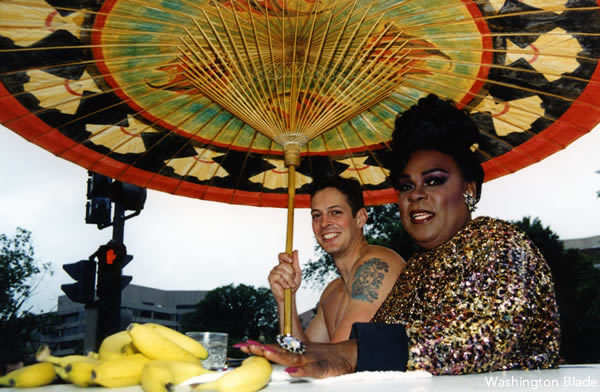 Being a drag queen decade after decade ain't easy. Just ask Ella Fitzgerald (aka Donnell Robinson), arguably Washington's most veteran and highly regarded queen.
She remembers her first Capital Pride in 1986 and says it was a much different experience than it is today. Riding with a contingent of Academy of Washington queens in a convertible through Adams Morgan, she remembers being harassed.
"There were straight Latinos giving us the sign language of death signs," she says. "They harassed the girls on the bikes with their tits out and all that. We've definitely come a long way since '86. It's much more accepted now. People understand the whole drag thing, the leather community. It's very diverse now and I remember back in the '80s, even in our own community, there was so much discrimination between the drag, the leather and the lesbians. Yes, we still have a long way to go, but we have become much more accommodating of each other's differences."
Fitzgerald, 64 and a hairdresser by day, says she was never concerned about being filmed in an early Pride parade or festival. She says she was the first drag queen featured in Washingtonian magazine in 1984 and was happy for the coverage.
She says things have, in her opinion, gotten a bit unnecessarily wild at times over the years.
"The gays who are more flamboyant and make it very obvious, I feel at times that has put a damper on everything we're trying to achieve," Fitzgerald says. "How do I say this? There are gays out there on a different level. More class, more sophistication and the younger kids, they're like wild kids that have been let of a cage and they just act like, 'I'm gonna do and say whatever I feel at the moment,' going around in shorts and a T-shirt, 'cause I want to be seen and I don't care, this is me and if I want to marry a woman or a man — it's a lot."
On the other hand, she doesn't believe in reining anything in just to be more palatable to straight people.
"Of course not," she says. "We absolutely need all aspects of the rainbow. I grew up in the '70s and it's amazing to see how far we've come in 40-some years. It makes me wonder what the future's gonna be."
JOEY DiGUGLIELMO
Margaret McCarthy, Outriders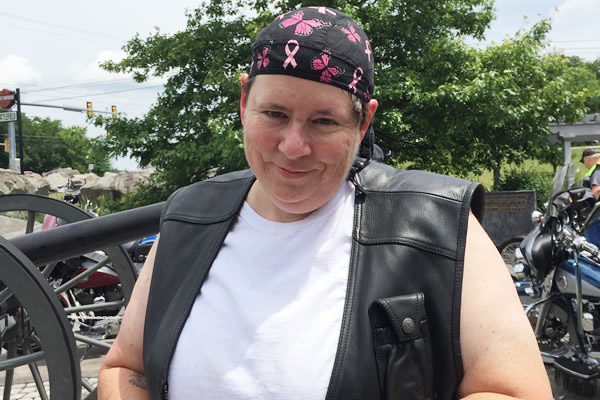 Margaret McCarthy's Capital Pride experience has evolved over the years.
She came out in the mid-'80s and has been going to Capital Pride since about '86 or '87. She was a member of Open Door Metropolitan Community Church, a sister parish of sorts to MCC-D.C., and participated for years with other parishioners in the Pride parade.
She got into motorcycles around 2009 through a former girlfriend and started riding in Pride with Dykes on Bikes around 2013. A break-off group called Outriders kind of took over a year or so later and eventually McCarthy joined their contingent. They usually have between 40-60 riders each year. Most are members but some join them just for the day.
She agrees with Cathy Renna that a diversity of representation is needed at Pride and in the world in general.
"There are all kinds of people that are part of the gay community — the fairies, the drag queens and all that and that's part of my community," says the 54-year-old Montgomery County Police service aide for the 6th District Station in Gaithersburg. "I don't have to necessarily get it or understand it. I love them and they are part of my community."
McCarthy says sometimes PDAs get a bit much but it's not really an LGBT thing.
"I've done it. I've been walking at Pride and grabbed my girlfriend for a kiss or whatever," she says. "If you see a couple making out on the Metro or Pride or wherever, I don't care if they're gay or straight, I don't think that's appropriate. But at a Pride festival, absolutely, it's about letting go. It's the one day you can really let your hair down and be totally who you are."
As for Pride images getting manipulated by political enemies, McCarthy agrees it happens but says LGBT revelers shouldn't let it dampen their spirits.
"They make it look like it's all about depravity and sex and stuff and yeah, it makes me mad because that's not who we are and unfortunately, there are people who may not know gay people and think that's the whole spectrum. They see that and say, 'Well look at those faggots and dykes, they're scum,' so yeah, it makes me mad. But it's just one part of our community, it's not the whole community."
How has it changed?
McCarthy says she remembers getting harassed at early D.C. Pride events.
"They would see we were with a church and they'd say, 'How can you be Christian and gay, you're totally violating the Bible.' I don't know if it was Westboro Baptist or who it was, but yeah, there was some of that in the early years."
McCarthy had protections in writing at her job so she was never worried about being recognized at Pride. She was fully out by her mid-20s.
She says a few Outriders go topless or cover just their nipples.
"I just kind of shake my head and go, 'Whatever.' It doesn't offend me. I don't really get it — they must get horrible sunburn, but yeah, not many of us do it."
JOEY DiGUGLIELMO
Kenneth, go-go dancer
Our scantily clad dancer of yore, Kenneth, declined to give his last name. He danced nude at Secrets starting at age 18 from 1996-1999 but is in business now and says he prefers his clients today not know of his past work.
He participated in several Pride parades on the Ziegfeld's/Secrets float with Ella. The dancers would typically wear matching short shorts and Secrets tank tops.
"I don't know what the rules are now, I think it's relaxed a little, but we weren't ever in thongs or bikinis or things like that," he says. "We kept it a little more covered back then."
He was fully out at the time and not fearful of being seen. He says most of the dancers then who were gay were out and not fearful of being seen. A few dancers were straight, he says, but "didn't seem concerned about" being in a Pride parade.
Now 40, he remembers those years fondly.
"It was a very interesting thing to do when I was 19 or 20. I got to sew my wild oats and it was good experience overall. I learned a lot."
Kenneth says it's probably a non-issue today but he suspects more scandalous Pride behavior probably did work against LGBT rights in years past.
"There was a lack of exposure then so if all you saw through the '70s to the '90s was how they televised it, then you only knew part of the story. I think once there was more exposure, people understood that was only one aspect of the community."
He says Pride was a much different experience for everyone 20-30 years ago.
"For a lot of people, that was the only time they could be gay," he says. "They weren't able to dress and behave the way they wanted to the other 364 days of the year, it was back to their normal attire and behavior, so I would say it's died down some because we can be ourselves more year round now. If you could only do that during Pride, people tended to go more over the top."
JOEY DiGUGLIELMO
John Watson, leather enthusiast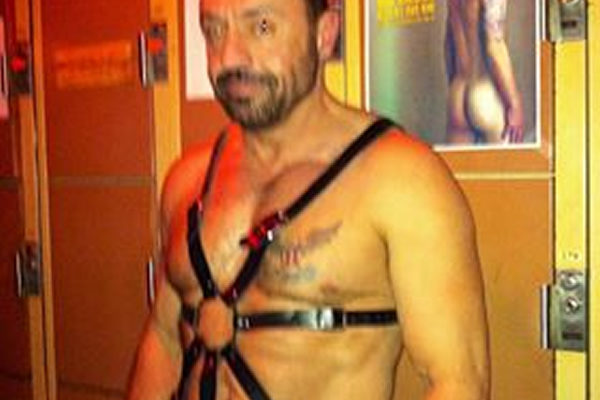 Gay leather enthusiast John Watson says he first got into the D.C. leather scene at age 16 when he and two male friends his age, who lived in Arlington, began going to the D.C. Eagle, the city's only leather bar, around 1974.
It was a time when the city's bars and nightclubs, both gay and straight, didn't consistently require ID checks for young-looking customers, Watson says.
About one year later, in June 1975, shortly after he turned 17, Watson and his two gay friends attended D.C.'s first Gay Pride event, which consisted of a block party on 20th Street, N.W., near Dupont Circle.
Although the three were getting more and more into the leather scene and drove into D.C. nearly every weekend to go to the Eagle, neither of them wore leather at that first Pride block party, Watson says.
"We had on shorts and tank tops, which of course we took off and were shirtless," he says. "But with the leather scene back then, people didn't want to appear out in public in it. And thinking back, I don't remember seeing anybody that first time in leather. There may have been, but I don't remember seeing anybody in leather."
It wasn't until around 1980, Watson thinks, when the D.C. Pride festival had moved from 20th Street to the grounds of Francis School next to P Street Beach Park, that leather enthusiasts began attending Pride wearing leather clothes and gear.
"As it progressed more and more you saw more leather," he says. "It was when people got to the point where they really weren't scared, more or less around 1980. People got tired of being in the closet."
Watson recalls that in the earlier years he and his friends, along with many others in the leather scene, were fearful of the possible repercussions of being publicly identified as leather guys. Being so identified would automatically out you as being gay, he says, as well as out you — even among gays — as being weird or odd.
"It was what you would call an underground community," he says. "A lot of people felt it was not only strange but perverted, to be honest. If you were into that, you kept your mouth shut most of the time because you didn't want anyone to know. Even the regular gay people were, 'Oh, wow, that's perverted.' It wasn't until the 1990s that I began to wear leather in public. Before that I would take it with me and put it on inside the clubs."
Thankfully, Watson said, attitudes began to change as the LGBT rights movement became more visible and assertive in the 1980s and 1990s. He recalls seeing far more leather folks at D.C. Pride events in those years, possibly even more than what is seen in more recent years as the Pride events have become more "corporatized."
Watson, who works in insurance, says he managed to keep his interest in leather separate from his work other than times he has worked at the Eagle. Among his most interesting "day work" jobs, he said was a stint from 1983-1988 as an assistant clerk at the U.S. Supreme Court.
Among other things, he gave private tours at the court to gay rights pioneer Frank Kameny and then-Washington Blade News Editor Lisa Keen.
LOU CHIBBARO, Jr.