June 7, 2019 at 5:46 pm EDT | by Chris Johnson
Trump administration bars U.S. embassies from flying Pride flags: report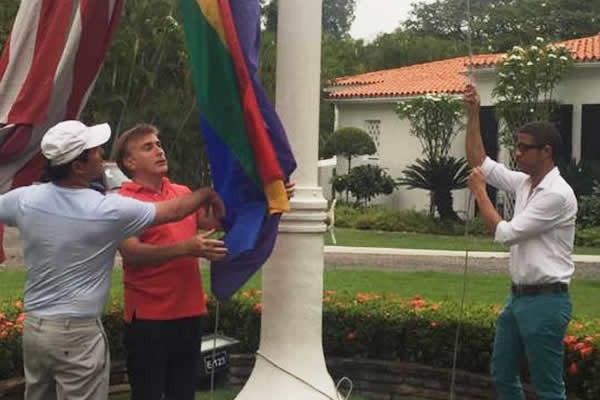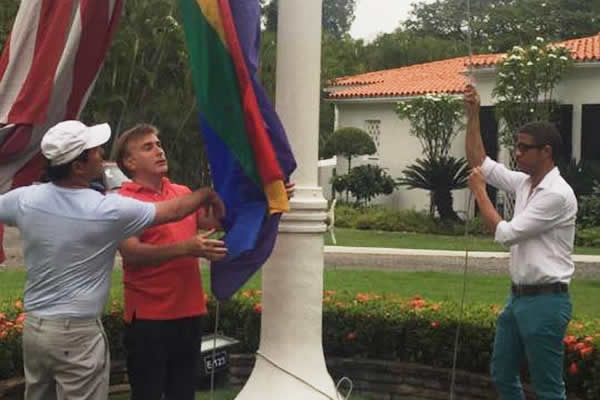 Amid Pride celebrations throughout the United States, the Trump administration is ordering U.S. embassies not to display the Pride flag on official flagpoles, according to a report in NBC News.
Diplomats say U.S. embassies in Israel, Germany, Brazil and Latvia are among those denied permission from the State Department to fly the Pride flag, NBC News reported.
The Pride flag reportedly can and is being flown elsewhere on embassy grounds, such as inside embassies and on exterior walls, but not to allow it on the official flagpole.
The denials to U.S. embassies reportedly came from the office of the State Department's undersecretary for management, Brian Bulatao. A longtime associate of Secretary of State Mike Pompeo, Bulato worked for him at the CIA.
Neither the White House nor the State Department responded to the Washington Blade's request to confirm the NBC News report.
The flying of Pride flags at U.S. embassies has become common as a sign of U.S. solidarity with the LGBT community overseas. Embassies had been free to display the Pride flag on their official flagpoles during the Obama administration and the first two years of the Trump administration.
The news report stands in contrast to President Trump recognizing Pride Month in a tweet, making him the first Republican U.S. president to acknowledge June as Pride Month, as well as a global initiative spearheaded by U.S. Ambassador to Germany Richard Grenell to decriminalize homosexuality. Grenell is the highest-ranking openly gay person in the Trump administration.
But the reported ban is consistent with a long anti-LGBT record from the Trump administration that since last Pride alone includes implementing the transgender military ban, actions in the name of "religious freedom" seen to enable anti-LGBT discrimination and carves out in Obama-era rules protecting transgender people from discrimination in homeless shelters and health care.
The display of Pride flags at U.S. embassies has been a source of ire for social conservatives. Last year, Rep. Jeff Duncan (R-S.C.) introduced a bill that would prohibit flying any flag at U.S. embassies other than the U.S. flag. Although the bill doesn't explicitly indicate Pride flags would be banned, the measure seemed aimed with that goal in mind.
Ty Cobb, director of HRC Global at the Human Rights Campaign, slammed Trump in a statement for recognizing Pride, but refusing to allow Pride flags at U.S. embassies within the course of one week.
"Trump can't have it both ways," Cobb said "He can't tweet claiming to be an advocate for LGBTQ people and turn around and prohibit U.S. embassies across the world from flying a Pride flag. The reality is that the Trump-Pence administration continue to take every opportunity to attack LGBTQ people, from stripping access to health care to eliminating transgender people's ability to serve."