June 17, 2019 at 10:09 am EDT | by Michael K. Lavers
Three charged in anti-gay attack on U Street
Three people have been arrested in connection with an attack against a gay man on U Street early Sunday morning.
A Metropolitan Police Department press release says Marcus Britt, 19, of Fort Washington, Md., and two juvenile males at 1:44 a.m. "approached the victim" on the 1000 block of U Street, N.W., and "assaulted the victim."
"The suspects took the victim's property then fled the scene," says the press release.
Karl Craven on Sunday wrote on a GoFundMe page that he and his boyfriend "were walking from Hawthorne's to Nellie's on U St (in DC) last night and we stopped to talk for a few minutes."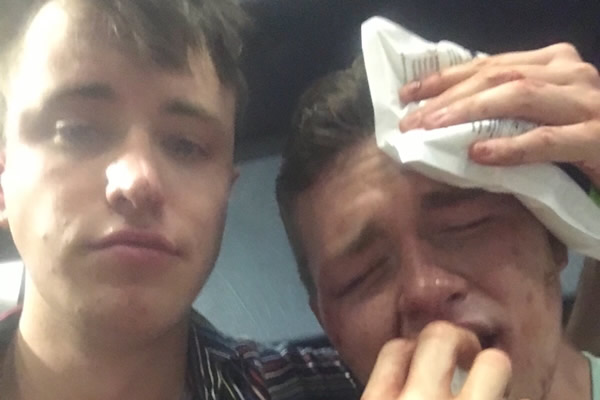 "He was leaning against me and a few guys started yelling 'faggot' at him and started to swing at him," wrote Craven. "It was all a quick blur but next thing you know there was literally a mob of 15 guys beating him. They came out of nowhere and I was powerless to stop them, all I could do was jump on him to try protect him and scream help. I don't remember how long they kept beating him for. They stole his phone and my wallet. They chipped a major part of his front tooth and he had to get multiple stitches on his lip."
Craven posted pictures that showed his boyfriend holding an ice pack to his head. Another picture shows him with a black eye and bloody gauze on his lip that had been cut.
"He doesn't have insurance and can't afford the ER and tooth repair bills," wrote Craven on his GoFundMe page. "Any help would be greatly appreciated."
The page has raised $6,760. The Washington Blade has reached out to Craven for additional comment about the incident.
The MPD press release says Britt and the two juveniles arrested in connection with the attack have been charged with robbery by force and violence. Lieutenant Brett Parson, who oversees the MPD LGBT Liaison Unit, confirmed the unit is involved in the case.
Sunday's incident is the latest in a series of attacks against gay men that have taken place in or near the U Street corridor over the last year.
Two gay men were attacked near the Third District police station on Sept. 16, 2018, by a group of men and women who shouted homophobic slurs at them. Two gay men were hospitalized on April 15, 2018, after three men assaulted them on the 2000 block of 10th Street, N.W.