June 20, 2019 at 3:01 pm EDT | by Patrick Folliard
Baby bombshell is central twist in delightful 'Byhalia, Mississippi' play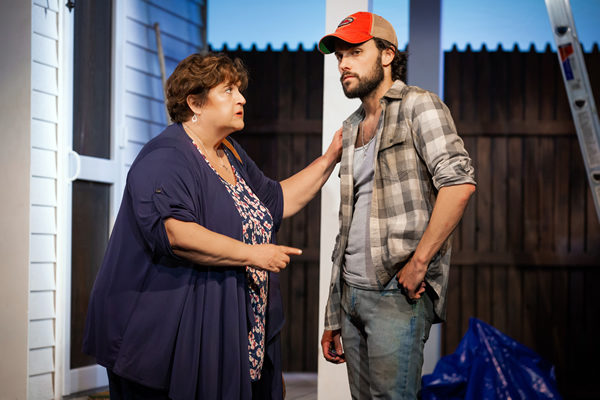 'Byhalia, Mississippi'
Through July 7
Terrace Theater
The John F. Kennedy Center for the Performing Arts
2700 F St., N.W.
$25-89


Evan Linder's "Byhalia, Mississippi" is a triumphant blend of everyday words and high ideals.
His heart-rending comedy is set a few years ago in the eponymous small town, a place where William Faulkner famously died during a stay at the local sanatorium in 1962 and where 12 years later and less famously, unarmed black suspect Butler Young, Jr. was shot dead by a white policeman.
But the playwright's focus is on contemporary Byhalia personified by a struggling, young white couple dealing with issues of race, fidelity and trust, while embracing honestly, forgiveness and love.
The Kennedy Center's production of Linder's award-winning work (now at the Terrace Theater) co-stars the terrific Caroline Neff as feisty, evolving Laurel Parker and handsome Jack Falahee as Jim, Laurel's weed smoking, underemployed husband. A vocal LGBTQ ally, Falahee is best known for playing Connor Walsh, a gay character in an interracial relationship with an HIV-positive man, on ABC's "How to Get Away With Murder."
When we meet Laurel, she's very pregnant, but that doesn't stop her from engaging in a hilarious bicker fest with her opinionated visiting mother Celeste (an uncannily convincing Cecelia Wingate). Their exchange of scathing ripostes appears an old game at which both excel.
Topics are varied: Laurel doesn't like the way Celeste eats bananas. Celeste can't bear that her daughter has left comparatively cosmopolitan Jackson for Byhalia where she lives in a messy prefab ranch house set on cinder blocks with her underwhelming spouse.
While Laurel can pick a fight, she can also end it. Declaring she and Celeste were never meant to be roommates, she sends her mother packing, promising to beckon her back once the baby is born.
Jim has cheated. Laurel is no angel either. But after a wild youth, she seems to have put her life on track. Deeply in love, expecting a baby, working at the local high school, she is happily living a disorderly life of which her mother doesn't approve, but it's her plan and she's sticking to it. However, things go abruptly awry when the couple's longed for baby is — to everyone's surprise — black.
The reaction is fast and far reaching.
Just when Laurel is at her most vulnerable, her nearest and dearest pile on. Celeste reacts: "Please tell me you were raped." Usually passive Jim decamps to the home of his African-American buddy Karl (played with nuance by Blake Morris), and Laurel's longtime African-American frenemy, Ayesha (strongly assayed by Aimé Donna Kelly) pays a visit designed to rub Laurel's nose in her current situation. Both Laurel and Ayesha followed their husbands to Byhalia but with different results. Well dressed in heels, black designer dress and status bag, Ayesha exudes confidence. Secure and ostensibly happy as wife and mother, she comes bearing old and new resentments as well as a suggestion that Laurel leave town.
But Laurel has other plans. They involve loyalty to people. And, oddly enough, to her husband's hometown, Byhalia, Mississippi.
In a uniformly top-notch cast, Caroline Neff stands out as Laurel, believably bringing to life a strong but vulnerable, rough yet refined heroine. Similarly, Cecilia Wingate persuasively relays Celeste's many contradictions.
New York director Kimberly Senior helms a design team in creating a vivid world that extends no further than a cramped interior, accessible rooftop and side yard. It's a place defined by the sounds of birds, passing cars, believable street clothes and clutter; a place where Jim's framed Ole Miss jersey holds a place of pride in the living room and Laurel's Scrabble game is stored under the coffee table. It's lived in and it's home.