September 12, 2019 at 2:00 am EDT | by Brian T. Carney
FALL ARTS 2019 TV — It's a wrap for 'Modern Family,' 'Transparent' et. al.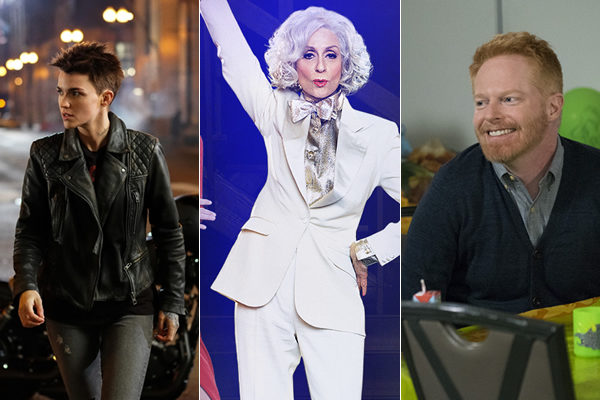 The fall 2019 TV season got off to a delightful and unexpectedly queer start with the arrival of "The Dark Crystal: Age of Resistance" on Netflix. A prequel to the 1982 cult classic movie directed by Jim Henson and Frank Oz, the 10-episode series returns to the world of Thra where a brave band of Gelflings are fighting against the evil Skeksis.
Like the movie, the series uses amazing puppetry (with some mechanical augmentation) instead of CGI. The all-star voice cast includes Taron Egerton, Helena Bonham Carter, Sigourney Weaver, Eddie Izzard, Lena Headly, Gugu Mbatha-Raw, Alicia Vikander, Simon Pegg, Harvey Fierstein and Awkwafina.
As the series unfolds, it is revealed that Deet (voiced by Nathalie Emmanuel), one of the leaders of the Gelfling rebellion, has two dads. The show also features a lesbian relationship between Tavra (Caitriona Balfe) and Onica (Natalie Dormer).
Described as "'Game of Thrones' with puppets," the series has premiered to popular and critical acclaim, especially from LGBT fans.
Netflix has also dropped season two of "Élite," a Spanish language drama that includes a resident gay couple and frank discussions of sexuality, HIV, polyamory and murder.
The ninth season of "American Horror Story" will start stalking FX viewers on Sept. 18. Inspired by horror/slasher movies from the 1980s, "1984" will star Emma Roberts and openly gay Olympic silver medalist Gus Kenworthy. The cast will also include Sarah Paulson, Billie Lourd, Cody Fern, Matthew Morrison and trans actress Angelica Ross ("Pose"); exhausted series regular Evan Peters is taking the season off.
Pro tip: If you don't subscribe to FX, you can start streaming AHS season eight (the excellent "Apocalypse") on Netflix on Sept. 24.
On Sept. 22, ESPN will present "Mack Wrestles," a 30-minute documentary film about Mack Beggs, a high school transgender wrestler from Texas.
The ground-breaking Amazon series "Transparent" will go out with a big splash on Sept. 27. After the fourth season dropped in September, 2017, the series was buffeted by accusations of sexual harassment against star Jeffrey Tambor, who was fired from the show. Creator Jill Soloway decided to end the series with a feature-length musical instead of the planned fifth and final season. "Transparent: Musicale Finale" will include the death of Tambor's character, trans woman Maura Pfefferman.
The latest series from gay media guru Ryan Murphy premieres on Netflix on Sept. 27. "The Politician" stars out actor Ben Platt as a ruthless teen who wants to be president of his high school class, and then president of the United States. Gwyneth Paltrow plays his mother; the cast also includes gay icons Bette Midler and Jessica Lange.
Several shows with LGBT characters will be starting their final seasons in September, including "9-1-1" (Sept. 23), "The Good Doctor" (Sept. 23), "Empire" (Sept. 24), "Modern Family" (Sept. 25), "The Good Place" (Sept. 26) and "How to Get Away With Murder" (Sept. 26).
Returning series with prominent LGBT characters include in "The Conners" (Sept. 24) and "Grey's Anatomy" (Sept. 26) and "Superstore" (Sept. 26).
Meanwhile on the CW, LGBT and LGBT-affirming series new and old will leap into action in October. New to the schedule is "Batwoman," which stars Ruby Rose as Bruce Wayne's lesbian cousin Kate Kane. Returning superhero shows include "Supergirl," "Arrow" (series finale), "Black Lightning" and "The Flash." Other returning series include "Dynasty," "Supernatural" (series finale) and "Riverdale."
Netflix continues to taunt the Academy by offering its movies in (very) limited theatrical release before it streams them. (It's not clear yet if these movies will hit D.C. theaters.) This fall's hybrid prestige projects include "The King" with Timothée Chalamet as King Henry V and Joel Edgerton as the troublesome Falstaff (streaming on Nov. 1), Martin Scorsese's three-and-a-half hour crime epic "The Irishman" (Nov. 27), and Noah Baumbach's "Marriage Story" with Adam Driver and Scarlet Johansson (slated to stream on Dec. 6).
HBO will air the documentary "Very Ralph" about openly gay fashion designer Ralph Lauren starting on Nov. 12. Other HBO programming with queer content includes the final season of "The Deuce" starring James Franco and Maggie Gyllenhaal (already underway) and "Mrs. Fletcher" (Oct. 27). Other notable programming includes "Watchmen," based on the DC Comics series and starring Regina King, Jeremy Irons, Don Johnson, Jean Smart (Oct. 20) and "Catherine the Great" starring Helen Mirren as the imperious czarina and Jason Clarke as the infamous Potemkin (Oct. 21).
Also expected in 2019 is an adaptation of Philip Pullman's award-winning trilogy "His Dark Materials."
Season three of the popular "The Marvelous Mrs. Maisel" debuts to Amazon on Dec. 6. The series, starring Rachel Brosnahan as an aspiring New York comic in the 1950s, has won awards for its great comedy and its examination of gender and class issues, but queer critics have been disappointed by series creator Amy Sherman-Palladino's coy treatment of sexuality on the show. Mrs. Maisel's manager Susie (the terrific Alex Borstein) is coded as a butch lesbian, complete with a leather jacket, jeans and a fisherman's cap, but the series has yet to address the character's private life. Maybe they'll crack open the closet door this season.
Finally, on Dec. 8, an old favorite returns to Showtime. Featuring a new theme song by Lizzo, "The L Word: Generation Q" revives the lesbian-focused drama that ran from 2004-2009. Returning cast members Jennifer Beals (Bette Porter), Katherine Moening (Shane McCutcheon) and Leisha Hailey (Alice Pieszecki) are joined by several new faces; the action is moved from West Hollywood to Silver Lake.
No word yet on a third season of "Pose" (it's early, though; season two just finished). "RuPaul's Drag Race" has been renewed for a 12th season but no premiere date has been announced. Same for "All Stars," which will be back for a fifth season, probably in 2020. "RuPaul's Drag Race UK" is slated for an Oct. 3 premiere on BBC Three, an online service. No word yet on Ru's daytime talk show, which had a promising test run in June.