September 13, 2019 at 7:13 pm EDT | by Joey DiGuglielmo
HGTV employs all six Brady 'kids' to help recreate their '70s-tastic home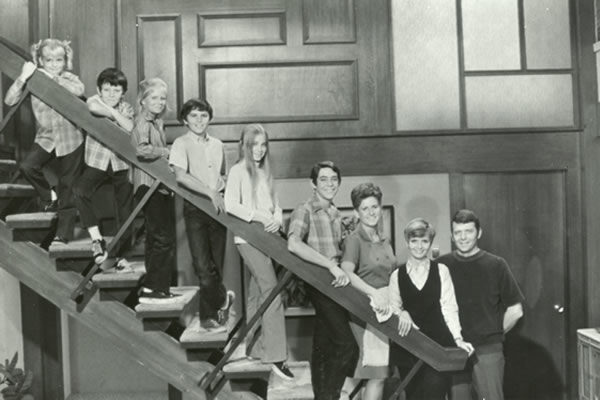 "Brady Bunch" fans were abuzz this week as HGTV unveiled its new show "A Very Brady Renovation" Monday night, which follows all surviving cast members of the original 1969-1974 series as they work with professional renovation experts to recreate their iconic home. The original series debuted 50 years ago this month.
Like most shows of the era, the exteriors seen on the series were a real house. Its interiors were never seen on the hit ABC series — all interiors were filmed on Stage 5 at Paramount Studios. When the house used for the exteriors — located at 11222 Dilling St., in Studio City, Calif., — went on the market last year, a bidding war erupted but HGTV won, purchasing the house for $3.5 million.
Almost immediately, the network planned a massive renovation to make the house look as much inside like the "house" was seen on TV. That involved adding 2,000 square feet to the original floor plan, a task that likely would have given even Mike Brady (an architect) a massive headache!
All six of the Brady "kids" — Barry Williams (Greg), Maureen McCormick (Marcia), Christopher Knight (Peter), Eve Plumb (Jan) and Mike Lookinland (Bobby) joined Jonathan and Drew Scott ("Property Brothers: Forever Home") Mina Starsiak Hawk and Karen E. Laine ("Good Bones"), Leanne and Steve Ford ("Restored by the Fords"), Jasmine Roth ("Hidden Potential") and Lara Spencer ("Flea Market Flip") to execute was the network is calling "the boldest home renovation the world has ever seen." (Sadly, Alice, Carol and Mike are no longer with us — Ann B. Davis died at age 88 in 2014, Florence Henderson died in 2016 at age 82 and Robert Reed, who was gay, died of AIDS in 1992 at 59.)
Roth, fresh off a red shag carpet event last week, spoke to the Blade by phone Sept. 6 about her work on the show.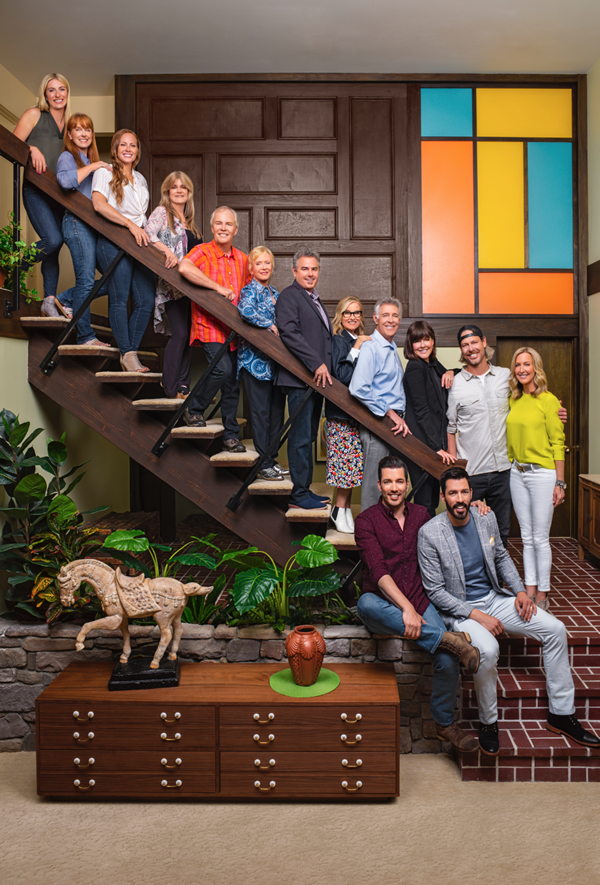 WASHINGTON BLADE: How did you come to be involved in the show/project?
JASMINE ROTH: I got a call and it was like, "Hey, we're thinking about the Brady Bunch house …" and I was like, "Yeah, absolutely," they didn't even have to ask me. It was pretty early on, I don't think they knew exactly what they were planning to do with the house at that point.
BLADE: Had you been a "Brady Bunch" fan as a kid?
ROTH: Yeah. My mom was a huge fan and watched it with her brother and sister the first time through and so when I was a kid, whenever it was on, she was like, "Oh my goodness, come watch this show, the 'Brady Bunch' is on." I definitely grew up watching it, I knew all the characters, I knew the song, so when I got the call it was a no brainer. To say I'm a fan is an understatement.
BLADE: What did you actually do on the project?
ROTH: Each of us hosts were given different areas of the house. I was in charge of Mike's den, which was a challenge because it was one of those rooms where a lot of scenes were shot, a lot of important scenes. It was a room people spent a lot of time looking at, so I knew I had to get it right with the drafting table and the green shutters and the little sofa. I was also in charge of the master bedroom … which, at the time, was the first time where a couple was shown sleeping together in the same bed, so for the TV world, that was a big deal.
BLADE: I could never figure out what that was supposed to be behind their bed — some kind of a screen or scrim or something? It wasn't a wall.
ROTH: I think the idea of it was that it was a paper screen and a window behind it so the light would filter through, but of course, this was just on a set so there wasn't any real light. But that kind of thing came up again and again because it wasn't technically a real house on the show. One thing that was interesting, when the Brady kids came in, they went, "Oh my gosh, it has ceilings," because of course on the set, it was just lights and microphones up there. But I think the headboard area was mean to be this kind of Asian-inspired paper shade. In our design, we made it out of bumpy glass and then we had the exact pattern from the set printed onto a kind of contact paper that adhered to the glass to give it that paper look, but more durable.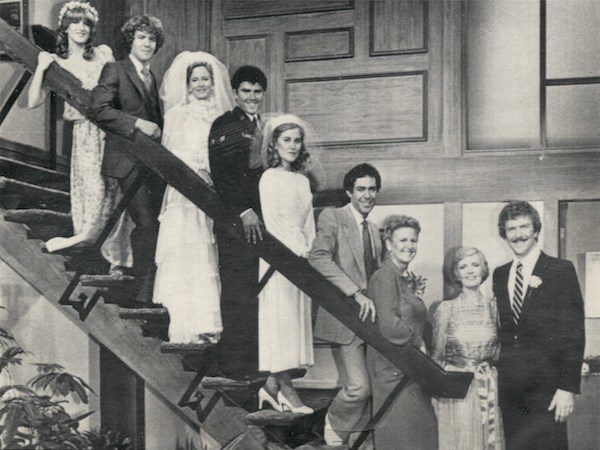 BLADE: The Bradys had so many interesting paintings (or reproductions) in their house. Did Paramount have those in its prop house or did you have to recreate them?
ROTH: Paramount did have a fair amount of items but we weren't sure if they were from the original set, you know, they did a lot of reboots and specials and things over the years. But we were able to get as much as we possibly could. A lot of it was in pretty rough shape. … As for the paintings, we recreated most of them.
BLADE: Did the nationwide scavenger hunt for furniture and replicas turn up much you were able to use on the show?
ROTH: Oh my goodness, yes. There was a bust of a woman on the headboard of the bed a fan had bought at a thrift shop years before and donated. He didn't even know at first it was the same on one the show but recognized it later. It's the kind of thing you'd never consciously notice watching the show, yet the bedroom wouldn't really be complete without it.
BLADE: Some of those little tchotchkes changed over the run of the show. Did you just pick the ones that were the most recognizable?
ROTH: Yeah, some changed, some didn't. There were times we had to make decisions but if it was something that was there for multiple seasons, like the horse at the base of the stairs, obviously those had to be there.
BLADE: Did you find the original horse or is it a replica?
ROTH: Well, we found a horse at Paramount. We're not sure if it was THE horse, but it looked a lot like it. But unfortunately a bunch of the legs had broken off. So we found a similar one at an online auction and we found a way to kind of meld together the pieces with a 3D printer to fix the parts that were broken on the original.
BLADE: There's also a smaller horse in the den on the endtable beneath the lamp. For those less noticeable props, did you feel you had to find exact replicas or did close enough work?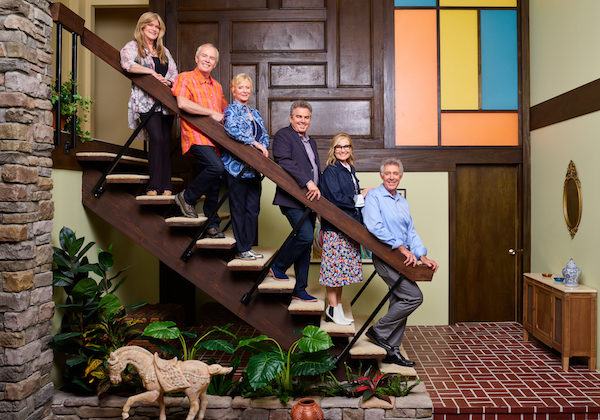 ROTH: We just did the best we could with the amount of time we had. We tried to get it as exact as possible down to the objects on the vanity table in the master bedroom and the setup of the books on the shelf in Mike's den.
BLADE: How long did all this take?
ROTH: It was a six-month project; nine months total with the planning and everything.
BLADE: How were the Brady kids to work with?
ROTH: Oh my gosh, I didn't know what to expect. I didn't know if they were gonna want to show up and just kidna watch mostly or what. But they were all really ready to get their hands dirty and they were all super excited about it. They were fun and brought a lot of insight. I don't think we could have done this project without them. Their memories of these spaces at the end of the day are what really brought it all together.
BLADE: Who was the hardest worker?
ROTH: I'd say it varied. Chris Knight was the biggest skeptic at the beginning. He just thought it was too big of a project, but then he ended up working harder than anyone else because he really wanted it to happen.
BLADE: Any of them you particularly clicked with?
ROTH: I worked with everybody. We were paired up with certain people on each room but I live in Orange County, so it's close and I was able to be there a lot if I had a day off on my own show or I was literally waiting for paint to dry. So I got to work with every single Brady. Every one of them surprised me, that's what I'll say.
BLADE: Susan said once — it seemed kinda half-joking, half not — that when they get together they take care not to put Eve and Maureen next to each other. Did you sense any tension between those two?
ROTH: No, that's so funny. No, I didn't pick up on any tension at all honestly. We were so focused on the project, I don't think there would have been time for anything like that or if there was, it would have just immediately dissipated.
BLADE: How did you even begin to add a second floor to the house without disturbing the facade? That seems crazy impossible.
ROTH: That was one of our biggest challenges. We knew we couldn't mess with the front because that's what everybody's used to seeing. … We actually dug down and recessed the family room about a foot lower than it would have been on the set and that's how we were able to accomplish the angle of the staircase, which was the most important. You know we had to get the staircase right.
BLADE: What will they do with this house now?
ROTH: That's the million dollar question, I don't know. It's tough because there are a lot of restrictions. It's in a residential neighborhood but it's also Hollywood, so there's that. I think it's a matter of figuring out something that works for everybody but I honestly don't know.
BLADE: How many episodes are there?
ROTH: I think four plus a bunch of online-only content.
BLADE: Which Brady kid did you most identify with as a kid?
ROTH: Marcia, although she was way cooler and way prettier. So kinda Marcia but in my dreams.
BLADE: Did it seem like there was genuine camaraderie between the Brady kids or no more than it might be for any of us catching up with coworkers from long ago. Don't you think the public kind of projects onto them and imagines they're BFFs and hanging out all the time and so on when probably really that's not the case?
ROTH: Well they all grew up together and you can't discount that. When you have that kind of shared experience at such a young age, it's almost like a real brother or sister. They may not be getting together for dinner every week at this point in their lives, but they picked up right where they left off and we really had fun doing this project together. I think it's a hundred percent genuine and they are truly brothers and sisters, even if it is just on TV.
Remembering Robert Reed
Despite having a combative relationship with "Brady Bunch" executive producer Sherwood Schwartz, gay actor Robert Reed, who was closeted most of his life, never missed a Brady reunion, having shown up for "The Brady Bunch Hour" (1976-1977), "The Brady Girls Get Married" (1981), "A Very Brady Christmas" (1988) and "The Bradys" (1990). 
A lot of the tension centered around Reed, a classically trained actor, thinking the Brady scripts were too silly and implausible. Florence Henderson (Carol) and Barry Williams (Greg) in their respective memoirs ("Life is Not a Stage" and "Growing Up Brady") have said Reed could be a pain to work with.
"If there was a source of recurring tension on the set, it usually concerned Bob," Henderson writes. "He wanted 'The Brady Bunch' to be Shakespeare. It was the catalyst for terrible fights with Sherwood."
Williams writes that although the tension continued through the life of the show and through its reunions, Reed was good to the young cast and they didn't see a lot of the more terse exchanges. "He treated the kids as though they were his real family," Henderson writes.
"I want to make it crystal clear that this sort of tension was not commonplace on the set … and was not exhibited in front of the kids," Schwartz is quoted as having said in Williams' book. "It almost always took place late in the shooting day, long after the Brady kids had gone home. Under normal everyday circumstances, our (set) was friendly, comfortable, relaxed and enjoyable. … Friction was an exception not the rule." 
Was Reed combative by nature or could some of his grumpiness come from being forced to stay in the closet pretty much his whole life? Henderson thinks that compounded his irritability.
"It's hard to imagine what it must have been like in that era to be an actor in fear of losing his career if his sexual orientation were to become public," she writes. "Being in that closet had to be a very stressful place." 
— JOEY DiGUGLIELMO