June 20, 2019 at 1:48 pm EDT | by Karen Ocamb
Kamala Harris wants your vote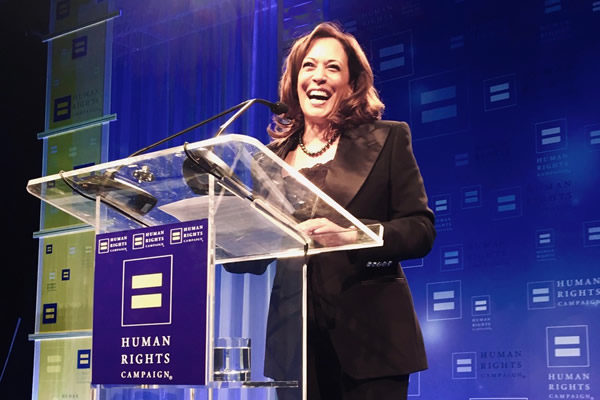 LOS ANGELES — The conflict is internal. It's a secret struggle, really, that Kamala Harris has been forced to face in public. The Democratic presidential candidate doesn't like to brag. It's unbecoming, it's immodest, it places the individual ahead of the community. Instead, Harris, who was inculcated in the spirit of the 1960s civil rights and social and economic justice movements, profoundly believes in community and coalition building.
"That's exactly how I was raised," Harris tells the Los Angeles Blade in a June 18 phone interview. "It's not about you. It's about getting the job done."
The job done of winning the presidency means not taking any group or voter for granted, including the LGBT community. Harris' struggle to tout her own achievements, which she discusses in her memoir The Truths We Hold: An American Journey, stands in sharp contrast to the man she intends to defeat, Donald Trump, the biggest chest-pounding, klieg lights-seeking braggadocio con artist the world has seen in decades. Harris, a former district attorney and California attorney general who believes Trump is a racist, thinks the House should launch impeachment proceedings into the president's illegal behavior. She also thinks Trump should be prosecuted after he leaves office.
Some wonder if Harris is "tough enough" to go up against Trump. They need only look at her precision prosecution of Attorney General Jefferson Beauregard Sessions during a Senate Intelligence Committee hearing. Despite being interrupted by her Republican colleagues, Harris forced the flabbergasted Sessions to throw his hands in the air. "I'm not able to be rushed this fast!" Sessions said, as if needing a fan and mint julep. "It makes me nervous."
Or juxtapose a visibly frightened Trump crouching behind a lectern during a disturbance at a rally before four burly men rushed to his rescue—to Harris who was initially surprised but sat calmly when a white man rushed the stage, grabbed her microphone and had only black lesbian MoveOn.org communications director Karine Jean-Pierre for protection. Harris calmly walked off the stage, smiling, while the man was hustled away. She calmly returned to deliver her talk about pay equity. No one talks about the courage it takes for Harris to stand alone onstage, despite what one presumes is an avalanche of death threats from Trump supporters.
The field of 23 Democratic presidential contenders is expected to narrow after the June 26-27 debates. But while Harris is top-tier, she is not a shoo-in for the nomination, which is still a long ways away.
"I hate to say this—but we need a man. Nothing against her. I'm sure she's smart and great. But I'm going with Joe Biden. He's got thick skin and he's the only one who can beat Trump," one white gay man tells the Blade on background.
Several younger LGBT voters support South Bend, Ind. Mayor Pete Buttigieg, who smartly talks about the future. They think Buttigieg, a vet who served in Afghanistan, can take down the bully Trump and shame him for ducking the Vietnam War.
Harris has lots of strong LGBT backing, including longtime politicos Mark Leno, Geoff Kors, Kate Kendell, and Kris Perry, former plaintiff in the federal lawsuit against Prop 8, whose wedding to Sandy Stier, Harris officiated when Prop 8 was defeated. Perry's son Spencer works on Harris' presidential campaign.
Harris is the walking positive personification of intersectionality, with her brilliant immigrant parents coming from Jamaica and India. She fought hard to become the first female, the first black and the first Asian-American district attorney in San Francisco. Then she fought to become California's first female, black, and Asian-American attorney general. She then the second black woman in U.S. history to win a Senate seat.
"I grew up exposed to many cultures, and it certainly did teach me from birth about the fact that people have so much more in common than what separates them," Harris tells the Blade. "I didn't have to learn it from reading about it. I didn't know the word 'intersectionality' but I've always known the commonality between people. A mother's love for her child, a parent's desire for their family to be healthy and safe. These are universal truths, regardless of the last name and how you spell it, or what your grandmother's language is, or the God you pray to. That's how I've always lived my life, which is knowing the commonality between people."
Kamala (comma-la) Harris was born on Oct. 20, 1964, five years before the Stonewall Rebellion, and never needed an epiphany to discover that LGBT people were OK.
"I grew up in a community and a culture where everyone was accepted for who they were, so there wasn't a moment where it was like, 'Okay, now let's let this person in.' Everyone was a part of everything. It was about community," Harris says. "It was about coalition building. It was about equality, inclusion. I mean, I had an uncle who was gay. [But] there was no epiphany" about gay people.
In fact, with the exception of Buttigieg's very presence, Harris is the only top-tier presidential candidate to constantly reference homophobia and transphobia in her speeches.
But some trans people are still angry over how Harris backed the Department of Corrections in its 2015 denial of gender reassignment surgery for then 51-year-old inmate Michelle-Lael Norsworthy.
The Washington Blade's Chris Johnson asked Harris about the issue in January at Harris' first news conference after announcing her 2020 presidential bid.
"I was, as you are rightly pointing out, the attorney general of California for two terms and I had a host of clients that I was obligated to defend and represent and I couldn't fire my clients, and there are unfortunately situations that occurred where my clients took positions that were contrary to my beliefs," Harris said.
"And it was an office with a lot of people who would do the work on a daily basis, and do I wish that sometimes they would have personally consulted me before they wrote the things that they wrote?" Harris said. "Yes, I do."
"But the bottom line is the buck stops with me, and I take full responsibility for what my office did," Harris said.
Harris confirmed to the Blade that she worked behind the scenes with the California Department of Corrections & Rehabilitation to establish a process enabling transgender inmates to receive transition-related care, including gender reassignment surgery, and she worked on getting Norsworthy paroled.
"I did it quietly, because I actually disagreed with my client initially, when they had the policy, and so I did it behind the scenes," Harris tells the Blade. "I helped to resolve and change the policy. The issue for me was to make sure the right thing would happen."
But Harris adds: "Let me just be very clear. I don't want to take full credit for that, because I don't deserve full credit for that. I don't want what I said to be interpreted as that. There were a lot of people involved in that."
But Harris' responses have been so cerebral, some feel she doesn't see the humanity in trans individuals.
"I understand not only their humanity, but I also understand the unfair challenges that they face in a society that still hasn't come to appreciate their full humanity," Harris tells the Blade. "And I know the hate that also has been targeted at our transgender friends, and I know that it resulted in lethal proportions. That's why, when I was the vice president of the National District Attorneys Association, I led the national DAs in a training on the ways that we can get rid of the 'gay panic defense,' because I knew it was being used as justification for the killing of many people, including transgender people."
Transphobia "is something I care deeply about. I have known many people who are transgender, and talked with them and really shared their pain around what their life experience has been like, because of the ignorance that still exists about who they are and the challenges they face," Harris says.
That includes all healthcare concerns. On Thursday, June 20, Harris introduced the PrEP Access and Coverage Act, legislation to guarantee insurance coverage for PrEP and create a grant program to fund access for uninsured patients.
"PrEP is a critical advancement in the fight against HIV that can finally provide peace of mind to Americans who live in the shadow of the HIV epidemic. But for too many in our country, lack of insurance coverage and exorbitant costs have put PrEP out of reach—and that needs to change. We must truly commit ourselves to HIV prevention by finally requiring every health insurance plan—public and private—to cover PrEP and all of the required tests and follow-up doctors' visits. We must also provide the resources necessary to help people without insurance access PrEP. Nearly four decades since the beginning of the HIV/AIDS crisis that took so many lives and caused countless others to live in fear, we can and will stop the spread of this disease," said Harris in a statement. Harris says that if elected president, she would sign an executive order to protect DREAMers and put them on a path to citizenship. The Blade asked if she would sign an executive order for the Equality Act, the LGBT civil rights bill that would prohibit discrimination against LGBT people in employment, housing and public accommodations.
"One of my first orders of business would be to get the Equality Act passed," Harris says. "Listen, I believe in the words and the spirit behind the Constitution of the United States and all of its amendments and those words we spoke in 1776 at the founding of our nation—that we are all equal and should be treated that way. That's why I fought against Prop 8. I don't believe that it is reflective of our democracy or the spirit of our founding, that any person would be treated differently under the law.
"So it is for all of those reasons that the Equality Act would be a first order of business for me," Harris continues, "and to do everything that I can within my power to make sure that we make that point about who we are as a nation. I often look at the words inscribed on that marble at the United States Supreme Court, and it says, 'Equal Justice Under Law.' I truly believe that. That is our goal. That is our ideal. That is part of who we are as a nation and we have to fight for that every day."