June 25, 2019 at 4:13 pm EDT | by Mariah Cooper
Trump disagrees with Megan Rapinoe's national anthem protest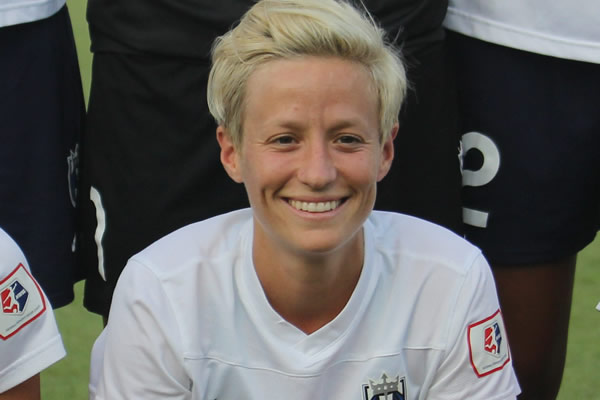 President Donald Trump doesn't agree with Megan Rapinoe's choice to protest during the national anthem at a soccer game.
The out co-captain of the National Women's Soccer League has refused to protest in the national anthem for years. In 2016, Rapinoe knelt during the national anthem in solidarity with former San Francisco 49ers quarterback Colin Kaepernick who knelt as a form of protest against police brutality in the U.S. His protests received widespread criticism and debate.
Rapinoe's protest led to the the U.S. Soccer Federation creating a rule requiring players to "stand respectfully" during the national anthem.
In a different form of protest, Rapinoe now stands silently with her hands behind her back instead of one hand over her heart.
"Using this blanketed patriotism as a defense against what the protest actually is was pretty cowardly. I think the NFL does it," Rapinoe told Yahoo Sports about the new rule in May. "I felt like the statement from U.S. Soccer, and then the rule they made without ever talking to me, that was the same as what the NFL was doing – just to not have the conversation, to try to just stop me from doing what I'm doing instead of at least having a conversation, and trying to figure out a [solution] that makes sense for everyone."
In an interview with the Hill, Trump was asked if Rapinoe should protest during the anthem.
"No, I don't think so," Trump replied.
However, he did offer support for the U.S. National Women's Soccer League in the World Cup.
"I love watching women's soccer," Trump said. "They're really talented."
Rapinoe has slammed Trump in the past referring to him as "sexist," "racist" and "not a good person."