June 26, 2019 at 3:11 pm EDT | by Tamika Spellman
Battle for sex work decriminalization has begun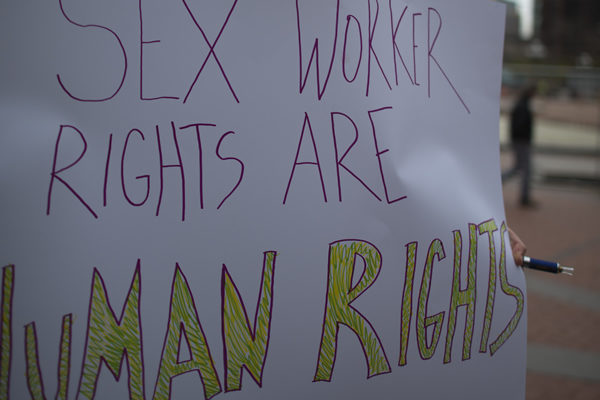 The 50th anniversary of Stonewall reminds us of the long history of Black and Brown Transgender sex worker-led liberation movements — and of the police perpetrated violence against the Transgender community. Decade after decade of brutality, abuse and repeated arrest for the oldest profession: sex work. The cycle of arrest for survival has a long history and is a harsh tale.
We, as a city, are at a critical juncture. We have a unique opportunity to bring about concrete change that brings liberty and freedom to the forefront. This is a part of the magic of Washington D.C., the most progressive and forward thinking city in America.
The Sex Worker Advocates Coalition has been working to decriminalize consensual sex work in the District since 2017. This work has been intense and always centered on the lived experiences of those in the consensual commercial sex trade. This month, SWAC supported the reintroduction of the "Community Safety and Health Amendment Act of 2019," co-introduced by Council members David Grosso, Robert White, Brianne Nadeau, and Anita Bonds and co-sponsored by Council member Charles Allen.
We want to share our stories, answer questions, and stand with our community as we demand justice for sex workers.
The criminalization of the sex trade increases harm and has fostered a scenario where sex worker justice is almost non-existent. For decades, sex workers have been telling our government how they can help; instead, they ended up exacerbating the barriers faced by the community. The violence perpetrated against sex workers, especially survival sex workers doing street-based work, has been front of mind and heart as we grieve the loss of Ashanti Carmon and Zoe Spears.
And the government response to this violence can make things harder. We still see aggressive police details swarming the strips and stopping everyone they can, targeting buyers, literally trying to find any way to criminalize you, thus still causing harm to the sex workers (and other community members) who have housing insecurities by cutting off their income.
The arrest itself is harmful, and is often the start of a downward spiral into the cycle of repeated arrest. The vast majority of those arrested experienced some sort of traumatic event as a result of being arrested, seeing that many sex workers have insecure housing situations. People have lost their lives to the system because the system demands that you stop doing what you do to survive. It forces people to make a choice in an extremely coercive dynamic, as in, "do as I say or suffer some more consequences."
Loss of income, discrimination, barriers to housing, and cycles of arrest increase desperation to meet basic needs, sometimes forcing people to unknown and potentially unsafe places and people, which can result in increases in violence. Something street-based sex workers know all too well.
Sex work decriminalization shifts this paradigm. Decriminalization is about my safety and access to resources. It's about my liberty and freedom. It's about my body and my autonomy. We should be fostering our community, focusing on our health, safety and the ability to thrive.
Removing criminal penalties for sex work reduces public violence and protects sex workers; reducing stigma and making resources and opportunities for growth readily available is a way better choice.
The grassroots movement is spreading nationwide, as people are insisting on breaking the chains of oppression and dictatorship over our bodies. Communities are demanding sex work decriminalization across the nation and the world. Legislation was introduced to decriminalize sex work in New York; Tiffany Cabán just won the primary for Queens district attorney on a platform supporting sex work decriminalization; Mexico City just decriminalized sex work in an effort to combat human trafficking.
As we commemorate the 50th anniversary of the Stonewall Riots, we should be looking forward to doing better as a society, extending freedoms and liberties, and rejecting a government that carries out atrocities upon its residents.
Stand with us as we fight for community safety, support, and sex work decriminalization. Follow the DecrimNow D.C. campaign, canvass with us, call your Council members and tell them you support the Community Health and Safety act of 2019, then tell your friends the same thing.
Together we can break the cycle of harm and criminalization.
Tamika Spellman is an advocacy associate at HIPS.