June 26, 2019 at 12:32 pm EDT | by Richard J. Rosendall
From bar raids to Buttigieg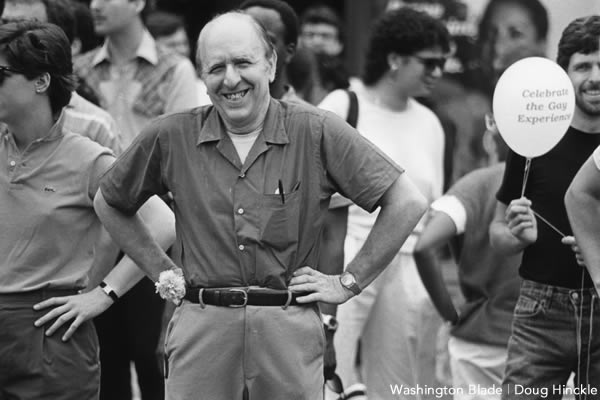 The Stonewall uprising was a flashpoint that fueled a great broadening of the LGBTQ rights movement. It was not the start. Pre-Stonewall organizations included multiple Mattachine groups and the Daughters of Bilitis. Pre-Stonewall incidents included the sit-in at Dewey's Lunch Counter in Philadelphia in 1965 and the riot at Compton's Cafeteria in San Francisco in 1966.
One of the most notable pre-Stonewall acts of resistance was when Frank Kameny went to court to fight his 1957 firing by the Army Map Service. The Supreme Court in 1961 refused to hear his appeal, but as Charles Francis writes, "Kameny's powerfully argued petition to the Court marked day one in a revolution of legal argumentation and law for a vast homosexual minority demanding equal citizenship." The post-Stonewall generation built on that.
To pretend that all we have gotten are crumbs since Stonewall, as some have, is to dishonor those who fought there and those who helped win progress since. The unseriousness of the argument is shown by a partial list of achievements since 1969: the American Psychiatric Association's removal of homosexuality from the Diagnostic and Statistical Manual of Mental Disorders. Workplace protections in Fortune 500 companies. The overturn of anti-sodomy laws. The end of the military gay ban. Openly gay ambassadors. Police liaison units. Greater cultural visibility and normalization. Marriage equality.
From the earliest post-Stonewall days to the present, the movement has always been marked by a divide between reformers and revolutionaries. At a recent rally in DC, a woman from No Justice No Pride called for abolishing police. I touted the police department's LGBT Liaison Unit.
The self-styled revolutionaries among us appear to have modeled themselves after the Cuban revolution rather than the American one. By noting that Stonewall was a riot, they appear to advocate perpetual revolution. This misses the point of the uprising. Anger is a great motivator, but those who refuse to channel it productively show they are more interested in collecting grievances than resolving them.
Effective advocacy requires acknowledging both the credits and the debits, as Ta-Nehisi Coates said in his recent testimony before Congress on reparations for slavery.
The work done by my generation and those that came before has changed expectations in the generations that have followed. To be sure, social progress is not evenly distributed. That and hunger for opportunity are factors in migration to cities like mine. But new media have a powerful reach, for good and ill. Landmark Supreme Court rulings from Lawrence to Obergefell liberated everyone. The ferocity of the right-wing backlash is actually proof of that.
Three decades ago, a gay chorus director said during a rehearsal, "This music sings itself." If that were true, I replied, then we could put down our sheet music and leave the room. He wasn't speaking literally, but I still found it insulting. Votes do not cast themselves either. We have to show up. We have to participate.
Openly gay and trans elected officials are a shining consequence of participation. The insurgent candidacy of South Bend Mayor Pete Buttigieg is a historic breakthrough that some of us do not fully appreciate. For example, Greta LaFleur, Associate Professor of American Studies at Yale University, wrote a self-parodic article titled "Heterosexuality Without Women" in the Los Angeles Review of Books in May. I don't wish to challenge her queer credentials, but twelve volumes of her claptrap could not make Pete and Chasten emblems of heterosexuality. This reminds me of former DC mayor Anthony Williams being accused of not being black enough.
Let's not judge the first credible openly gay candidate for president by some academic hothouse hierarchy of queerness, but by his leadership qualities, character, policies, record, and ability to connect with voters.
On the summer solstice, a vigil was held at Dupont Circle to protest anti-LGBTQ violence. As I arrived, a woman was walking around the circle yelling, "Trans rights are human rights!" into a bullhorn. As she passed, I said, "Tell it, sister." She looked at me, startled, then said, "Okay." It was as if she wasn't expecting agreement.
After fifty years, we are still learning to take yes for an answer.
Richard J. Rosendall is a writer and activist. He can be reached at rrosendall@me.com.
Copyright © 2019 by Richard J. Rosendall. All rights reserved.