D.C. version of The Meatball Shop brighter, less cheeky than New York originals
Straight-owned but inclusive chain has matured since 2010 Big Apple launch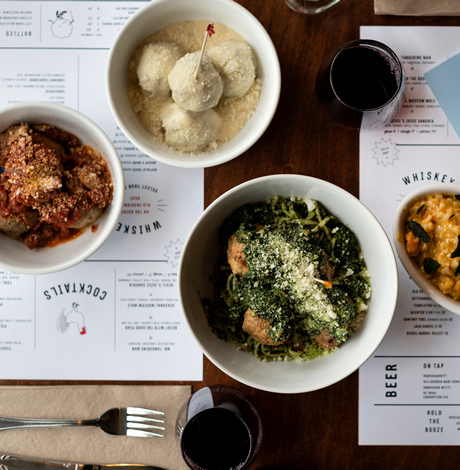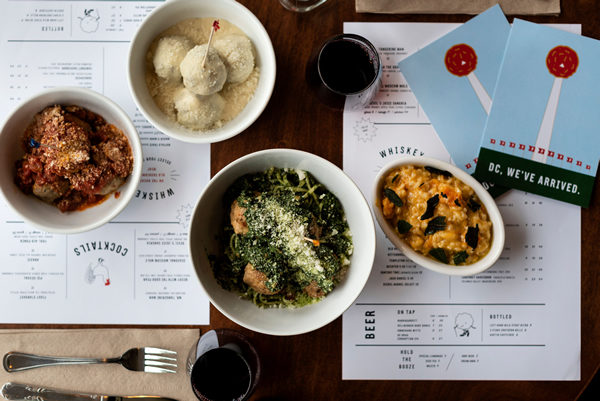 Tongue in cheek? Try ball in mouth.
The Meatball Shop (1720 14th St., N.W.), in all its suggestive glory, landed on the busy 14th Street corridor late last year with a nod, a wink and heaping handfuls of ball-shaped opportunities for dinner. And puns.
"We wanted to find someplace that would speak to the culture and vibe of The Meatball Shop," says CEO Adam Rosenbaum. "We saw a rowhouse in the high-energy neighborhood of 14th Street that felt New York brownstone style, and knew this was it."
Childhood friends Michael Chernow and Daniel Holzman, both culinary school graduates, founded The Meatball Shop after food careers spanning the globe. And a passion for meatballs. They launched their mini-chain (there are now eight locations) in the Lower East Side of New York City in 2010 to hours-long lines, a late-night lounge vibe and plenty of fanfare.
"The Meatball Shop was one of the first restaurants to focus on a single food item that's not fast-casual," Rosenbaum says. Even though it's a table-service spot, it focuses on one specialty: its balls.
Tucked into a long narrow space with exposed-brick walls, D.C.'s version is The Meatball Shop, matured. Risqué-red walls found in New York shops are now white and the light has gone from moody to bright ("the better for today's Instagram users," Rosenbaum says). 
While deftly mincing meat, The Meatball Shop does not mince words when it comes to what's on the plate. The starter menu, for one, offers mozzarella, risotto, Buffalo and crab cake balls.
The shop's mains come in all flavors, shapes and sizes: classic (the traditional pork-beef-breadcrumb mix), pork, chicken, salmon, lobster and veggie/vegan; the menu then offers six suggested-but-not-mandatory sauces with which to pair. For $10-17, diners can choose to have the balls served as sliders, in a sandwich, naked (i.e. with sauce and focaccia), or in an on-trend bowl over a side.
The shop also offers Baller Plates, which are dishes priced in the mid-$20 range. The Classic is an homage to an Italian grandmother's kitchen, with meatballs served over mashed potatoes and bacon in a red sauce; The Spicy is more elegant, with pork meatballs in creamy Parm sauce over broccoli and rigatoni. 
When The Meatball Shop launched, the founders served innuendo with every dish. As The Meatball Shop grows up, "we've moved away from this tactic — it's a different time, both politically and socially," Rosenbaum says.
"We also we don't want to alienate any staff, though our job listings still say that 'you have to be OK with a ball joke,'" he says.
And though Rosenbaum isn't gay, "the LGBT community has been part of The Meatball Shop since day one," he says. "The Meatball Shop is a family, and we hire intentionally for diversity. Our atmosphere is all about inclusivity."
The restaurant's ethos makes sense given locations in neighborhoods with large gay populations, like New York City's Chelsea, Hell's Kitchen and West Village, and D.C.'s 14th spot. "We tell our team to let their freak flag fly," Rosenbaum says. He wants customers to see themselves reflected in the staff and environment. 
In June, during Pride month, The Meatball Shop sponsored a float in New York and ran a contest among its bartenders to create a charity Pride drink. A Hell's Kitchen bartender prevailed with the "RuPaul-oma" that spiked a traditional Paloma with tequila and mezcal. Before it opened in D.C., the shop catered a gay wedding for a couple that frequented the restaurant on trips to New York. 
Rosenbaum dished on designs for D.C.'s location bolder than his spicy heritage pork meatballs. 
"We know we're not Michelin-starred, nor with hot new chef. We just want to enjoy work and represent the people we work with."
In D.C., that means obvious partnerships: Jose Andres lent his spice to Spanish-style pork meatballs. Ice Cream (ball) sandwiches are sourced from Moorenko's, based in Maryland. 
"Since we make the best meatballs, we thought we'd try to make the best crab balls too," Rosenbaum says. Chefs now serve these nickel-sized specialties spiked with Old Bay and covered in crushed potato chips.
In tamped-down style yet just enough sauciness, The Meatball Shop will never attain Millennial-magnet status of Barcelona, nor the determined refinement of Le Diplomate. Clearly attentive to consumer preference shifts, the restaurant may just attain its "unpretentious yet elevated" target for a formerly homely food. 
To wit, the it takes care to offer dishes free of gluten or of any meat or animal products. The shop crafts its veggie meatballs with express care, and it shows; the blend of lentils, vegetables and proprietary spice mixture that the D.C. location manager would not divulge is a true standout.
The meatball shop represents a place "with a fun environment and food sourced properly. We look to celebrate individuality, but at the end, have a great party," Rosenbaum says.
Annie's celebrates 75th anniversary
Local institution a place of community and acceptance for LGBTQ patrons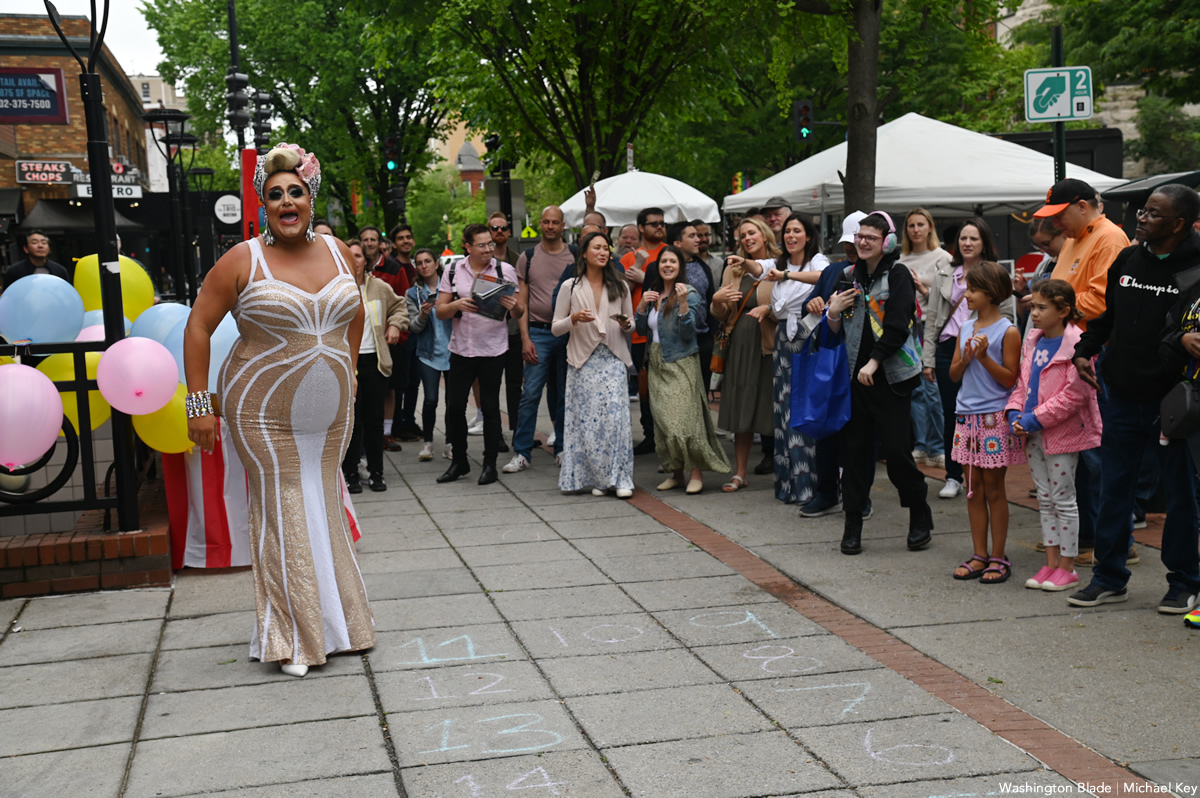 George Katinas, a child of immigrants, opened Paramount Steakhouse in 1948 on the corner of 17th and Church streets, N.W. (where JR.'s is currently located). Three-quarters of a century later, the restaurant has changed its name and location, received accolades from the city and James Beard, and was deservedly feted last weekend. His son Paul now owns the restaurant, and runs Annie's today with his daughter Georgia Katinas.
George ran the restaurant with his sisters, but it was a singular sister Annie who coaxed the restaurant into its status as a place of community and acceptance for the growing LGBTQ population in Dupont Circle. Katinas renamed the restaurant for her. When there were desperately few areas of safety, Annie's stood out, and does still today.
Last Saturday, Annie's pulled out all the stops for an all-day party under a brilliantly sunny sky. The clouds parted for the celebration, bringing together government officials, longtime customers, and families with new fans. A rainbow balloon arch perched across the 17th Street sidewalk.
Drag artists Kimberly Di'Nitta, Victoria Di'Nitta, Jayzeer Shantey, Genocide Abrasax and Candi H. Fuentes performed, Miss Gay Arlington greeted fans, and the Gay Men's Chorus of Washington sang several renditions a capela for the crowd – including "Happy Birthday" over an enormous cake with sparkler candles (Annie's has been a longtime supporter of the Gay Men's Chorus).
"Taking a moment to sing happy birthday with Potomac Fever Group of Gay Men's Chorus, this moment was so emotional," said Georgia.
Anne's set up a swag tent, selling collectible pint glasses featuring caricatures of the Annie's family, like George and Annie herself. There was also a raffle, carnival snacks, and sidewalk games like a pie walk and martini race.
Vincent Slatt of Rainbow History Project was there to take it all in. Armed with a microphone, he interviewed partygoers to talk about why Annie's was meaningful to them on the occasion of the anniversary.
In 2019, the James Beard Foundation announced that Annie's Paramount Steakhouse, won the America's Classic award for the Mid-Atlantic region (Ben's Chili Bowl has also won this award). These awards are given "to locally owned restaurants that have timeless appeal and are beloved regionally for quality food that reflects the character of its community," according to the James Beard website.
"Annie's became home, and was there when there weren't too many other opportunities or places to go," says owner Paul Katinas (George's son) in a previous interview. Annie's also developed a strong relationship with the Washington Blade after the newspaper was founded in 1969.
After the outdoor festivities closed at 6 p.m., the party moved inside to Annie's upper level for an appropriately festive afterparty.
Georgia notes that the anniversary "gave us a moment to reflect and think about how much has changed in 75 years, yet how much we've kept Annie's the same. It's a reason to celebrate and reflect. We're so grateful for the support of our regulars."
As for the next 25 years? Georgia says that the restaurant industry will be affected by the new tipped-wage law, but is adamant that Annie's will remain.
"We will preserve what we have, honor our past, while making new memories."
Delectable debuts on the D.C. dining scene
Jose Andres triumphs, Mi Vida expands, and more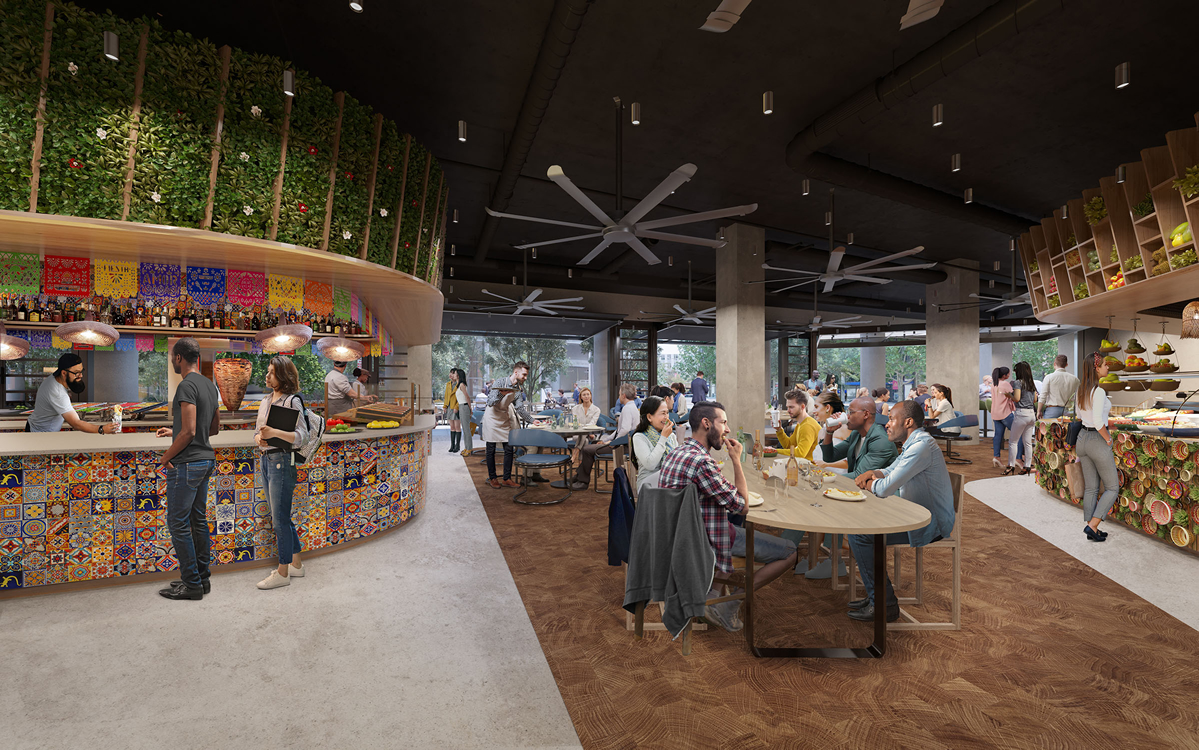 This year is already turning out to be a dynamic one for dining and nightlife. The effects of the pandemic, inflation, and the supply chain are still being felt, but there is a sense of optimism with a host of new openings for the first half of the year. And this season, of course, is often defined by cherry blossoms. Peak bloom is predicted for March 22-25, and festival activities begin on March 18. Enjoy all the pink, and read on for some dining highlights for the first few months of 2023.
Bazaar
Jose Andres triumphantly returned to the Old Post Office building in a coup for the celebrity restaurateur. The building, which is now a Waldorf Astoria hotel, most recently housed a hotel run by the organization of a disgraced former president. Andres had his eyes on the space for two decades and was set to open a restaurant there, but refused because of the new owner. Bazaar, which opened in February, serves sophisticated Spanish cuisine. It has locations in Los Angeles and Miami, plating specialty dishes like Iberico ham with caviar.
Uncaged Mimosas
It's all flowers and bubbles at Uncaged Mimosas in Truxton Circle, which opened in February. Here, brunch is served every day of the week. Chef Damian Brown pours 20-plus kinds of mimosas, with flights available, plus frozen daiquiris. Neon signs, fake flowers and vines, and lots of color gives it a permanent party vibe. Brunch dishes include chicken and waffles, salmon and grits, and red velvet pancakes.
Ambar
Ambar, one of the only all-you-can-eat dinner restaurants in the region, is opening its second spot in D.C. proper and third in the area. The new two-story restaurant, which opened March 6, sits in Shaw across from Dacha. Owner Ivan Iricanin brings in dishes from across the Balkans, like hearty country slow-cooked dishes from the interior, to seafood specialties from the Mediterranean. There are more than 60 bottles of wine from the Balkans, plus fruit-infused rakia, the popular Balkan spirit. Ambar offers unlimited prix-fixe brunch, lunch, and dinner menus, with optional drink pairings at brunch and dinner.
Owl Room
The U Street Corridor welcomes this new nightlife destination in the former Marvin space on March 10. Run by Marvin owner Eric Hilton and others, Owl Room has transformed the spot into more of a music and concert venue, with a dance floor and stage that will feature live music and DJ sets. The upstairs has a more relaxed patio for cocktails.
Mi Vida
Gay-owned KNEAD Hospitality + Design continues to expand its Mexican hit restaurant, Mi Vida, with a new outpost set to open in April in Penn Quarter. This will be the largest Mi Vida to date, boasting a huge 10,000-square-foot space. Design flourishes include the iconic tree of life that has been showcased at all three locations, as well as a new custom rope art installation by Mexican artisans.
Alfresco
On the southern end of Adams Morgan, Alfresco is a new "American tap and grill" restaurant from the owners of Lauriol Plaza, located just down 18th Street. The 300-plus seat restaurant is set to open in April. Its menu is a distinct departure from Lauriol's Mexican food; this one serves sandwiches, pizza, pasta, salads, and steaks. True to its name, there is a central courtyard with a retractable pergola roof, as well as two other outdoor patio seating spaces.
Van Leeuwen
New York import Van Leeuwen Ice Cream and its super premium brand of dessert is opening three shops in the next few months: Union Market (418 Morse St. NE), Adams Morgan (2421 18th St. NW), and Georgetown (3245 Prospect St. NW). Founded in 2008 as a New York City ice cream truck, Van Leeuwen is known for both traditional and vegan ice creams. Unique flavors include mac 'n cheese and honeycomb. These are its first shops in D.C., though there are more than 20 across the country.
The Square
The Square (1850 K St.) will be D.C.'s newest food market, opening later this year. The Square is slated to open in 2023 within International Square, and will feature a collection of more than 15 artisanal food vendors, a full-service restaurant and bar, an expansive bar in the central atrium, and outdoor dining seating, plus retail. Richie Brandenburg and Rubén García co-founded The Square, both well-established chefs, bring globally inspired food to the expansive food hall.
Bunker
While not falling into the food sphere, the opening of Bunker has upended nightlife destinations for the LGBTQ community in D.C. Kinetic Productions owners Zach Renovatés and Jesus Quispe debuted the subterranean spot in late February, bringing in local and national DJs, dancers, drag queens, and entertainment. The bar/club is open Thursday-Sunday, playing different music genres each night.
D.C. restaurants offer something for everyone this Valentine's Day
From romantic prix-fixe options to a 'single AF mixer'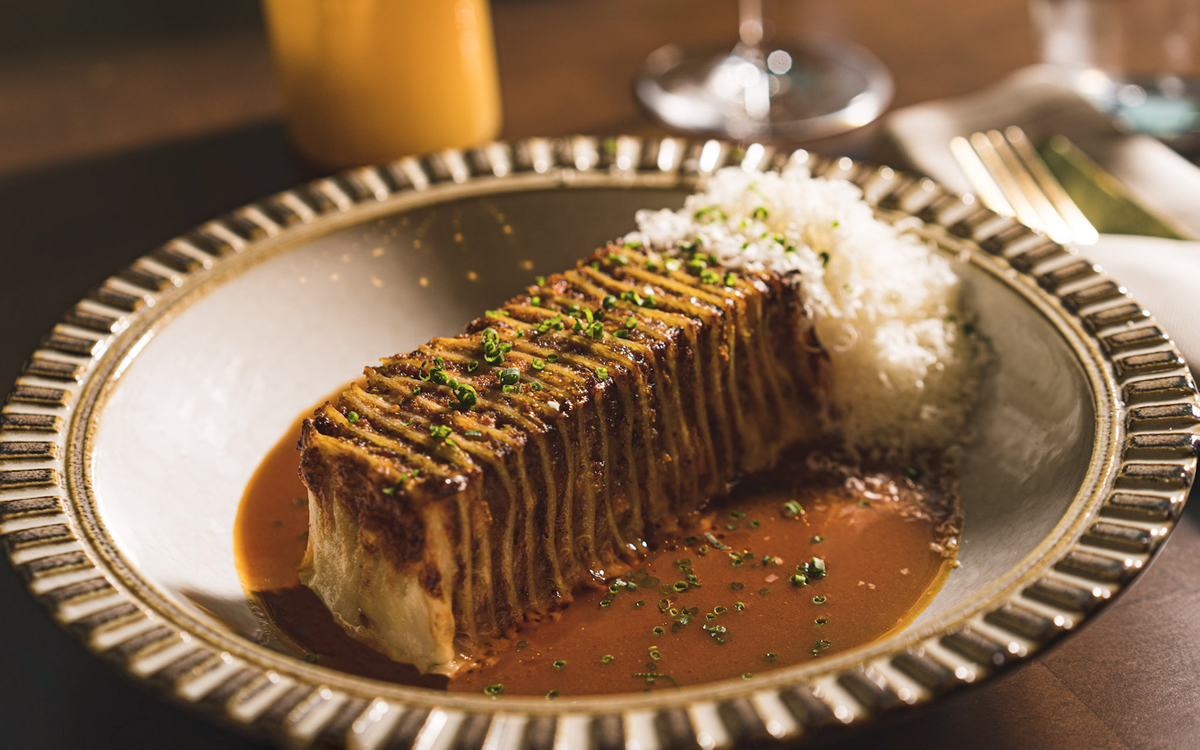 Whatever Valentine's Day means to you, there are plenty of places around D.C. for an excellent prix-fixe dinner or raging party with pals/gals/side pieces. Below are just a few options for what's available:
Couple Options
Hot new French restaurant L'Ardente and its infamous 40-layer lasagne is offering an extended Valentine's Day dinner, from Friday, Feb. 10, through Tuesday, Feb. 14. Couples can choose from the regular menu or a five-course tasting menu ($250 for two), which includes passion fruit caviar martinis.
Sababa Cleveland Park will serve a four-course, prix-fixe menu for two on Feb. 14. The menu ($120 for two) includes beet hummus, heart of palm salad, and a date tahini tart (and lots of romance-themed puns).
Cafe Riggs, in the Riggs Hotel, is serving not just a dessert special, but also a hotel package. Hotel guests can enjoy a Valentine's Brunch in Bed enhancement with the option to a build-your-own mimosa flight or coffee while enjoying a Petit Déjeuner (French continental breakfast) in your room. Reservations are available through OpenTable.
Lyle's, in the Lyle Hotel, will offer a prix-fixe dinner menu at $85 per person that will be available the weekend before and after Valentine's Day as well as on the holiday. Reservations are available through OpenTable.
Ellington Park Bistro, in the St. Gregory Hotel, is offering a Valentine's Day menu as well as the regular a la carte menu. The menu will highlight sweet flavors, and includes dishes such as Butternut Squash Soup, Sweet Shrimp Wontons, and Raspberry and White Chocolate. Reservations available through OpenTable.
The Fairmont Georgetown is offering a decadent Valentine's Afternoon Tea on Feb. 11, 12, and 14 inside overlooking the courtyard, with petit fours, scones, and savory sandwiches like an oak-smoked cheddar and spiced pear chutney. Tea is served from 1-4 p.m. ($75 per person), with the option to add a glass of G.H. Mumm Champagne.
Nicoletta Italian Kitchen will host a Valentine's Day Pizza Class on Feb. 11, teaching everyone to make their own heart-shaped pie, while enjoying arancini and wine. And for those looking for something a little less hands-on, Nicoletta will offer a special Valentine's Day menu on Feb. 14, complete with heart-shaped pizzas (made by the chef this time), as well as three special dishes – a clam appetizer, calzone, and lobster raviolo.
Waldorf Astoria Washington DC in the storied and renamed Old Post Office has an old-school option to "pen letters of love over dinner to share with a special someone." Valentine's Day guests will all receive a custom piece of stationary at their time of seating in addition to a menu of inventive dishes with a selection of elevated ingredients. Reservations can be made on SevenRooms.
Immigrant Food+ is serving a three-course menu for two, with options for vegetarian and pescatarian guests. There's also a featured wine list from all female growers/winemakers including a special Galentine's Day Flight of a Brut, white, and red.
Non-Couple Options
Brookland's Finest Bar & Kitchen will offer a special "Salty & Bitter" bar menu over Valentine's Day weekend, complete with salty snacks and bitter beverages. Snacks include chicken fingers and pretzel bites with truffle oil; drinks include espresso martinis and black Manhattans.
El Techo is throwing a Broken Hearts Club this Valentine's Day (2/14). The tropical oasis rooftop is "helping single guests nurse their wounds" with a free shot of tequila for everyone who goes by on Feb. 14. It's also offering a Taco Tuesday deal, which features three tacos and choice of a margarita or beer for $22.
Washingtonians that find themselves ready to mingle this year can head to Fight Club's Anti-Commitment Ball on Saturday, Feb. 11. The party, from 8 p.m.-1 a.m., will feature DJ Daniel Biltmore spinning live tunes, food/drink specials, and Jell-O shots. Tickets not required. Food and drink items available a la carte.
The National Union Building at 918 F St. is bringing out its "certified fun sommelier" for a wine tasting event. Two sessions (Feb. 12 and Feb 13, both 6:30 p.m.) offer six wines, from fizzy to deep, dark red. Bottles will be available for purchase to take home. Tickets are $35-$45 through Eventbrite.
NoMa's WunderGarten is hosting a "Nice Try Cupid Anti-Valentine's Day Single AF Mixer" on Feb. 14, 7-11 p.m. Tickets are free but reservations recommended via Eventbrite.