July 18, 2019 at 9:08 pm EDT | by Evan Caplan
D.C. version of The Meatball Shop brighter, less cheeky than New York originals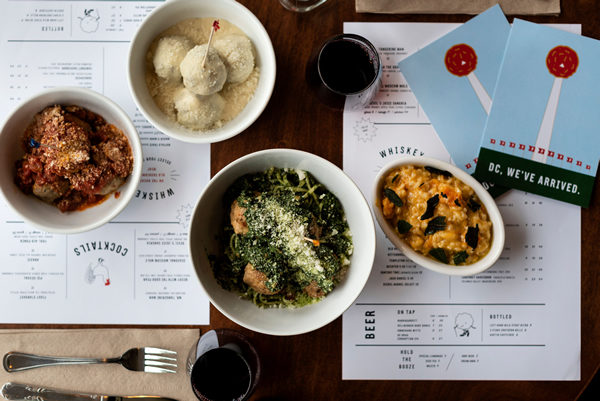 Tongue in cheek? Try ball in mouth.
The Meatball Shop (1720 14th St., N.W.), in all its suggestive glory, landed on the busy 14th Street corridor late last year with a nod, a wink and heaping handfuls of ball-shaped opportunities for dinner. And puns.
"We wanted to find someplace that would speak to the culture and vibe of The Meatball Shop," says CEO Adam Rosenbaum. "We saw a rowhouse in the high-energy neighborhood of 14th Street that felt New York brownstone style, and knew this was it."
Childhood friends Michael Chernow and Daniel Holzman, both culinary school graduates, founded The Meatball Shop after food careers spanning the globe. And a passion for meatballs. They launched their mini-chain (there are now eight locations) in the Lower East Side of New York City in 2010 to hours-long lines, a late-night lounge vibe and plenty of fanfare.
"The Meatball Shop was one of the first restaurants to focus on a single food item that's not fast-casual," Rosenbaum says. Even though it's a table-service spot, it focuses on one specialty: its balls.
Tucked into a long narrow space with exposed-brick walls, D.C.'s version is The Meatball Shop, matured. Risqué-red walls found in New York shops are now white and the light has gone from moody to bright ("the better for today's Instagram users," Rosenbaum says). 
While deftly mincing meat, The Meatball Shop does not mince words when it comes to what's on the plate. The starter menu, for one, offers mozzarella, risotto, Buffalo and crab cake balls.
The shop's mains come in all flavors, shapes and sizes: classic (the traditional pork-beef-breadcrumb mix), pork, chicken, salmon, lobster and veggie/vegan; the menu then offers six suggested-but-not-mandatory sauces with which to pair. For $10-17, diners can choose to have the balls served as sliders, in a sandwich, naked (i.e. with sauce and focaccia), or in an on-trend bowl over a side.
The shop also offers Baller Plates, which are dishes priced in the mid-$20 range. The Classic is an homage to an Italian grandmother's kitchen, with meatballs served over mashed potatoes and bacon in a red sauce; The Spicy is more elegant, with pork meatballs in creamy Parm sauce over broccoli and rigatoni. 
When The Meatball Shop launched, the founders served innuendo with every dish. As The Meatball Shop grows up, "we've moved away from this tactic — it's a different time, both politically and socially," Rosenbaum says.
"We also we don't want to alienate any staff, though our job listings still say that 'you have to be OK with a ball joke,'" he says.
And though Rosenbaum isn't gay, "the LGBT community has been part of The Meatball Shop since day one," he says. "The Meatball Shop is a family, and we hire intentionally for diversity. Our atmosphere is all about inclusivity."
The restaurant's ethos makes sense given locations in neighborhoods with large gay populations, like New York City's Chelsea, Hell's Kitchen and West Village, and D.C.'s 14th spot. "We tell our team to let their freak flag fly," Rosenbaum says. He wants customers to see themselves reflected in the staff and environment. 
In June, during Pride month, The Meatball Shop sponsored a float in New York and ran a contest among its bartenders to create a charity Pride drink. A Hell's Kitchen bartender prevailed with the "RuPaul-oma" that spiked a traditional Paloma with tequila and mezcal. Before it opened in D.C., the shop catered a gay wedding for a couple that frequented the restaurant on trips to New York. 
Rosenbaum dished on designs for D.C.'s location bolder than his spicy heritage pork meatballs. 
"We know we're not Michelin-starred, nor with hot new chef. We just want to enjoy work and represent the people we work with."
In D.C., that means obvious partnerships: Jose Andres lent his spice to Spanish-style pork meatballs. Ice Cream (ball) sandwiches are sourced from Moorenko's, based in Maryland. 
"Since we make the best meatballs, we thought we'd try to make the best crab balls too," Rosenbaum says. Chefs now serve these nickel-sized specialties spiked with Old Bay and covered in crushed potato chips.
In tamped-down style yet just enough sauciness, The Meatball Shop will never attain Millennial-magnet status of Barcelona, nor the determined refinement of Le Diplomate. Clearly attentive to consumer preference shifts, the restaurant may just attain its "unpretentious yet elevated" target for a formerly homely food. 
To wit, the it takes care to offer dishes free of gluten or of any meat or animal products. The shop crafts its veggie meatballs with express care, and it shows; the blend of lentils, vegetables and proprietary spice mixture that the D.C. location manager would not divulge is a true standout.
The meatball shop represents a place "with a fun environment and food sourced properly. We look to celebrate individuality, but at the end, have a great party," Rosenbaum says.