June 20, 2019 at 2:53 pm EDT | by Evan Caplan
British fast-food chain LEON aims for quality and speed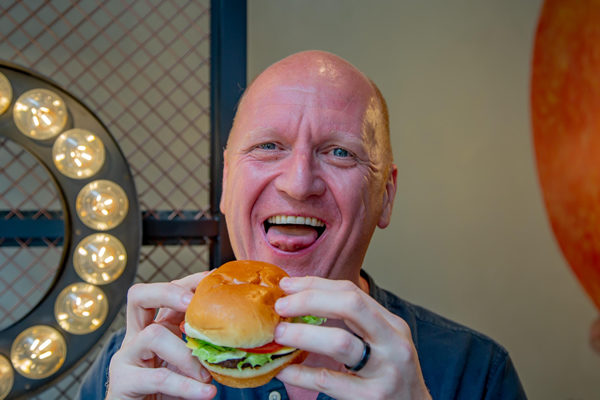 In subtle but steadfast British fashion, the London-based restaurant chain LEON is intent on redefining fast food.
Not fast casual, the fertile ground that nurtures Chipotle and Cava, but "authentic" fast food, that of the meal-deal variety, where the time it takes from placing a combo order of a burger, side and drink from its delivery to your mouth is short and sweet, and, according to LEON, less than 60 seconds.
It's also run by a leadership team with significant gay representation.
John Vincent founded LEON in 2004 in England. The company now boasts 60 restaurants across six countries.
Its dishes are Mediterranean inspired with British touches. The menu is unfussy and straightforward with significant vegan representation. Wraps, burgers and "hot boxes" (protein, rice and salad) dominate; the most exotic dishes stretch not far beyond a halloumi sandwich, a fried fish wrap and a citrusy pea salad. Customers order at a counter and food arrives in compostable paper containers and sleeves. While allergens are listed and respected, customization is not recommended.
Lunch is brisk business. Last year, LEON landed in the U.S., choosing to plant its first seed of the new fast food right in Farragut Square. It already plans two more stores in Washington this summer, with several more in the works.
"As children, we considered fast food the biggest treat imaginable," Vincent says. "But then we grew up, and realized that most fast food doesn't make you feel good or help you live well. So, we asked ourselves why can't fast food be good food?"
Consultants who traveled extensively, Vincent and co-founder Henry Dimbleby consumed fast food, but not the kind of food they wanted to eat. They set about to make their own, bringing on famous chef and broadcaster Allegra McEvedy to oversee the menu and round out the trio of co-founders.
The LEON founders were not content with a British empire. They wanted to spread the good-fast-food gospel to the United States, and tapped Glenn Edwards, who decamped to D.C. from London to dethrone the Golden Arches.
"America is home to fast food. We want to disrupt that," Edwards says.
Edwards is also gay, and he and his partner have permanently settled in Logan to be part of the American invasion.
"We chose D.C. because it models London very similarly from a demographic and psychographic perspective. We really like the people, the energy and the diverse food scene. It's a fun place to be, which was important to us starting LEON here," he says.
When crafting his team, Edwards set out to make it the inclusive place that made him feel so at home at LEON in the first place.
"I wasn't out when I first started in the restaurant industry, but that was never a problem at LEON," he says.
In fact, McEvedy, though no longer with LEON, left her mark on the firm as an out lesbian in a leadership role.
"LEON has always had a very accepting culture," Edwards says. "Allegra, one of our founders, is gay, and that always set the scene of acceptance and inclusion from our early beginnings."
Today, three senior members of the U.S. leadership team are gay. Over the recent Capital Pride, the LEON team took to the parade to hand out rainbow temporary tattoos; anyone sporting it up to two weeks after Pride gets free coffee.
It's this philosophy of acceptance and forward thinking that allows LEON to continue to grow in its specialty space.
"Our food keeps you from having to choose between quick and good for you," Edwards says. "It's food that makes you happy, recreates nostalgic moments, yet fast."
LEON is not shy about positioning itself as a health-forward, eco-conscious chain.
"We only work with ingredients you'd find in your pantry at home and if we have to Google an ingredient, we don't want to cook with it," Edwards says.
Yet its bright, no-frills Farragut Square shop would be at home at any interstate rest stop. Cashiers are friendly yet efficient, flashing smiles as they exchange credit cards and pour flat whites (a British import) from whirring espresso machines.
Behind them is a window to the kitchen where chefs deftly prep beet-black bean burgers, sliding them between lettuce, tomato and special sauce (garlic aioli) into a bun, and tossing them onto a steel warming tray.
"We put together combinations that make sense from a flavor and nutritional point of view," Edwards says. "We have a heavy focus on wellbeing. Our main goal is to help people eat well and live well. Our CEO introduced everyone at LEON to the martial art of Wing Tsun and its principle of winning not fighting, which is a guiding light for us. We hope we can open hundreds of restaurants in the U.S., creating jobs and building momentum to influence and create change."
Edwards and his larger team have not reinvented the fast-food wheel, as the chain manages to churn out burgers with Henry Ford-like automation. LEON has simply repurposed "traditional" fast food with natural ingredients, many more vegetables and a company philosophy that sounds more Whole Foods than Have it Your Way.