June 7, 2019 at 3:49 pm EDT | by Evan Caplan
Many local bistros giving Pride-season proceeds back to LGBT orgs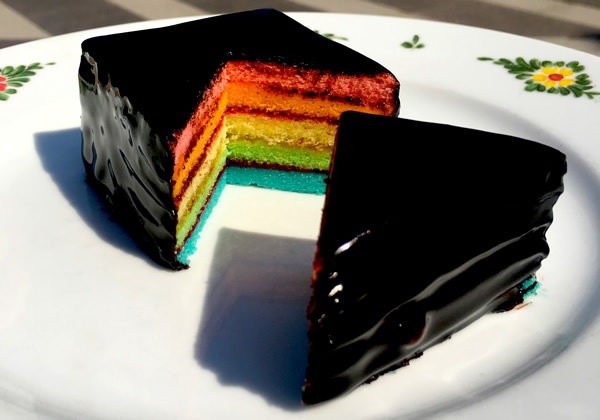 The Pride celebrations across D.C. on this 50th anniversary of Stonewall are overflowing. Selected options for drinks, food and events are listed below.
Drinks
Gay-owned EatWell D.C. continues its long tradition of supporting and celebrating LGBT residents for Capital Pride. Throughout the weekend (June 7-9), all EatWell DC restaurants (The Pig, Commissary, Grillfish, Frenchy's Naturel and Logan Tavern) are offering a special L'amour C'est L'amour cocktail and donating $1 from each purchase to the D.C. Area Transmasculine Society. EatWell's newest spot, Frenchy's Naturel, is also hosting "Unicorn Pride" theme all weekend, in which diners are encouraged to wear tutus and other unicorn regalia. Details at eatwelldc.com.
City Winery (1350 Okie St., N.E.) will donate a portion of its charity wine flights to Capital Pride. Each flight features a range of City Winery's Washington house-made wines, including a combination of white and red wines as well as the winery's popular rose. Details at citywinery.com.
Fare Well (406 H St., N.E.), has teamed up with lesbian-owned Republic Restoratives to feature the Fare Well Mule, made with that distillery's Civic Vodka. A portion of proceeds from drink sales from June 1-30 will be donated to TransLAW. Details at eatfarewell.com.
Hotel
In coordination with Exactly, the creative agency from Brightest Young Things, seven local Hilton properties will sprout rainbow activities, cocktails and "benches" featuring floral artwork by local artist Holley Simmons of She Loves Me. The hotels will serve D.C. Brau Pride Pilsner and Absolut Vodka Pride Edition in ROYGBIV cocktails. Details at hilton.com.
Food
All D.C. proper locations of Matchbox (Capitol Hill, Chinatown and 14th Street) will donate a portion of sales from each Honey Pie Punch sold between June 3-9 to the D.C. LGBT Center. Details at matchboxrestaurants.com.
Astro Doughnuts & Fried Chicken (1308 G St., N.W.) on June 8 and 9 will add a special Pride Doughnut to the menu: a rainbow-glazed square doughnut. It's also available for preorder. Details at astrodoughnuts.com.
Throughout June, Brabo Brasserie (1600 King Street, Alexandria, Va.) is swirling a rainbow into their signature dessert in a rainbow baked Alaska, which is then flambeed tableside with 100 proof brandy. Brabo Brasserie will donate a portion of proceeds to The Trevor Project. Details at braborestaurant.com.
During the D.C. Pride Festival, Le Diplomate's (1604 14th St., N.W.) curbside Glaces de Diplomate ice cream cart will feature a rainbow cone of glace made in house, covered in rainbow sprinkles. All proceeds from the cone are being donated to the Capital Pride Alliance. In addition, given its location on the parade route, Le Diplomate will extend its patio from 4:30-7:30 p.m. and offer cocktail specials. Details at lediplomatedc.com.
At Osteria Morini (301 Water St., S.E.), pastry chef Tova Hillman and team are celebrating Capital Pride Festival with a five-layer rainbow Italian almond cake. The cake will be offered through June 9 with proceeds going to Casa Ruby. Details at osteriamorini.com/washington-dc.
Nicoletta Italian Kitchen (901 4th St., N.W.) is celebrating Capital Pride Festival with the rainbow cake-bite Pride Sundae  May 31st – June 9th. This new restaurant in Mt. Vernon Triangle will donate proceeds to the Trevor Project. Details at nicolettakitchen.com. 
Commissary (1443 P St., N.W.) also highlights its annual Pride food specials: two bagel sandwiches featuring the Bethesda Bagels' Rainbow Bagel. The Pridewich, will have chicken sausage and spicy aioli; the Unicorn Bagel features blueberry cream cheese and rainbow sprinkles. Both are available all Capital Pride weekend. Details at commissarydc.com.
Events
City Tap Dupont (1250 Connecticut Ave., N.W.) is ready to party with local queen Ba'Naka starring drag brunch from 11 a.m.-3 p.m. on Saturday and Sunday. From 7-9 p.m. on Saturday, June 8, Ba'Naka will host drag trivia, followed by a guest DJ for a ladies late-night party with happy hour specials. Details at citytap.com.
For a second year, Republic Restoratives (1369 New York Ave., N.E.) is teaming up with 20 restaurants and bars District-wide to feature a specialty cocktail made with Republic Restoratives' signature CIVIC Vodka and served throughout June. Proceeds from each cocktail will be donated directly to TransLAW. On Sunday, June 9, from noon-4 p.m., it will host the Not The White House PRIDE Party in support of TransLAW and LGBT44, the unofficial network of Obama administration LGBTQ alumni. Food is provided by gay-owned BBQ Bus. Tickets on Eventbrite. Details at republicrestoratives.com.
On Saturday, the Tasting Room (1600 King Street, Alexandria, Va.) offers Pride Movie Night showing "The Birdcage," projected onto a wall in the courtyard for an alfresco cinema with a special drink menu.
Also Saturday, Miss United States Andromeda Peters and her fellow contestants will sign autographs and headshots during Commissary's first Beauty Kween Brunch Party. Commissary will turn into a beauty pageant with complimentary tiaras from Day Owl Rosé, glitter cocktails and Kirsten Dunst's cult classic film "Drop Dead Gorgeous"playing on a loop.
At Marvin (2007 14th St., N.W.), Pride with DJ Keenan Orr starts at 3 p.m. on Marvin's roof deck on Saturday. Signature Smirnoff cocktail, Ruby Slippers, and rainbow fans will be provided; proceeds will go to Casa Ruby. Details at marvindc.com.
Destination Wedding's (1800 14th St., N.W.) patio pop-up along 14th Street is getting spritzy. On Saturday, it's hosting a Spritz Patio Party from noon-6 p.m., with specials like the frozen fraperol spritz along with Doi Moi drinking snacks.
Urbana ( 2121 P St., N.W.), on the parade route, is hosting its annual "Pride+Shine" party on Sunday from 10:30 a.m.-6 p.m. DJ Trayze will play and special guest Mike Hot-Pence will take photos and collect donations to benefit The Trevor Project. There is no entry fee; a $50 bar package includes select beer, wine, mixed drinks and unlimited pizza. Urbana's bar team will offer rainbow Jell-O shots while the culinary team will be handing out complimentary rainbow ice cream cones. Details at urbanadc.com.
Radiator (1430 Rhode Island Ave., N.W.) offers "POP" (Pride On the Patio), a colorful, bottomless brunch for "popping in" and "popping out" before and after brunch. Radiator's bar team will offer a special menu of ROYGBIV drinks celebrating Pride with all the colors of the rainbow. It runs Saturday and Sunday starting each day at noon. Details at radiatordc.com.
On Sunday, June 9, DNV Rooftop (1155 14th St., N.W.) will host "Gaywatch," a beach-themed pool party and hangover brunch, from noon-5 p.m. Special $15 large-format cocktails like the "Man-gria" and the "Bella-lini" will be served in a beach bucket. DJ Alkimist will play while guests take a quick dip in the "ocean" (i.e. the rooftop pool), and float on rainbow lifesavers. Details at donavanhoteldc.com.
Milk Bar Flagship (1525 15th St., N.W.) at Logan Circle is hosting a slew of fun for Pride. June 7-9, the sweets shop will donate a portion of proceeds from all B'Day MilkShakes (a blend of B'day Truffles, rainbow sprinkles and soft serve) to The Trevor Project. Today it will host a Pride Baking Class led by local drag queen Banaka; proceeds go to SMYAL. Finally, on Wednesday, June 12, the bakery is set to host a Pride Yappy Hour with Washington Blade, where sweets for both people and pups will be available. Details at milkbarstore.com.
Tico is hosting one of the longest parties of the weekend: from 2 p.m.-midnight on Saturday, June 8, catch the parade and the passing action with a margarita and taco in hand. Tickets include food and drink; proceeds benefit My Sister's Place. Details at ticodc.com.