May 23, 2019 at 3:15 pm EDT | by Evan Caplan
Lauded Mexico City-based chef brings skill to Buena Vida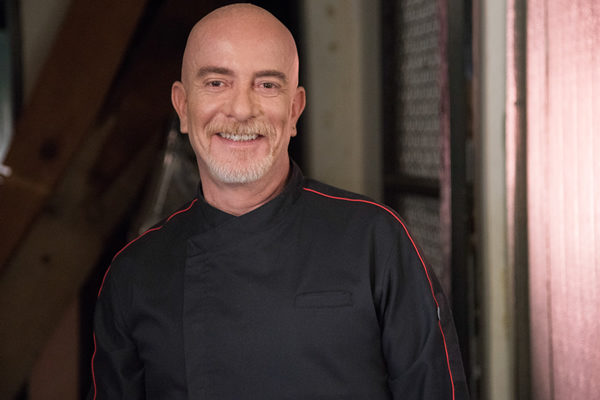 Last year at this time, chef Gerardo Vázquez Lugo was a celebrated figure in his hometown of Mexico City, a driving force of the slow cooking movement with two lauded restaurants to his name. He did not yet, however, know his way around Arlington.
All that changed by March 16, when he took his spot at the helm of the three-story, three-concept Buena Vida/TTT Clarendon (2900 Wilson Blvd., Arlington/buenavidarestaurant.com), where he is stamping his vivacious spirit and wildly creative skillet. Fajitas, however, will likely not be on the menu.
"I'm presenting the face of Mexican cuisine, a vision that is fresh yet respectful of ancient cultures," he says. "It's not what it seems we all think about Mexican food. I'm sourcing fresh and seasonal products in traditional recipes reinvented in a modern way. Even though the recipes are simple they are sustainable and socially responsible cooking."
Vázquez Lugo, who is gay, also remains the executive chef of Nicos, a homey restaurant his parents founded in 1957. Sixty years later, Nicos was named one of the 50 Best Restaurants in Latin America while maintaining its family roots in a city bursting with cutting-edge, avant-garde restaurants. He and his mother received The Diners Club Lifetime Achievement Award 2018 for their joint contribution to Mexican cuisine. He spends most of his time at Nicos in Mexico City but came to the U.S. to oversee the menu at Buena Vida.
Vázquez Lugo came to the Buena Vida project auspiciously. Owner Ivan Iricanin (CEO of Street Guys Hospitality, which runs the three Ambar restaurants, among others) took himself on a fact-finding trip to Mexico at the end of 2018 for his other Mexican destination, Buena Vida/TTT in Silver Spring.
At Nicos, he found himself impressed.
"I asked to see the chef," he says, "but they told me he was a celebrity and couldn't talk."
The staff finally granted Iricanin 15 minutes for his presentation. Vázquez Lugo was in.
While Iricanin brings his original plan to bear at Buena Vida (three floors, three menus, three concepts, three soundtracks), it is Vázquez Lugo's commitment to tradition and personal passion that arrive on the plate.
"My idea is to present Mexico away from chimichangas," he says. "I want to change the stereotype of greasy pork for authentic heritage."
In Mexico, Vázquez Lugo is a leader of the slow food movement, which dedicates itself to social and environmental responsibility. He's brought this philosophy with him across the border to Buena Vida and its many spaces.
Upon entering, ground-floor TTT bustles as a relaxed streetside cafe (including patio seating) bursting with art. A bakery is the centerpiece, churning out from-scratch tortillas, fluffy tortas and sweets like buñuelos from the coast of Yucatan.
As a good D.C.-area restaurant, it'll serve brunch as well as lunch and dinner.
A flight up, Buena Vida is the main attraction and where Vázquez Lugo finds his strength. At its core, it's a "a menu showcasing traditional, indigenous fare," he says.
"This restaurant is representative of Nicos and its commitment to tradition," Vázquez Lugo says.
Interactive service is a mainstay there; Buena Vida waiters prepare Caesar salads tableside as Nicos staff does in honor of the iconic dish's invention in Tijuana. Family-recipe guac — a simple prep of avocado, onion and olive oil, without lime — comes this way as well.
Vázquez Lugo's traditionally inspired sophistication arrives in the form of melt-in-the-mouth rabbit barbacoa, slow-braised and marinated in chiles; and a showstopping, glistening ancho pepper stuffed with ground ribeye, bathed in a rich black-bean sauce and sprinkled with almonds. In what's almost de riguer of late, Brussels sprouts appear, cloaked in Oaxacan cheese and tucked into a quesadilla.
From the sea, Acapulco-style seared snapper is paired with sweet potato puree and mango salad that add color, sweetness and ingredients native to the Americas.
Still, this reflection of Nicos is no bucolic hacienda affair. As the hour grows later, Buena Vida turns as dynamic as any lounge in the chic Polanco district of Mexico City. A wine cellar boasts an extensive collection of Mexican vintages (Iricanin's goal is to make it the largest in the area); the mezcal and tequila list is dizzying even before testing. Cocktails are creative with nods to dishes they're served with, like the margarita al pastor, made from a base of bacon-infused tequila brightened by pineapple and chili celery salt.
The restaurant's crown jewel is the rooftop, beguilingly monikered Buena Vista Social Club. Iricanin promises an early-summer debut for this open-air space to evoke carefree '50s and '60s Acapulco. DJs are set to spin from brunch until late, accompanied by a raw bar with as much bite as the beats. Iricanin plans to add space for hookahs and cigars. In other words, it's an all-day beach party.
Beyond his cooking, for Vázquez Lugo, reverence for ancient and modern Mexican tradition extends to acceptance for all Mexicans.
"In my dishes, I respect the wide ethic and environmental diversity and heritage of Mexico. In my restaurants, I respect the wide identities and ways of life of Mexicans."
As a gay man and cultural leader, he's worked to set an example.
"My team has people with all skin colors, from all ages, and all sexual identities," he says.
When he first started working at Nicos, he felt that he had to hide his identity. Today, "no one worries about these things," he says, and notes that "Mexico City has advanced impressively in the area of human rights."
During that capital city's Pride celebrations, Nicos welcomes families and participants who are celebrating. The restaurant bakes sweets with the rainbow flag emblazoned on top and changes its website to recognize the important date. He hopes to accomplish similar goals at Buena Vida.
His genuine pride has led him to host a Mexican cooking show. He also teases a possible book.
Vázquez Lugo's modern vision of Mexican gastronomic and cultural patrimony is set be a joyous cross-border affair: just with more menudo and fewer fajitas.