Lauded Mexico City-based chef brings skill to Buena Vida
Clarendon-based restaurant eschews cliches like fajitas and chimichangas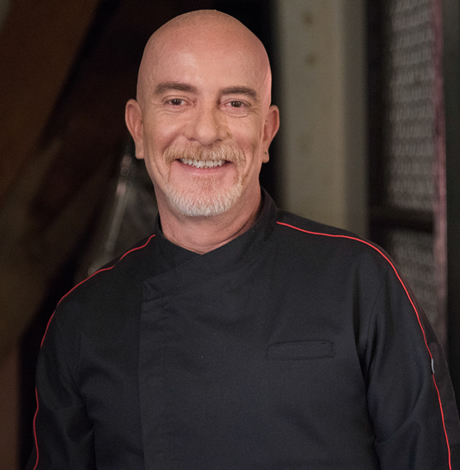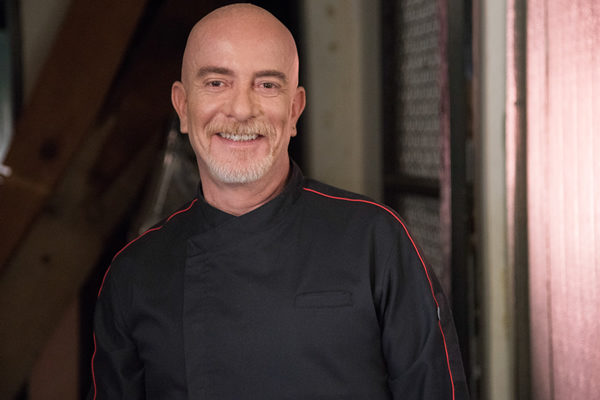 Last year at this time, chef Gerardo Vázquez Lugo was a celebrated figure in his hometown of Mexico City, a driving force of the slow cooking movement with two lauded restaurants to his name. He did not yet, however, know his way around Arlington.
All that changed by March 16, when he took his spot at the helm of the three-story, three-concept Buena Vida/TTT Clarendon (2900 Wilson Blvd., Arlington/buenavidarestaurant.com), where he is stamping his vivacious spirit and wildly creative skillet. Fajitas, however, will likely not be on the menu.
"I'm presenting the face of Mexican cuisine, a vision that is fresh yet respectful of ancient cultures," he says. "It's not what it seems we all think about Mexican food. I'm sourcing fresh and seasonal products in traditional recipes reinvented in a modern way. Even though the recipes are simple they are sustainable and socially responsible cooking."
Vázquez Lugo, who is gay, also remains the executive chef of Nicos, a homey restaurant his parents founded in 1957. Sixty years later, Nicos was named one of the 50 Best Restaurants in Latin America while maintaining its family roots in a city bursting with cutting-edge, avant-garde restaurants. He and his mother received The Diners Club Lifetime Achievement Award 2018 for their joint contribution to Mexican cuisine. He spends most of his time at Nicos in Mexico City but came to the U.S. to oversee the menu at Buena Vida.
Vázquez Lugo came to the Buena Vida project auspiciously. Owner Ivan Iricanin (CEO of Street Guys Hospitality, which runs the three Ambar restaurants, among others) took himself on a fact-finding trip to Mexico at the end of 2018 for his other Mexican destination, Buena Vida/TTT in Silver Spring.
At Nicos, he found himself impressed.
"I asked to see the chef," he says, "but they told me he was a celebrity and couldn't talk."
The staff finally granted Iricanin 15 minutes for his presentation. Vázquez Lugo was in.
While Iricanin brings his original plan to bear at Buena Vida (three floors, three menus, three concepts, three soundtracks), it is Vázquez Lugo's commitment to tradition and personal passion that arrive on the plate.
"My idea is to present Mexico away from chimichangas," he says. "I want to change the stereotype of greasy pork for authentic heritage."
In Mexico, Vázquez Lugo is a leader of the slow food movement, which dedicates itself to social and environmental responsibility. He's brought this philosophy with him across the border to Buena Vida and its many spaces.
Upon entering, ground-floor TTT bustles as a relaxed streetside cafe (including patio seating) bursting with art. A bakery is the centerpiece, churning out from-scratch tortillas, fluffy tortas and sweets like buñuelos from the coast of Yucatan.
As a good D.C.-area restaurant, it'll serve brunch as well as lunch and dinner.
A flight up, Buena Vida is the main attraction and where Vázquez Lugo finds his strength. At its core, it's a "a menu showcasing traditional, indigenous fare," he says.
"This restaurant is representative of Nicos and its commitment to tradition," Vázquez Lugo says.
Interactive service is a mainstay there; Buena Vida waiters prepare Caesar salads tableside as Nicos staff does in honor of the iconic dish's invention in Tijuana. Family-recipe guac — a simple prep of avocado, onion and olive oil, without lime — comes this way as well.
Vázquez Lugo's traditionally inspired sophistication arrives in the form of melt-in-the-mouth rabbit barbacoa, slow-braised and marinated in chiles; and a showstopping, glistening ancho pepper stuffed with ground ribeye, bathed in a rich black-bean sauce and sprinkled with almonds. In what's almost de riguer of late, Brussels sprouts appear, cloaked in Oaxacan cheese and tucked into a quesadilla.
From the sea, Acapulco-style seared snapper is paired with sweet potato puree and mango salad that add color, sweetness and ingredients native to the Americas.
Still, this reflection of Nicos is no bucolic hacienda affair. As the hour grows later, Buena Vida turns as dynamic as any lounge in the chic Polanco district of Mexico City. A wine cellar boasts an extensive collection of Mexican vintages (Iricanin's goal is to make it the largest in the area); the mezcal and tequila list is dizzying even before testing. Cocktails are creative with nods to dishes they're served with, like the margarita al pastor, made from a base of bacon-infused tequila brightened by pineapple and chili celery salt.
The restaurant's crown jewel is the rooftop, beguilingly monikered Buena Vista Social Club. Iricanin promises an early-summer debut for this open-air space to evoke carefree '50s and '60s Acapulco. DJs are set to spin from brunch until late, accompanied by a raw bar with as much bite as the beats. Iricanin plans to add space for hookahs and cigars. In other words, it's an all-day beach party.
Beyond his cooking, for Vázquez Lugo, reverence for ancient and modern Mexican tradition extends to acceptance for all Mexicans.
"In my dishes, I respect the wide ethic and environmental diversity and heritage of Mexico. In my restaurants, I respect the wide identities and ways of life of Mexicans."
As a gay man and cultural leader, he's worked to set an example.
"My team has people with all skin colors, from all ages, and all sexual identities," he says.
When he first started working at Nicos, he felt that he had to hide his identity. Today, "no one worries about these things," he says, and notes that "Mexico City has advanced impressively in the area of human rights."
During that capital city's Pride celebrations, Nicos welcomes families and participants who are celebrating. The restaurant bakes sweets with the rainbow flag emblazoned on top and changes its website to recognize the important date. He hopes to accomplish similar goals at Buena Vida.
His genuine pride has led him to host a Mexican cooking show. He also teases a possible book.
Vázquez Lugo's modern vision of Mexican gastronomic and cultural patrimony is set be a joyous cross-border affair: just with more menudo and fewer fajitas.
Seven new restaurants to try this fall
D.C. restaurant scene thriving again after rough year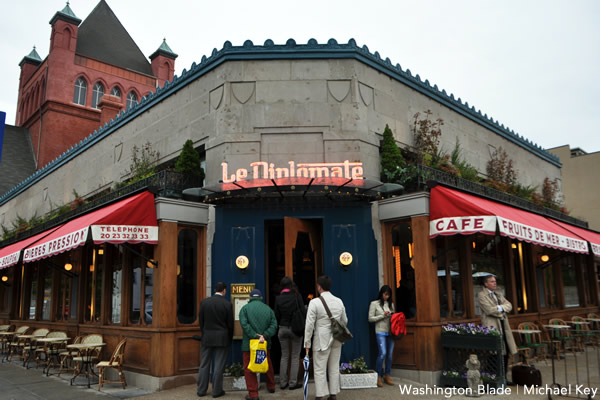 The fall dining scene is as hot as ever. Here are some of the top tickets to look out for:
RAMMYs: Sept. 19 marks the annual D.C.-area restaurant industry awards, the RAMMYs. Many of the categories this year are unique to the challenges restaurants faced in 2020. Held at the Walter E. Washington Convention Center, the awards "created timely categories that speak to all the ways the region's uniquely met those challenges," according to the RAMMYs. Such categories include "most innovative to-go packaging", "outstanding COVID-safe redesign," and "most impressive pivot to provision or market."
Jane Jane (1705 14th St. NW):
Highly anticipated retro-chic cocktail bar Jane Jane quietly opened after more than two years in the making. Co-owned by gay men Drew Porterfield, his partner Ralph Brabham, and friend JP Sabatier, Jane Jane's mid-century-style throwback offers classic cocktails and upgraded bar snacks. It's located in the new Liz development on 14th Street.
Thirsty Crow (3400 11th St. NW):
Part sports bar, part cocktail bar, Thirsty Crow opened just last week in Columbia Heights. It sits in the subterranean level of Michelin Bib Gourmand-winning Makan, serving cocktails and bites inspired by Malaysian flavors, like its sister restaurant on the ground level. Chef James Wozniuk of Makan is overseeing the menu of snacks like shrimp chips and larger plates like spicy fried chicken with sambal.
No Goodbyes (1770 Euclid St. NW):
The Line Hotel previously played host to a suite of restaurants: A Rake's Progress, Brothers and Sisters, and Spoke English. When these restaurants left this Adams Morgan hotel, the spaces sat mostly vacant until No Goodbyes slid into the ground floor. An all-day dining place that "taps the farmers, fishers, and small-time ranchers in DC's own backyard," according to its website, the menu sits squarely on a Chesapeake Bay foundation. Mid-Atlantic dishes, from fish to fowl, play large on the menu.
Bread Alley (1250 5th St NE):
The intoxicating tower of carbs that greets diners when they walk into buzzy Le Diplomate is getting its very own dedicated space, aptly named Bread Alley. A tiny location in the Union Market area, the shop just launched selling only the three types of bread that arrive complimentary at the start of any Le Dip meal: thick-crusted classic baguette, multigrain boules, and cranberry-walnut boules. It will eventually also sell pastries, jams, butter, honey, and other accouterments. Bakers begin their craft at 3:30 a.m. and offer their wares starting at 9 a.m. until 5 p.m. or sold out, whichever arrives earlier.
Bistro Du Jour (99 District Square SW)
Bistro Du Jour will be gay-owned KNEAD Hospitality + Design's third waterfront venue at the Wharf. A café in the Parisian style, it will lean heavily on croissants and cappuccinos during the day, moving to Champagne and larger savory dishes by night. The bistro will sell current partner Mah-Ze-Dahr Bakery's fresh baked goods and pastries, and will showcase traditional fare like coq au vin, French onion soup, steak frites, and foie gras for lunch and dinner. The bistro will display an extensive bubbly section, as well as a chic espresso bar and an outdoor patio. Brunch is in the works.
SUCCOTASH Prime (915 F St., NW)
After a yearlong hiatus, SUCCOTASH Prime recently reopened at the end of August. SUCCOTASH Prime, also run by gay-owned KNEAD Hospitality + Design, is an updated version of the restaurant, still with Chef Edward Lee at the helm. The refreshed SUCCOTASH opened as a southern steakhouse with an Asian twist, featuring smoked steaks, fried oysters, collard greens, ham, and kimchi side dish. Live music is also planned.
Via Roma (4531 Telfair Blvd #110, Camp Springs, Md.)
Via Roma is a restaurant where you can enjoy the pies, you just can't call it "pizza." Just opened a few weeks ago, the restaurant serves pinsas, a pizza-like dish using dough made from a heady mixture of wheat, soy, and rice flours, and then proofed for more than a day. The spot calls itself the first Pinsa-certified restaurant in Maryland, and aims to reflect the laid-back, Mediterranean atmosphere of Naples (the owner also runs an Associazione Verace Pizza Napoletana-certified restaurant in Maryland). Beyond Pinsa, it also serves Maryland crab tater tots, panini, pasta, salad, and Aperol spritzes.
D.C. Restaurant Week returns
Celebrating a revitalized dining scene after COVID closures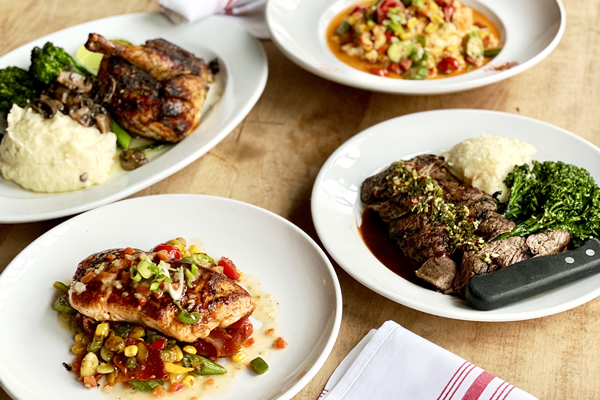 After being confined to a to-go program for the last two iterations, Washington, D.C.'s Restaurant Week is back this summer to celebrate the revitalized dining scene in the city. Summer Restaurant Week 2021, run by Restaurant Association Metropolitan Washington (RAMW), is scheduled to kick off Monday, Aug. 9, and last through Sunday, Aug. 15.
The signature summer dining event returns to a one-week promotion this year, though restaurants have the option of extending their promotions. Diners can enjoy three-course menus at a range of indoor/outdoor comfort levels at more than 200 restaurants, ranging from fast-casual eateries to fine-dining destinations. In addition, the to-go family-style options that were introduced last year are not gone, however, as many restaurants will also offer this off-premise option. Of course, many spots plan to include a cocktail pairing as well.
Dinner is the main event for participating restaurants, with the classic three-course dinner priced at $35 per person. Several restaurants with higher overall price points are also offering an elevated $55 dinner with exclusive items. Three-course lunches run $22, and weekend brunch is also $22.
Finally, many restaurants will also offer "RW-To-Go" dinner meals, available at two price points: $60 or $120 for two people and $100 or $200 for four people.
These RW-To-Go dinner meal packages are available for takeout or delivery, and diners can order RW-To-Go either directly from the participating restaurant or check their delivery app for the offer.
D.C. restaurants remain open at 100 percent capacity, but Mayor Bowser last week reinstated mask mandates for indoor spaces.
New restaurants participating in Summer Restaurant Week include Angolo, ANXO, Flower Child, Le Sel, GATSBY, Glover Park Grill, Gypsy Kitchen, and Truluck's in D.C.; and Spice Kraft Indian Bistro in Virginia.
"This year's Summer Restaurant Week is not only providing diners with great options at great prices for dining out, but is also the first time all restaurants across our region are able to accommodate diners at full capacity both indoors and outdoors," says Kathy Hollinger, president and CEO of the Restaurant Association Metropolitan Washington. "Being fully open is a step toward recovery for the industry and also toward a return to our dynamic local restaurants in their spaces which help to elevate the dining experience."
RAMW is the regional association representing restaurants and the foodservice industry in the D.C. Metropolitan Area. RAWM also runs the RAMMYs, the awards for the food and beverage industry.
Restaurant operators themselves reinforced how important the promotion is to them. "Restaurant Week is an opportunity for us to showcase our resilience and commitment to serving our staff and community," says Salwa Laaraichi of Station 4. 
For Eric Heidenberger, a partner at The DC Restaurant Group, which owns spots like Shaw's Tavern and 801 Restaurant, the past year has been a challenge. But RAMW, he says, "has been very supportive to the D.C. restaurant community and a key a resource in helping us navigate the challenges of the pandemic. We're excited to participate in the first "normal" restaurant week in almost a year and a half. Restaurant week is a great opportunity for us reach new diners and showcase new dishes to our regular/repeat customers."
All of gay-owned KNEAD Hospitality + Design's locations are participating in Restaurant Week. Co-owners Jason Berry said that he hopes that Restaurant Week "offers a way for diners to begin dipping their toe by taking advantage of these well-priced promotions. Restaurant Week brings a much-needed lift to August revenue and is especially meaningful this year as so many restaurants have been hurting these last 16 months."
As for what's going to be offered at his restaurants, which include Gatsby, The Grill, Mi Casa, Mi Vida, and Succotash, most of which debuted just this year, "each of our restaurants takes a unique approach to offering seasonal additions, fun new items and crowd pleasers so that all guests have something for them during Restaurant Week."
D.C.'s restaurant scene bustling again
Western Market, range of new eateries arrive as COVID wanes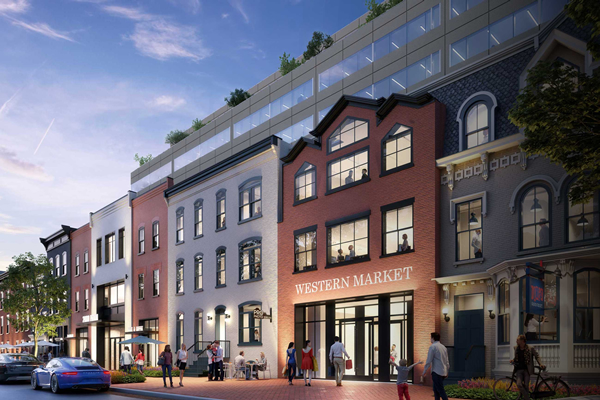 From pandemic slumber to summer awakening: the D.C. dining scene is wasting no time in opening back up after restrictions were lifted in June. Make the best of eating and drinking inside or outside with a full plate of what's to come in summer 2021. Check out all the openings and happenings in this list:
To take in the entire dining scene, take part in Metropolitan Washington Summer Restaurant Week, running Aug. 9-15. Unlike the previous restaurant week, this will return to a focus on on-premises dining, but keep the family-to-go dinner meals and cocktail pairings for those who still want the takeout or at-home experience.
In Barracks Row, Crazy Aunt Helen's is a new spot from a veteran in the D.C. food industry. The all-day casual comfort food and diner-style spot is run by first-time owner and former marketing director of lesbian-owned Hank's Oyster Bar, Shayne Mason. Images of icons like Jackie Kennedy line the wall, with dishes like fried chicken, house-cured pastrami Reubens, and mushroom "crab" cakes.
The Line Hotel closed two of its restaurants during the pandemic, but is now set to open No Goodbyes. It will serve Chesapeake-based dishes, with crab cakes as the star. Fried chicken and catfish will also be on the menu.
Replacing the B Too spot in the heart of 14th Street will be Maiz 64, an upscale Mexican spot to highlight small-batch mezcal. It is a "modern homage to authentic Mexican cuisine," that uses local ingredients. Check out the ceviche raw bar, as well as the creative taco bar with creative options like charred broccoli mole and suckling pig with pork rinds and avocado.
On the wharf, the enormous Ilili brings elegant Mediterranean-Levantine cuisine to D.C. "with a New York attitude" as it is the second spot outside of its first Manhattan location. The chef tops labneh yogurt with Petrossian roe, and stuffs kibbeh with steak tartare.
Just north of U Street, taking over the vacant former Quarter & Glory space, will be St. James. The owner and chef is Peter Prime, who currently runs Cane on H Street, N.E. (Michelin Bib Gourmand restaurant). He is now overseeing this sister project with a much larger footprint. Named for a city in his home country of Trinidad, the restaurant brings flavors from across the Caribbean through Prime's modern lens.
In Adams Morgan, a pop-up brings Bolivian cocktails and street food courtesy of Carla Sanchez and her brother. Called Casa Kantuta, the pop-up runs until Aug. 8 in the bottom level of the Spacycloud restaurant-shop. Bartender Luis Aliaga slings drinks using Andean ingredients and inspiration with fun names like the Angry Llama.
Just north in Adams Morgan is Shabu Plus. In the same building as Death Punch Bar and Shibuya, the same owners (Chef Darren Norris and wife Candice) bring a Japanese hot pot experience. Diners start with a choice of one of three broths, plus vegetables, and the order meats like wagyu and lobster tail by the ounce.
Over in Shaw, the former Bistro Bohem space is set to be refreshed as Quattro Osteria. The owners, originally from Naples, bring an Italian flair, with well-known and modern dishes and drinks.
In Foggy Bottom, a huge new marketplace called Western Market will open later in the fall. The 12,300-square-foot space will transform a historic market, originally built in 1802, into a hall with more than a dozen food and beverage vendors. Taste everything from lobster rolls to sushi to arepas, and even sub sandwiches from Shaw's Capo Deli.
Chef Alfredo Solis already has three Mexican restaurants (Anafre, El Sol, Mezcalero). His next venture travels farther afield in the form of Mariscos 1133 on 11th Street. Mariscos 1133 celebrates the coastal cuisine of the entire continent of communities, with inspiration from California, Pero, Mexico, and beyond. Diners can expect dishes like Brazilian moqueca (fish stew), ceviches, and with a nod to the local, a spin on crab cakes.
Gay-owned KNEAD Hospitality + Design's latest opening is Mi Casa in Dupont Circle. Inspired by Chef Roberto Santibañez's years living in Texas and his Mexican heritage, Mi Casa's "border cuisine" concept aims to marry Mexican, TexMex, and the American Southwest.
Hungry now? Get a taste of restaurants that opened during the spring:
Las Gemelas Cocina. This dual-concept restaurant in La Cosecha brings a casual taco bar as well as an upscale sit-down Mexican menu. It comes from the operators of Espita in Shaw.
The Point. This enormous seafood restaurant anchors new development in Buzzard Point, near Audi Field. Crab doughnuts are the star, plus lots of fish and lobster rolls. It's run by the owners of Ivy City Smokehouse and Tony & Joe's.
Dauphine's. This elegant homage to cuisine from New Orleans brings not only a raw bar (for seafood) but a boucherie, a whole-pig butcher style of service popular in Cajun cooking. Casual dishes like po' boys are offered next to headcheese and caviar.
La Famosa. This Navy Yard spot channels Puerto Rico through a relaxed, waterside vibe and lots of fried plantains and rum.
Makan. This Malaysian restaurant in Columbia Heights narrows Southeast Asian dishes to hone in on this particular country. Taste the unripe mango salad, as well as the pandan leaf that appears in both drinks and dishes.
Caruso's Grocery. This homey Italian spot by Matt Adler (from Osteria Morini) is set near the Potomac Avenue Metro. A deep wine list accompanies dishes like burrata, shrimp scampi, and chicken Parm.
Chicatana. This Mexican restaurant lands in an area of 14th Street of Columbia Heights with several other Mexican eateries nearby – but has a twist. It's named for a type of ant used in traditional Oaxacan cuisine, tossing a couple tiny crunchy ants (similar to chapulines, or grasshopper) on anything from ceviche to cocktails. The menu, instead of focusing on tacos, offers a broad and modern take on Mexican food.
Lupo Pizzeria. This 14th Street location comes from the same group as Lupo Verde. Lupo Pizzeria offers a menu of elevated Italian street food, Italian cocktails, and lots of bubbly. The signature from the chef is pizza made with handmade black squid-ink dough.