July 25, 2019 at 4:58 pm EDT | by Michael K. Lavers
Thousands attend HIV/AIDS conference in Mexico City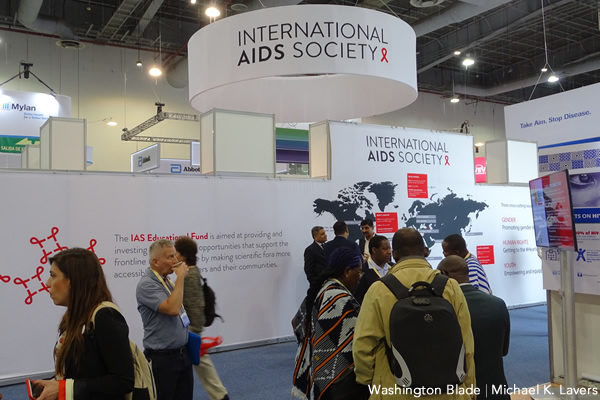 MEXICO CITY — Upwards of 6,000 people from around the world attended the International AIDS Society's Conference on HIV Science that took place in Mexico City this week.
Dr. Anthony Fauci of the National Institute of Allergy and Infectious Diseases at the National Institutes of Health is among those from the U.S. who participated in the conference.
A. Cornelius Baker is among the U.S.-based HIV/AIDS activists who also attended. 
The conference showcased numerous HIV/AIDS studies from around the world that received support from the President's Emergency Plan for AIDS Relief (PEPFAR) and the U.S. Agency for International Development. These include studies on how the use of crystal methamphetamine and group sex among men who have sex with men with HIV contributes to a Hepatitis C epidemic in Bangkok and the effectiveness of STI screenings among MSM in the Tanzanian city of Dar es Salaam.
HIV/AIDS service providers from Mexico, Venezuela and more than 100 other countries took part in the conference, alongside AIDS Healthcare Foundations. Gilead and Roche are among the pharmaceutical companies that also participated.
The conference primarily focused on scientific advances and research designed to curb the global HIV/AIDS epidemic.
Other participants sought to highlight how the lack of access to PrEP and basic health care, discrimination and violence puts LGBTI people at increased risk for HIV.
Maria Amelia de Sousa Mascena Veras of the Santa Casa de São Paulo School of Medical Sciences on Monday noted during a panel on the prevention of HIV/AIDS among transgender people that Brazil is "one of the most unequal countries in the world in terms of income and economic opportunities," even though universal health care is enshrined in the Brazilian constitution. Veras also pointed out Brazil has one of the highest rates of violence based on gender identity in the world.
"Stigma creates a complex environment in which the factors that could contribute to resilience, such as housing, education and social support, are also limited," she said. "In Brazil, stigma towards transgender people is a barrier to not only access to PrEP but to health care in general."
Erin Wilson of the San Francisco Department of Public Health noted her city provides access to sex-reassignment surgery and other health care treatments for trans women. Wilson nevertheless added a lack of access to housing and poverty are among the factors to contribute to high rates of HIV among this population.
"We see these huge structural barriers in a city with a lot of access to HIV services," she said.
Reshmie Ramautarsing of the Thai Red Cross AIDS Research Center noted a study found 15 percent of health care providers in Thailand thought a person with HIV should "be ashamed." Ramautarsing also noted PEPFAR and USAID are among the funders of a trans-led health clinic in Bangkok.