Thousands attend HIV/AIDS conference in Mexico City
Dr. Anthony Fauci of the National Institute of Allergy and Infectious Diseases and AIDS Institute Deputy Executive Director Carl Schmid in attendance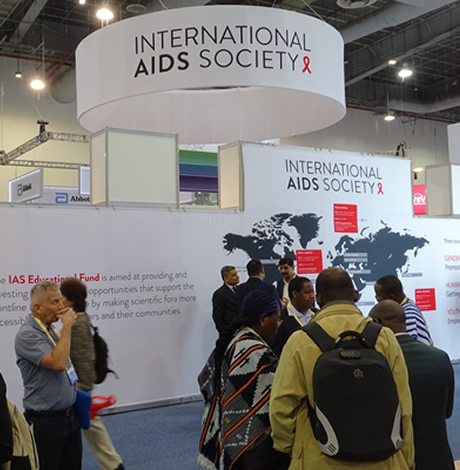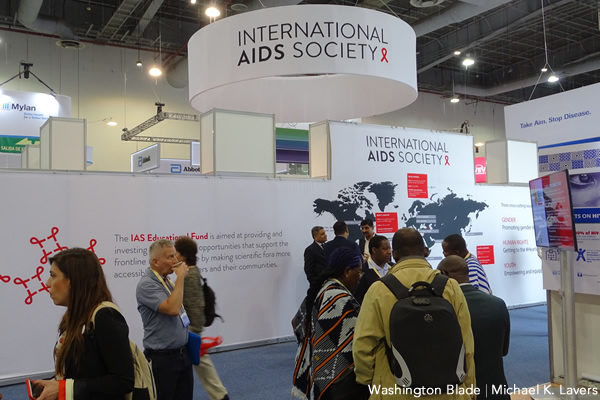 MEXICO CITY — Upwards of 6,000 people from around the world attended the International AIDS Society's Conference on HIV Science that took place in Mexico City this week.
Dr. Anthony Fauci of the National Institute of Allergy and Infectious Diseases at the National Institutes of Health is among those from the U.S. who participated in the conference.
A. Cornelius Baker is among the U.S.-based HIV/AIDS activists who also attended. 
The conference showcased numerous HIV/AIDS studies from around the world that received support from the President's Emergency Plan for AIDS Relief (PEPFAR) and the U.S. Agency for International Development. These include studies on how the use of crystal methamphetamine and group sex among men who have sex with men with HIV contributes to a Hepatitis C epidemic in Bangkok and the effectiveness of STI screenings among MSM in the Tanzanian city of Dar es Salaam.
HIV/AIDS service providers from Mexico, Venezuela and more than 100 other countries took part in the conference, alongside AIDS Healthcare Foundations. Gilead and Roche are among the pharmaceutical companies that also participated.
The conference primarily focused on scientific advances and research designed to curb the global HIV/AIDS epidemic.
Other participants sought to highlight how the lack of access to PrEP and basic health care, discrimination and violence puts LGBTI people at increased risk for HIV.
Maria Amelia de Sousa Mascena Veras of the Santa Casa de São Paulo School of Medical Sciences on Monday noted during a panel on the prevention of HIV/AIDS among transgender people that Brazil is "one of the most unequal countries in the world in terms of income and economic opportunities," even though universal health care is enshrined in the Brazilian constitution. Veras also pointed out Brazil has one of the highest rates of violence based on gender identity in the world.
"Stigma creates a complex environment in which the factors that could contribute to resilience, such as housing, education and social support, are also limited," she said. "In Brazil, stigma towards transgender people is a barrier to not only access to PrEP but to health care in general."
Erin Wilson of the San Francisco Department of Public Health noted her city provides access to sex-reassignment surgery and other health care treatments for trans women. Wilson nevertheless added a lack of access to housing and poverty are among the factors to contribute to high rates of HIV among this population.
"We see these huge structural barriers in a city with a lot of access to HIV services," she said.
Reshmie Ramautarsing of the Thai Red Cross AIDS Research Center noted a study found 15 percent of health care providers in Thailand thought a person with HIV should "be ashamed." Ramautarsing also noted PEPFAR and USAID are among the funders of a trans-led health clinic in Bangkok.
State Department expresses concern over anti-LGBTQ bill in Uganda
Measure would further criminalize consensual same-sex sexual acts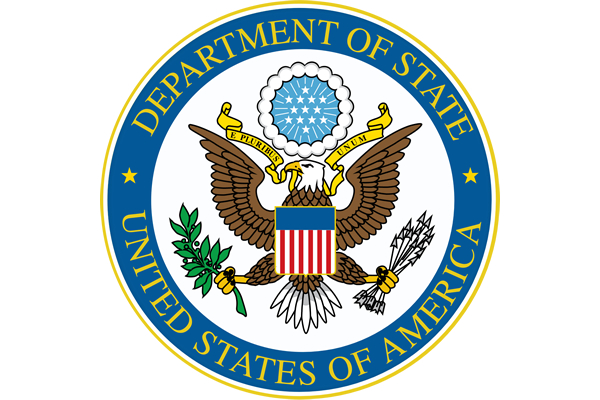 A State Department spokesperson on Wednesday expressed concern over the passage of a bill in Uganda that would further criminalize consensual same-sex sexual acts.
Ugandan lawmakers on Monday passed the Sexual Offenses Bill 2019, which contains a provision, known as Clause 11, that would explicitly ban "penetration of another person's anus with that other person's sexual organ or with any object" and "sexual acts between persons of the same gender."
"We're certainly concerned about the legislation in Uganda," said State Department deputy spokesperson Jalina Porter in response to the Washington Blade's question about the bill during a briefing with reporters.
Consensual same-sex sexual acts are already criminalized in Uganda.
President Yoweri Museveni in 2014 signed the Anti-Homosexuality Act, which imposed a life sentence upon anyone found guilty of repeated same-sex sexual acts. The law was known as the "Kill the Gays" bill because it previously contained a death penalty provision.
The U.S. cut aid to Uganda and imposed a travel ban against officials who carried out human rights abuses. Uganda's Constitutional Court later struck down the Anti-Homosexuality Act on a technicality.
Sexual Minorities Uganda in a statement said the Sexual Offenses Bill 2019 criminalization provision "will enhance the already homophobic environment in Uganda and consequently lead the way for further violation of the rights of sexual and gender minorities, including violations such as 'corrective rape' and other acts of violence." The Ugandan LGBTQ advocacy group has also called for Museveni to veto the measure over the clause.
"Sexual Minorities Uganda calls on the president of the Republic of Uganda to consider not assenting to the bill because of the problematic Clause 11 that now classifies sexual and gender minorities as sexual offenders," said SMUG in its statement. "Rather, we call on the president to reminisce on the effects the now repealed Anti-Homosexuality Act had on the human rights discourse for sexual and gender minorities."
OutRight Action International Executive Director Jessica Stern also condemned the bill.
"Same-sex relations are already criminalized in Uganda's Penal Code," said Stern in a press release. "The inclusion of same-sex relations in this bill paints LGBTQ people as sexual offenders, and can only serve one purpose — to fuel already rampant LGBTQ-phobia, discrimination and violence. It is deplorable. The colonial legacy of criminalizing same-sex relations must end."
The Biden administration in February issued a memorandum that committed the U.S. to promoting LGBTQ rights abroad.
"The United States certainly stands up and defends the human rights of our LGBTQI+ persons all around the world and we also stand firmly in opposing violence and discrimination against all LGBTQI persons and will also urge governments to criminalize their status or conduct," said Porter during Wednesday's briefing.
"We will continue to condemn any violence or discrimination of vulnerable populations including our LGBTQI+ people, whether they're in Uganda or anywhere in the world," added Porter.
President of Tonga LGBTQ rights group murdered
Polikalepo Kefu was killed near their home on May 1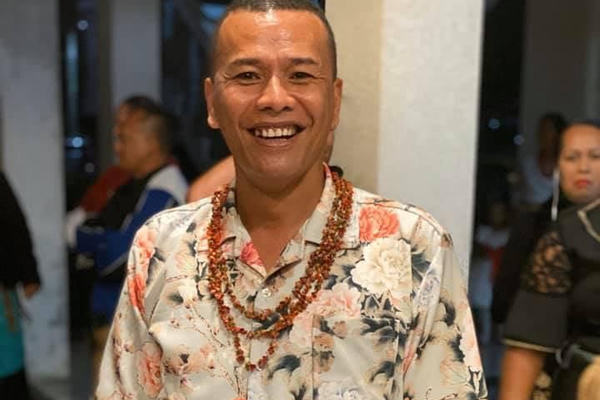 The president of an LGBTQ rights group in Tonga was murdered on May 1.
Media reports indicate Tonga Leitis Association President Polikalepo Kefu was killed near their home in Lapaha, a village on the island of Tongatapu on which the Tongan capital of Nuku'alofa is located. Deputy Tonga Police Commissioner Tevita Vailea on Monday in a statement said authorities have charged a 27-year-old man with murder.
"This is a tragic event, and our thoughts are with Mr. Kefu's family, friends and wider community," said Vailea.
The Tonga Leitis Association in a statement described Kefu as "a selfless humanitarian and a tireless advocate for the rights of those with diverse sexual orientations, gender identities and gender expressions." The group also announced Cruella Tuinukuafe has been named interim president.
"In these dark and troubling times, we are reminded of Poli's light and positive energy, and we encouraged knowing that this is when we are most needed to continue our work," said the Tonga Leitis Association.
Amini Fonua, an openly gay Olympic swimmer from Tonga, also mourned Kefu.
"Hearing the news of Poli Kefu's passing has left us all shocked and deeply saddened," Fonua told the Washington Blade on Tuesday in an email. "Poli was a beacon of light, whose smile and sense of humor touched so many lives. Poli's work for equality and human rights is well documented through all his volunteer work and presidency at the Leitis Association. Poli was a fighter for all the voiceless LGBTQ people, not just in Tonga, but all throughout the Pacific."
ILGA Oceania in a statement noted Kefu in February helped coordinate a virtual symposium it organized in Fiji.
"Poli was a humble gentle inspiring leader who displayed a proactive interaction with ILGA Oceania on its various projects and conferences," said ILGA Oceania.
"In the spirit of activism and friendship, we will miss you Poli for your pro-active, strong activism, your commitment and dedication to LGBTI issues and movement throughout the kingdom of Tonga, the Pacific Islands and Oceania," added the statement.
The Tonga Leitis Association was founded in 1992.
The organization specifically advocates on behalf of transgender and gender-variant Tongans and other members of the country's LGBTQ community. The Tonga Leitis Association also provides health care and other services to people with HIV/AIDS.
Tonga is among the countries in which consensual same-sex sexual relations remain criminalized. Fonua during a 2017 interview with the Blade said anti-LGBTQ discrimination, homophobia and transphobia remain commonplace in his homeland.
"It is truly a devastating day when we learn that people in the Pacific are still being murdered for simply living in their truth," said Fonua on Tuesday. "Poli's death won't be in vain, and we shall continue the fight for equality and equal protection under the law."
President of Tokyo Olympics committee visits LGBTQ community center
Japanese government urged to introduce nondiscrimination bill before games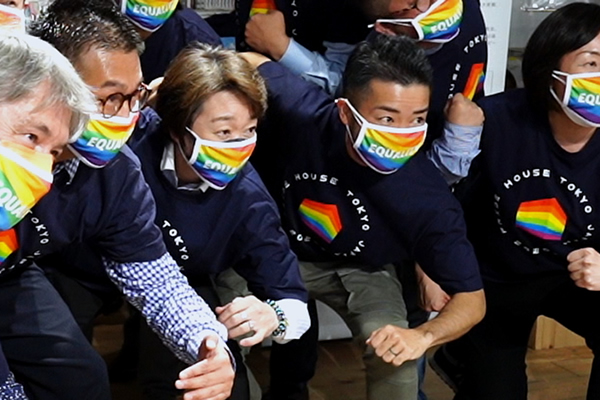 The president of the 2021 Summer Olympics planning committee visited an LGBTQ community center in Tokyo on April 27.
Tokyo 2020 President Seiko Hashimoto on April 27 visited Pride House Tokyo Legacy — the country's first permanent LGBTQ community center — in Tokyo's Shinjuku neighborhood. A video that Reuters posted on its website shows Hashimoto meeting with staff and volunteers and posing for pictures with them.
"There are people who cannot go to Pride House," said Hashimoto during the visit, according to Reuters. "There are still many people who are unaware of this great place. So together with Tokyo 2020 I hope the games will be an opportunity for many people to deepen their understanding for LGBTQ (people.)"
Pride House spokesperson Olivier Fabre told the Washington Blade during a Zoom interview from Tokyo that he and his colleagues "were very impressed" with Hashimoto's visit.
"She did listen very carefully," said Fabre. "She did talk about her own experiences as an athlete and how she had friends, gay athletes, that once they came out she realized that their performances had improved and also she (knew) gay athletes that just couldn't come out of the closet and how they were suffering and how it difficult it was for them."
"She came across to us as somebody who understood what we are and what we are doing," added Fabre.
The Olympics were supposed to take place in 2020, but the pandemic prompted officials to postpone them. They are now scheduled to open on July 23 and close on Aug. 8. The Paralympics are slated to take place from Aug. 24-Sept. 5.
The International Olympic Committee in 2014 added sexual orientation to the Olympic Charter's nondiscrimination clause. The decision came after Russia's LGBTQ rights record overshadowed the 2014 Winter Olympics that took place that year in the Black Sea resort city of Sochi.
Fabre told the Blade that he and his Pride House colleagues, among other things, asked Hashimoto to ensure events that promote the Olympics are LGBTQ-inclusive. Fabre said Pride House also requested that athletes and volunteers receive training on LGBTQ-specific issues.
"She was also very positive about that," said Fabre.
The Olympics will take place less than six months after the Sapporo District Court ruled Japan's constitution ensures same-sex couples have the right to marry. OutRight Action International, Human Rights Watch and more than 100 other advocacy groups in Japan and around the world have called upon Prime Minister Yoshihide Suga to introduce a bill that would ban discrimination based on sexual orientation and gender identity in the country.
An ordinance that bans anti-LGBTQ discrimination in Tokyo took effect in 2018.
Fabre said members of the ruling Liberal Democratic Party of which Hashimoto is a member have begun to support the nondiscrimination bill. Fabre noted opposition parties back marriage equality, but resistance to the issue remains strong in Hashimoto's party.
"They're very conservative," said Fabre.
Fabre nsaid he nevertheless remains hopeful the Olympics will spur the Japanese government to extend rights to LGBTQ people. Fabre said Hashimoto's visit to Pride House is "a good start."
"We're being recognized by somebody as important as the Tokyo 2020 Olympics and that is very important," he said.