Seven Reasons chef calls Venezuela the 'main spine of my concept'
New 14th St., restaurant bustling with vibrant Instagram following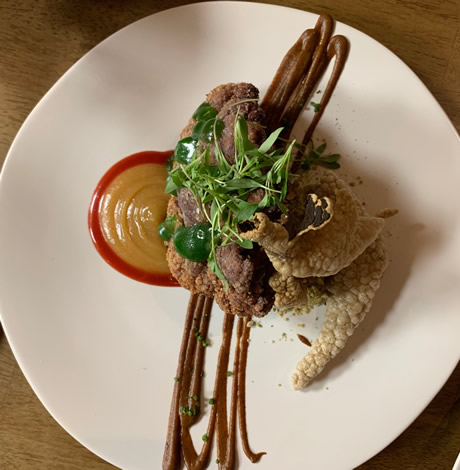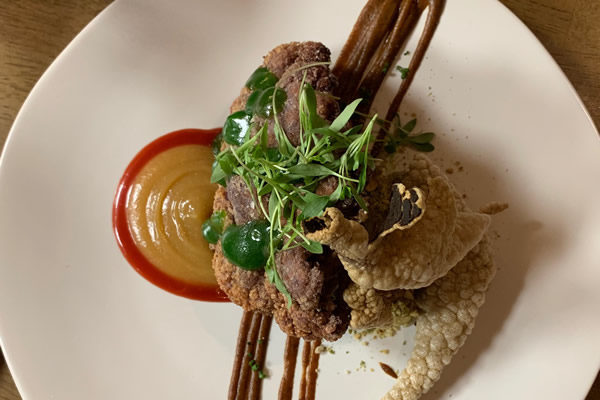 Chef Enrique Limardo has a built-in fan base for Seven Reasons, his handsome new dining destination on 14th Street. More than 10,000 Instagrammers follow Limardo's every stylishly plated move on the handle for Alma Cocina Latina in Baltimore, where he serves as executive chef.
At Seven Reason (2208 14th St., N.W.), however, Limardo's dishes need no filter.
Across a wide-ranging menu that spans Atlantic to Pacific, Limardo successfully captains diners on an inventive journey. Though hailing from Venezuela, Limardo draws inspiration from cuisines across the Americas, from the Andes to Argentina.
"For me, inspiration came from everywhere, from nature, landscapes and art," Limardo says. "But my memory palate comes from my native country, Venezuela, as the main spine of my concept. Otherwise, I use my background working for more than 20 years in different countries."
Seven Reasons, while reflecting Limardo's appreciation of numerology, also appropriately reflects the Seven Seas, given his philosophy of taking diners on journeys.
"Seven is the seeker, the person who is intuitively trying to find the truth by looking for something different and unique," Limardo says. The number seven, he says, symbolizes the search for new experiences, as well as power and creativity.
Occupying the former Piola space just north of U Street, the 90-seat venue itself is transportive. Amazonian vines slink down from the ceiling, embracing exposed-brick walls and will continue to grow as the restaurant evolves. Across three stories (be prepared for steps), mid-century-style furnishings like purple tweed and charcoal suede chairs atop slim legs reflect the restaurant's contemporary vibe. An outdoor patio seating 30 is set to open for summer.
Limardo was excited to open Seven Reasons because "Washinton, DC, is growing and booming … and 14th Street is the perfect location because it's a mix of a range of people in a modern and casual location."
Limardo comes to D.C. not only with pan-Latin influences, but equally diverse kitchen methods. He employs freeze drying, sous vide, liquid nitrogen and dry ice treatments, among other techniques.
The dishes, he says, are to be experienced "in new ways through unexpected flavors and fun, innovative plating that reminds the diner of the landscapes where the foods come from."
Chicharron, a classic Latin dish traditionally of fried pig skin, is instead crafted from duck tongue, prepared in an Asian-influenced sweet and sour sauce. It's finished flecks of onion ash. One already Insta-famous dish: octopus, its tentacles splayed over sunflower-yellow aji amarillo, set aside a bold salad of jet-black lentils.
"We did extensive research into old recipes from Venezuela to try to recover them, as recipes are forgotten," he says. Regardless of presentation, he works to "keep the same flavor profile and memories intact."
While Limardo may claim playfulness in his dishes, each of them is a near-baroque affair. Plantain foam or rosemary gel is placed by steady hand, droplet by droplet, evoking artistry and design as much as Venezuelan highland jungle.
For the cocktails, LImardo plucked bar manager Josue Gonzalez, lately of Bresca and St. Anselm. Drawing on his own Cuban roots, his drinks are as diverse as the food. Fruits, vegetables and spices sourced from the Amazon and Caribbean end up in drinks crafted using anything from cachaca to pisco to sake. The sour-style Primavera ("springtime") mixes highland Mexico tequila with lavender-infused sake, brightened by pink guava and egg white.
Pink guava also stars on the dessert menu, resting as a jam atop a guava cheesecake served alongside goat cheese foam. The Coconut Delirious dessert is a representation of the jagged, frigid Andes: a server arrives at the table with a bowl of liquid nitrogen and gently pours it over the ingredients, cracking and freezing coconut pieces into rugged, frosty slivers.
Limardo and his team, true to form, have divided the menu in seven sections: snacks, small plates, medium plates, large plates, desserts, cocktails and wines.
Seven more reasons that no filter is needed.
D.C.'s dining scene ready for a busy fall
Restaurant openings, culinary events abound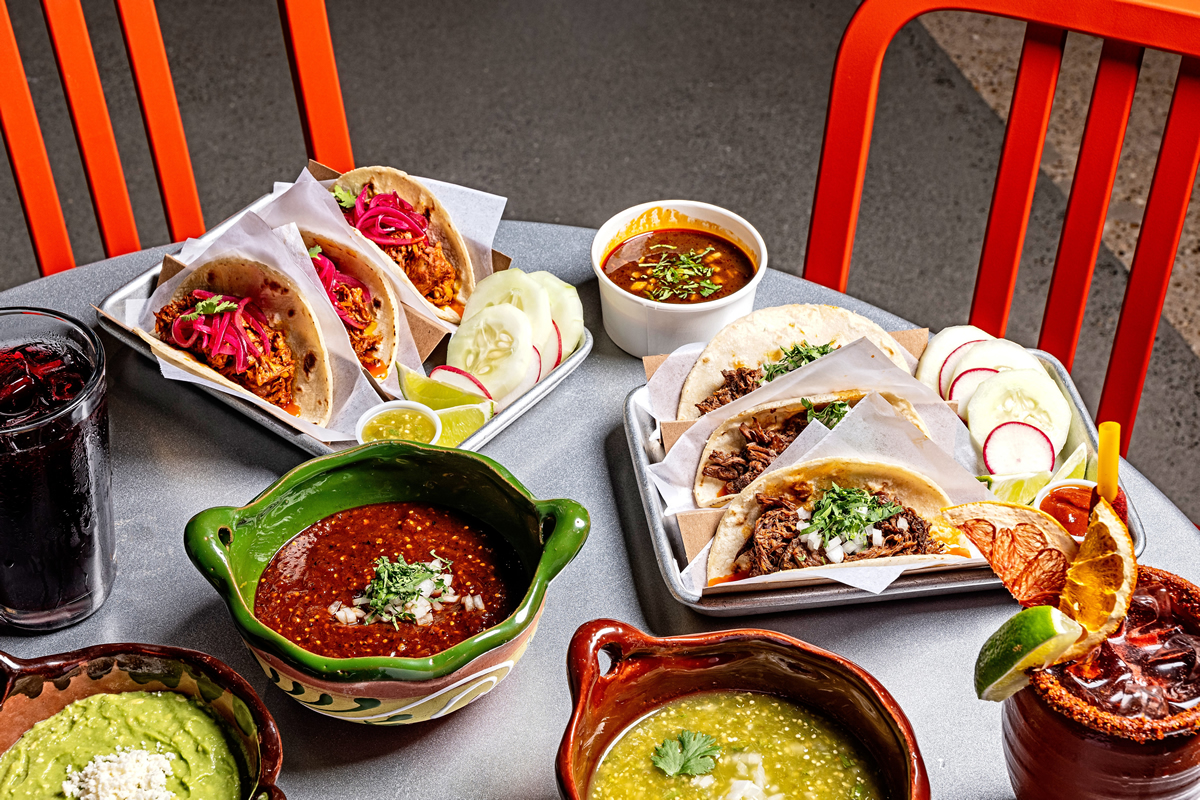 Fresh off a hot summer of restaurant openings, fall shows no sign of slowing down for bar and restaurant openings and culinary events. Below is a taste of those openings, an exciting day-to-night festival and one fabulous fundraiser taking place this fall and winter.
The Square (1850 K St.). Debuting last week, The Square is D.C.'s newest food market opening within International Square. Although the first phase has just a handful of vendors, when fully operational, the food hall will feature a collection of more than 15 vendors, a full-service restaurant and bar, an expansive bar in the central atrium, and outdoor dining seating and retail. Opening right next door and from the same owner (Ruben Garcia) will be Casa Teresa, a family-style Spanish/Catalan restaurant.
Bistro Du Jour Capitol Hill (20 Massachusetts Ave., N.W.) is opening this month. Gay-owned KNEAD Hospitality + Design announced yet another jewel in its growing crown of a restaurant empire with the upcoming Bistro Capitol Hill. Building on their existing ventures in the D.C. market, Bistro Capitol Hill is for locals, Hill staff, and tourists, according to the owners. The upscale restaurant will expand upon the Wharf location of the same name, with a much bigger space featuring 200 seats, a full bar, and the addition of a lounge. It will open for happy hour, breakfast, brunch, lunch, and dinner. The upscale bistro will also expand its offerings beyond what they are known for at the Wharf, with a must more expansive menu.
The Atlas Alexandria Brewery & Tap Room (2501 Mandeville Lane) is slated to open later this year in the Carlyle Crossing development. The 6,000-square-foot space will include a brewery with a production capacity of 2,000 barrels. The adjoining tap room has 16 draft lines and a full kitchen facility, plus a huge outdoor patio. The brewery and tap room, not far from the King Street Metro stop, slices up pies from Andy's Pizza. The brewery's six core beers include Silent Neighbor, which recently won a gold medal at the 2023 World Beer Cup.
Cleveland Park is getting a flip when big-name restaurateur Ashok Bajaj of Knightsbridge Restaurant Group opens Little Black Bird (3309 Connecticut Ave.), replacing his Indian spot, Bindaas. Located next to Israeli resto Sababa (also by Bajaj), the name Little Black Bird is a nod to the French word for blackbird, merle, which is also related to the wine name, Merlot. This wine list, with 100 wines by the bottle and 12 by the glass, will be global in nature, alongside a big menu wth Mediterranean inspiration.
Restaurateur Stephen Starr, of Le Diplomate fame, opened El Presidente (1255 Union St., N.E.) last week in Union Market. This 6,000-square-foot space "artfully mirrors the essence of Mexico City's gastronomy," according to the restaurant. The menu, though, draws from across the country, serving oysters from the Pacific coast, al pastor tacos, and a handful of guac variations, including one topped with king crab. A raw bar anchors one corner of the vibrantly lit series of dining rooms, pairing well with several mezcal- and tequila-centric cocktails. Not far from Starr's other property, St. Anselm, El Presidente fits in appropriately alongside nearby La Cosecha, the Latin food hall also in the Union Market district.
On 14th Street, Bar Japonais (1520 14th St., N.W.) slides into the former Estadio space in early 2024. Similar to its sister restaurant Bar Chinois in Mount Vernon Square, Bar Japonais will blend French and Japanese flavors in an energetic atmosphere, much like Bar Chinois. Developed in the izakaya style, the restaurant will have Japanese-leaning food and French-leaning cocktails.
And over in National Landing by HQ2 will be Surreal (2117 Crystal Dr. in Arlington, Va.), from Seven Reasons owner Michelin-starred Venezuelan chef Enrique Limardo and Ezequiel Vázquez-Ger. The Latin-inspired bistro has an eclectic menu, with dishes like queso fundido shakshuka, swordfish carpaccio, and "Flaming Hot Totopos." The restaurant will have grab-and-go items and bakery for office workers, plus expansive beverage program to drink onsite – and possibly be able to take with them to have the park right outside the restaurant.
After the first Art All Night lit up Shaw in 2011, the 2023 Art All Night is reaching all eight wards, Sept. 29-30. The festival's activations differ each night, bringing visual and performing arts, including painting, photography, sculpture, crafts, fashion, music, literary arts, dance, theater, film, and poetry, to indoor and outdoor public and private spaces. This year, Dine All Night is joining the mix, with dozens of restaurants participating to offer special menus Sept.21-Oct. 1.
We would be remiss not to mention a signature fundraising culinary event for LGBTQ rights, Chefs for Equality. After a two-year hiatus due to the pandemic, the Human Rights Campaign Foundation and prominent food writer David Hagedorn are celebrating the return of Chefs for Equality on Monday, October 30, 2023, at the National Building Museum. Now in its 10th year, the evening of food, drink, entertainment, and live and silent auctions, supports the Human Rights Campaign Foundation's nationwide educational work and its fight for LGBTQ+ equality. This year's theme, Plate of Emergency, calls attention to the state of emergency that the Human Rights Campaign has officially declared because of intensified attacks on the LGBTQ+ community, particularly transgender and non-binary people, says Hagedorn. The expansive event features 55 savory tasting stations and 30 cocktail bars helmed by chefs and mixologists from around the city and the region. There are also 13 personal chef tables serving five-course meals with chefs themselves.
Cuisine and culture come together at The Square
D.C.'s newest food hall highlights Spanish flavors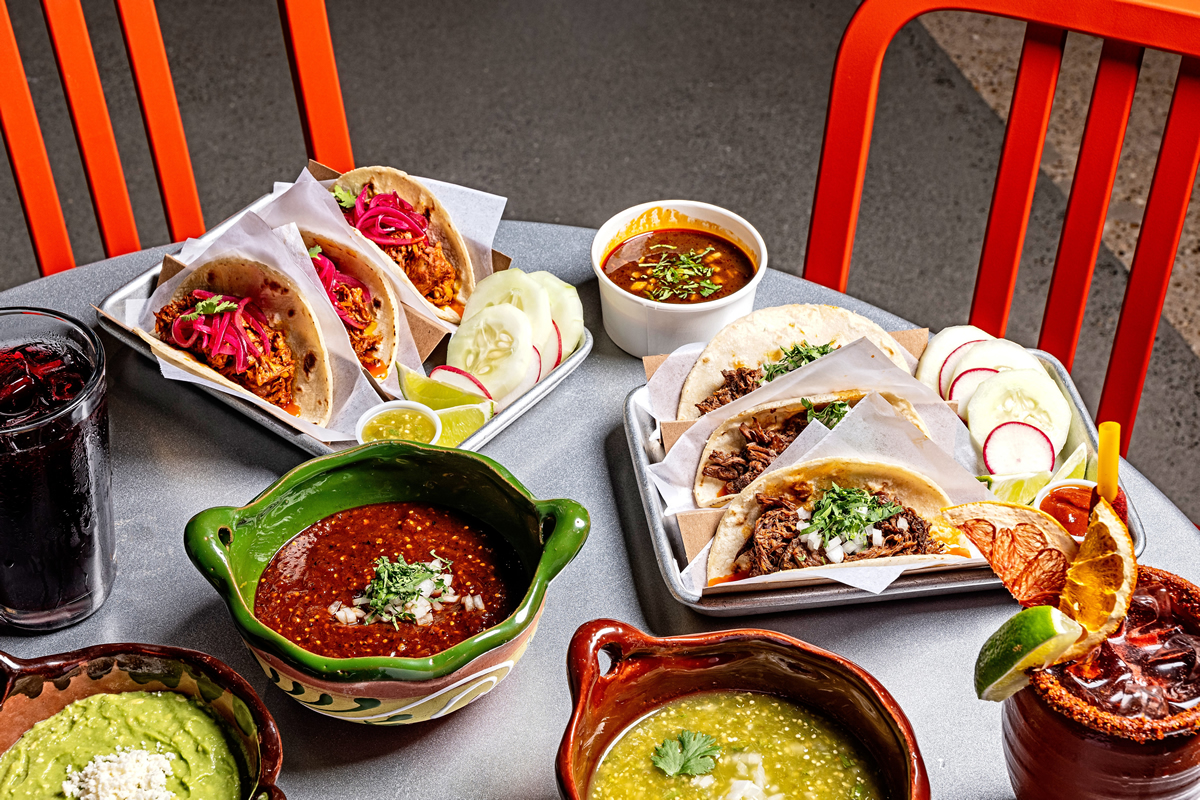 Downtown got a bit tastier when "the next generation of food halls" opened its doors on Tuesday near the Farragut West Metro stop. Dubbed The Square, its half-dozen debut stalls are a Spanish-flecked mix of D.C. favorites, new concepts, and vendor-collaborative spirit.
After two years of planning – and teasing some big-name chefs – the market is, according to the owners, "where cuisine, culture, and community are woven together."
Behind this ambitious project with lofty aims are Richie Brandenburg, who had a hand in creating Union Market and Rubén García, a creative director of the José Andrés Group who also was part of the team of Mercado Little Spain, the fairly new Spanish-themed Andres food hall in Hudson Yards.
Food halls have come a long way since the new Union Market awakened the concept a decade ago. Instead of simply rows of vendors in parallel lines, The Square has a new business model and perspective. This food hall shares revenue between the owners and its chef partners. Vendors are encouraged to collaborate, using one software system, and purchasing raw materials and liquor at scale together.
"Our goal was two-fold: to create a best-in-class hospitality offering with delicious foods for our guests; and behind the scenes, create the strong, complex infrastructure needed to nurture both young chefs and seasoned professionals, startups, and innovation within our industry," says Brandenburg.
The Square has embraced a more chef-forward methodology, given that the founders/owners themselves are chefs. They're bringing together a diverse mix of new talent and longtime favorites to connect, offer guidance to each other, and make the market into a destination.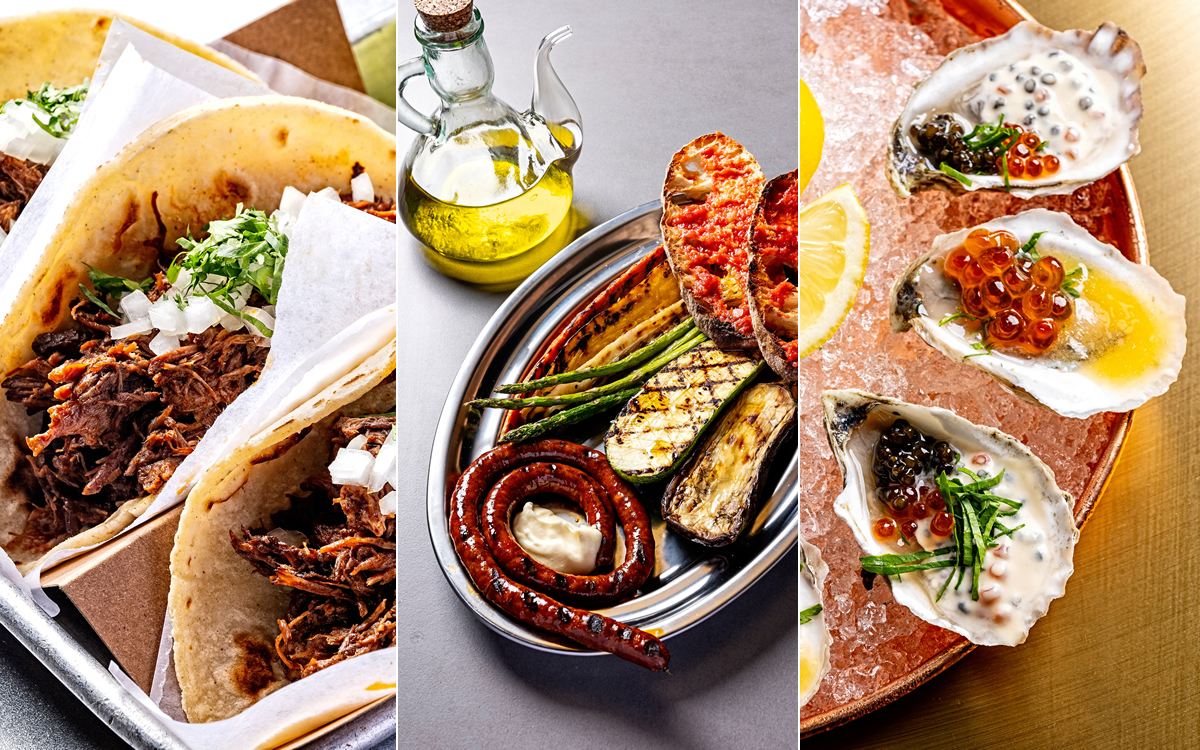 The first phase of The Square premiered this week. This phase encapsulates a selection of original concepts from well-known local chefs and business owners, and includes:
• Cashion's Rendezvous – Oysters, crab cakes, and cocktails, from the owners of D.C. institutions and now-closed Cashion's Eat Place and Johnny's Half-Shell (Ann Cashion and John Fulchino).
• Jamón Jamón – Flamenco-forward food with hand-cut jamón Iberico, queso, and croquetas, sourced by García himself.
• Brasa – Grilled sausages and veggies are the stars here. Chef García oversees this Spanish street-food stall as well.
• Taqueria Xochi – Birria, guisado, and other street tacos, plus margs. Named after the ruins of Xochitecatl in Central Mexico, and from a Jose Andres alum.
• Yaocho – Fried chicken, juices, sweets, and libations.
• Junge's – Churros and soft serve ice cream. Brandenburg and García both have a hand in this stall.
• Atrium Bar – The central watering hole for drinks. Atrium Bar serves cocktails, wine, and beer curated by The Square's Beverage Director Owen Thompson.
"Having been part of Jose Andres's restaurant group and getting to know Ruben and Richie, it's amazing to see how their values align with ours at Taqueria Xochi. Seeing all these incredible chefs heading into Square feels like a full-circle moment," said Geraldine Mendoza of Taqueria Xochi.
Slated for fall 2023, the next round of openings includes Flora Pizzeria, Cebicheria Chalaca, KIYOMI Sushi by Uchi, Shoals Market (a retail hub), and more. Additionally, chef Rubén García's Spanish restaurant, Casa Teresa, will soon open next door to The Square.
The Square is just one of a handful of new food halls blossoming in and around D.C. Up in Brentwood, Md., miXt Food Hall is an art-adjacent space with tacos, a year-round fresh market, coffee, and beer. Across from Union Market is La Cosecha, a Latin marketplace with everything from street food to a Michelin starred restaurant and a festive vibe. Closer to The Square is Western Market by GW University, which opened in late 2021 with a buzzy, relaxed style.
For now, the Square is open Monday through Friday, 11 a.m. to 3 p.m. The Square plans to open on weekends and extend hours to offer dinner service in the coming months. A few alfresco seats will accompany the hall.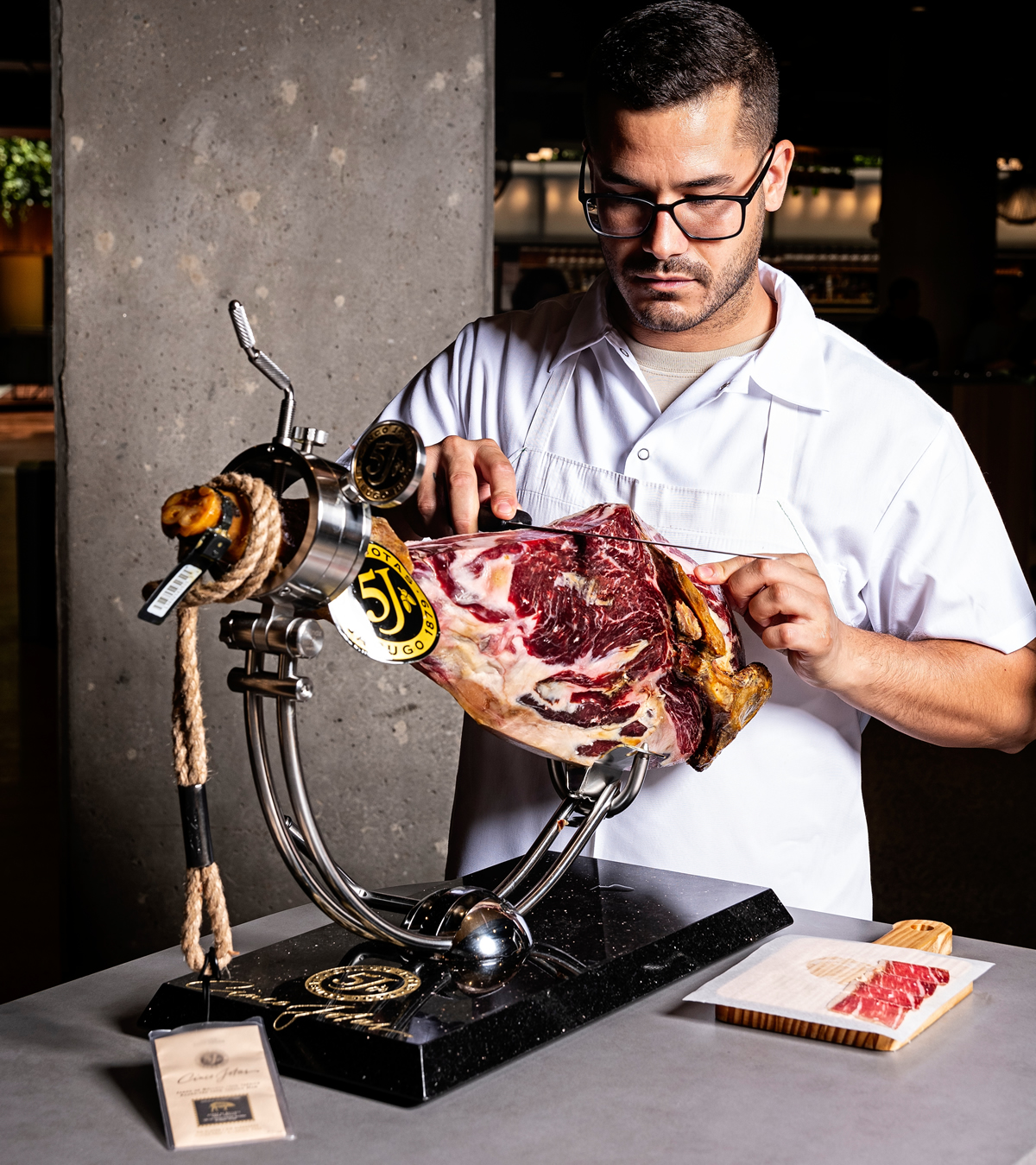 Watch Pride parade from one of these bars, restaurants
Plenty of viewing options along route with drink, food specials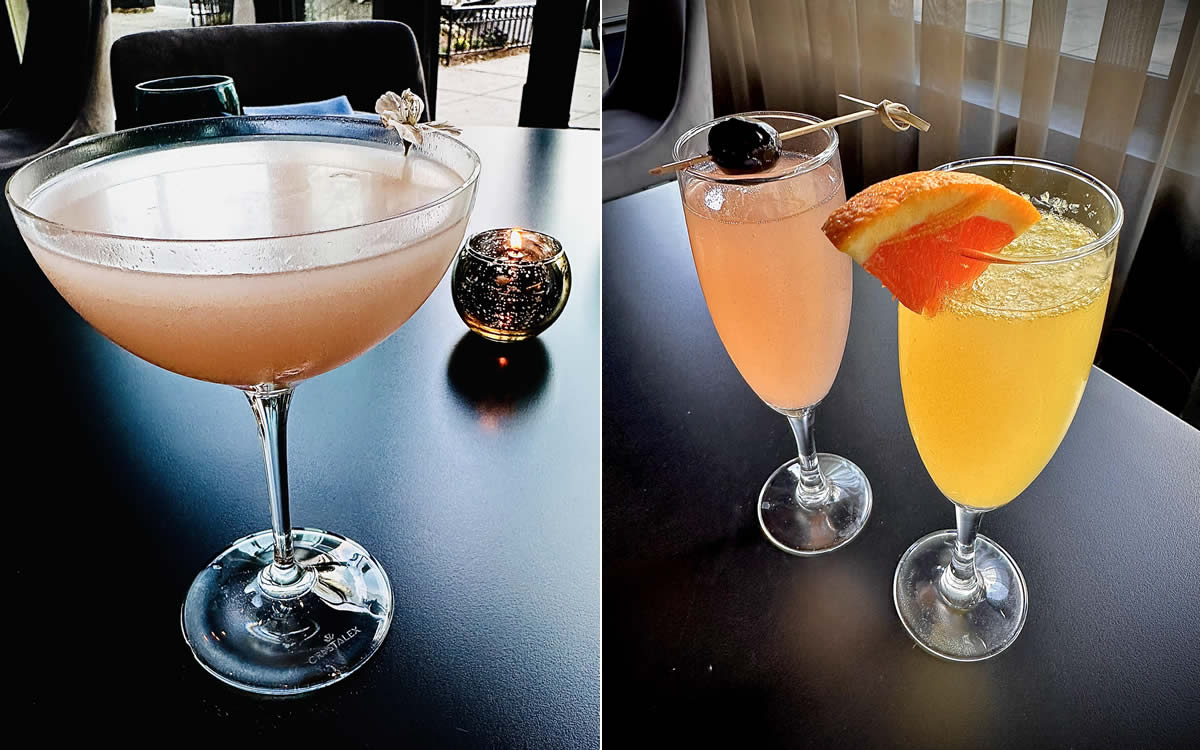 The Capital Pride Parade steps off from 14th and T streets, N.W. at 3 p.m. on Saturday, June 10. The parade tradition honors the city's LGBTQ history and acknowledges the evolution of the LGBTQ neighborhoods in Washington, D.C., as the parade winds through the 14th Street, Logan Circle, and Dupont Circle neighborhoods. One of the best ways to watch: Settle down at one of the many bars and restaurants that line the route. From start to finish, check out a few select options below.
Nama Ko
Situated just north of the parade kickoff, Nama Ko (which recently replaced Tico, from the same owners), will be celebrating Pride this year with three cocktail options for bottomless brunch (during the parade weekend and all month long), and an extended happy hour from 3-7 p.m. The featured drink is a Lychee Saketini made with Tito's Vodka, Nigori sake, and lychee purée; the drinks will be offered to-go for $10. Nama Ko will also offer two soft-serve flavors to go: miso honey truffle with chocolate & caramel sauces, and a black sesame soft serve topped with date syrup, cherries, and candied walnuts. To the delight of marchers, the many windows that face 14th Street will be painted a vibrant rainbow, as Tico did each year as well.
 
Mi Vida
Now one of three Mi Vida locations and part of the gay-owned Knead Restaurant Group, this colorful Mexican restaurant on 14th will have a special Pride cocktail, "Plus One," which includes Tito's Vodka, Chinola Passion Fruit, Aperol, Vanilla, Lime, Bubbles ($16). A portion of the proceeds will be donated to The Trevor Project. Guests who are coming to watch the parade can take their cocktail on the patio to get a front-row seat to the parade festivities.
Bresca
This upscale Parisian-style bistro graced with one Michelin star will join the party by opening up its bar area overlooking 14th Street for the parade.
Le Dip
To honor pride, Le Diplomate is highlighting Republic Restoratives spirits. Republic Restoratives, an LGBTQ-owned distillery located in Northeast, is a longtime supporter of LGBTQ rights in D.C. Le Diplomate will honor Republic in two cocktails June 9-11: the Romarin, using Civic Vodka, and the Tonic Trope, which will feature Assembly Gin. Le Diplomate has patio seating right on 14th Street and on Q Street.
 
Jane Jane
This throwback gay-owned cocktail lair with a patio on 14th Street is hosting a month-long Pride fundraiser in support of the ACLU Drag Defense Fund, During the month of June, the popular bar will donate 10 percent of sales from its Pride cocktail menu, and 50 percent of all T-shirt sales to the Drag Defense Fund. The bar will set up a stand for drinks outside during the parade, and will open up inside for the remainder of the evening.
Otherwise on 14th Street, check out patios at spots like Gypsy Kitchen, Garden District, Ted's Bulletin, Aslin Beer Company, Chicken + Whiskey, Pearl Dive Oyster Palace and more.
The parade route leaves 14th Street and turns west on Rhode Island Avenue. Two hotels right on the route are hosting Pride parties.
 
Viceroy Washington DC
The Capital Pride partner event Crack of Noon PRIDE Parade Brunch event is taking place at the Viceroy's Dovetail restaurant. Pregame for the parade with an all-you-can-eat brunch plus bubbly. Diners have the chance to meet the celebrated Pride Parade grand marshals, Pride 2023 Honorees, and other surprise special guests. Diners must be 21+. Brunch runs 11:30 a.m.-2:30 p.m. for $60-$75.
 
Darcy Hotel
Just a block west, The Darcy Hotel will host a Pride event on the Gerrard Street Patio, complete with a DJ plus food and drink specials. The hotel is offering two specialty cocktails for the entire month of June: The No28 cocktail ($6.28) in honor of National Pride Day (6/28), and The Darcy Pride cocktail, with peach vodka and passionfruit.
From there, the parade turns north on 17th Street for one block, and back west on P Street.
 
DC Vegan
At the corner of 17th and P Streets, this vegan deli-restaurant-bar is hosting its annual Vegan Pride party again with a special menu, and extended 12 p.m.-12 a.m. service. The bar will serve sausages, sandwiches, loaded nachos, Pride cupcakes, and other street-friendly eaters. DC Vegan will open up not only its subterranean bar, but also an auxiliary bar in its parklet patio, serving beer, wine, and liquor right on P Street.
The parade finishes its route curving around Dupont Circle and ends at 21st Street, N.W. Bars and restaurants with patios there include Pizzeria Paradiso, Sura Thai, and Emissary.
And if the parade crowds are too daunting, watch the parade on the giant screen at Pride on the Pier at the Wharf. The festivities include drag shows, DJs, VIP sections, and the parade on the big screen. Admission to the pier is free; the party runs from 2-9 p.m. culminating in a fireworks display. Visit prideonthepierdc.com for more information.