May 10, 2019 at 7:01 pm EDT | by Evan Caplan
Seven Reasons chef calls Venezuela the 'main spine of my concept'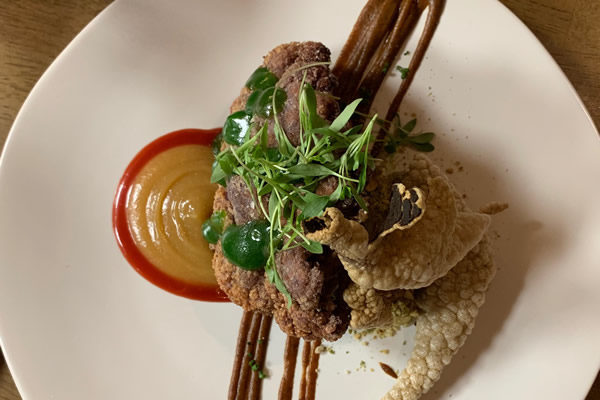 Chef Enrique Limardo has a built-in fan base for Seven Reasons, his handsome new dining destination on 14th Street. More than 10,000 Instagrammers follow Limardo's every stylishly plated move on the handle for Alma Cocina Latina in Baltimore, where he serves as executive chef.
At Seven Reason (2208 14th St., N.W.), however, Limardo's dishes need no filter.
Across a wide-ranging menu that spans Atlantic to Pacific, Limardo successfully captains diners on an inventive journey. Though hailing from Venezuela, Limardo draws inspiration from cuisines across the Americas, from the Andes to Argentina.
"For me, inspiration came from everywhere, from nature, landscapes and art," Limardo says. "But my memory palate comes from my native country, Venezuela, as the main spine of my concept. Otherwise, I use my background working for more than 20 years in different countries."
Seven Reasons, while reflecting Limardo's appreciation of numerology, also appropriately reflects the Seven Seas, given his philosophy of taking diners on journeys.
"Seven is the seeker, the person who is intuitively trying to find the truth by looking for something different and unique," Limardo says. The number seven, he says, symbolizes the search for new experiences, as well as power and creativity.
Occupying the former Piola space just north of U Street, the 90-seat venue itself is transportive. Amazonian vines slink down from the ceiling, embracing exposed-brick walls and will continue to grow as the restaurant evolves. Across three stories (be prepared for steps), mid-century-style furnishings like purple tweed and charcoal suede chairs atop slim legs reflect the restaurant's contemporary vibe. An outdoor patio seating 30 is set to open for summer.
Limardo was excited to open Seven Reasons because "Washinton, DC, is growing and booming … and 14th Street is the perfect location because it's a mix of a range of people in a modern and casual location."
Limardo comes to D.C. not only with pan-Latin influences, but equally diverse kitchen methods. He employs freeze drying, sous vide, liquid nitrogen and dry ice treatments, among other techniques.
The dishes, he says, are to be experienced "in new ways through unexpected flavors and fun, innovative plating that reminds the diner of the landscapes where the foods come from."
Chicharron, a classic Latin dish traditionally of fried pig skin, is instead crafted from duck tongue, prepared in an Asian-influenced sweet and sour sauce. It's finished flecks of onion ash. One already Insta-famous dish: octopus, its tentacles splayed over sunflower-yellow aji amarillo, set aside a bold salad of jet-black lentils.
"We did extensive research into old recipes from Venezuela to try to recover them, as recipes are forgotten," he says. Regardless of presentation, he works to "keep the same flavor profile and memories intact."
While Limardo may claim playfulness in his dishes, each of them is a near-baroque affair. Plantain foam or rosemary gel is placed by steady hand, droplet by droplet, evoking artistry and design as much as Venezuelan highland jungle.
For the cocktails, LImardo plucked bar manager Josue Gonzalez, lately of Bresca and St. Anselm. Drawing on his own Cuban roots, his drinks are as diverse as the food. Fruits, vegetables and spices sourced from the Amazon and Caribbean end up in drinks crafted using anything from cachaca to pisco to sake. The sour-style Primavera ("springtime") mixes highland Mexico tequila with lavender-infused sake, brightened by pink guava and egg white.
Pink guava also stars on the dessert menu, resting as a jam atop a guava cheesecake served alongside goat cheese foam. The Coconut Delirious dessert is a representation of the jagged, frigid Andes: a server arrives at the table with a bowl of liquid nitrogen and gently pours it over the ingredients, cracking and freezing coconut pieces into rugged, frosty slivers.
Limardo and his team, true to form, have divided the menu in seven sections: snacks, small plates, medium plates, large plates, desserts, cocktails and wines.
Seven more reasons that no filter is needed.