Casa Frida becomes second home for Mexico City's LGBTQ community
Shelter opened in May 2020 amid coronavirus pandemic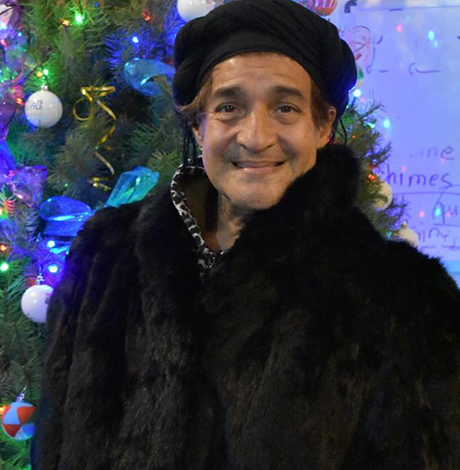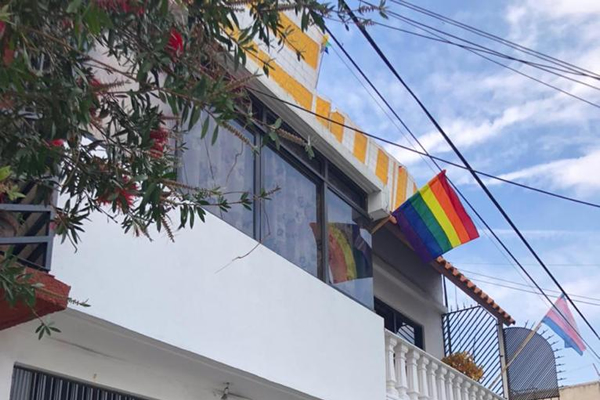 Juan Antonio Carmona, 17, did not come home from school on Feb. 14, 2020. 
He decided to celebrate Valentine's Day with his boyfriend, another 17-year-old teenager he met nine months earlier. Carmona's homophobic parents had already forbidden him to go out on that date, but he gladly disobeyed them and went to the movies with his boyfriend.
Carmona's family, which forbid him from being gay in public, much less at home, once again confronted him after he returned from his date. They kicked him out because he refused to obey them, and the streets of Mexico City became his home for three weeks. 
"It was something difficult but necessary," said Carmona during an interview with the Washington Blade. "I stayed in subway station entrances and fed myself with what I found in the street."
It Gets Better México, a group that advocates on behalf of LGBTQ youth, says the number of young people who have been kicked out of their homes and forced into homelessness because they are gay has recently increased. The coronavirus pandemic has also forced many of them to come out to their relatives, which exposes them to additional discrimination and abuse.
Iván Tagle, director of Yaaj México, an LGBTQ rights group, says the number of cases of young people who are in danger of becoming homeless because of their sexual orientation and gender identity to which he has responded have increased by nearly 5-fold during the pandemic.
"It is alarming that they do not come forward for fear of betraying one of their relatives," It Gets Better México Director Alex Orué told the Mexican newspaper Milenio. "Unfortunately they do not know that there are institutions that support them during this emergency."
It was indeed one of these LGBTQ groups that took Carmona off the streets.
A friend brought him to Casa Frida, a recently created shelter in the Mexican capital that welcomes anyone in need.
'A place that changes lives'
Casa Frida opened on May 13, 2020, against the backdrop of lockdown measures implemented to stop the pandemic. Raúl Caporal Montes, the shelter's co-director, said Casa Frida's goal is to provide assistance and shelter to the LGBTQ community.
Caporal says Casa Frida is a safe space that also offers psychological support. He said "various socio-structural barriers that LGBTQ people continue to face, which the COVID-19 pandemic-induced economic crisis exacerbated" necessitated Casa Friday's creation.
The shelter strives to specifically serve young gay men between 16 and 34-years-old who have been kicked out of their homes because of their sexual orientation or gender identity. Casa Frida also serves LGBTQ people who have lost their sources of income during the pandemic, LGBTQ migrants and people with HIV.
Caporal says Casa Frida supports those at greatest need in three ways: Shelter through an accommodation program and access to food and basic needs that include the guarantee of safety and protection; mental health services and access to programs that allow residents to strengthen their technical and social skills and allow them to have greater opportunities to successfully reintegrate into society.
Casa Frida has a team of psychologists, social workers, nurses and volunteers who work with its residents. Casa Frida also provides legal support for transgender people who want to legally change their gender and connects them to health care providers who can provide hormone replacement therapy.
Casa Frida since its inception has welcomed 74 people who are mainly between 18 and 35-years-old. The shelter has 20 beds, although it is expected to soon expand its capacity to 34 beds.
Seventeen people were living at Casa Frida as of deadline. The shelter currently has three floors of living space with eight rooms, a common area and a terrace for recreation.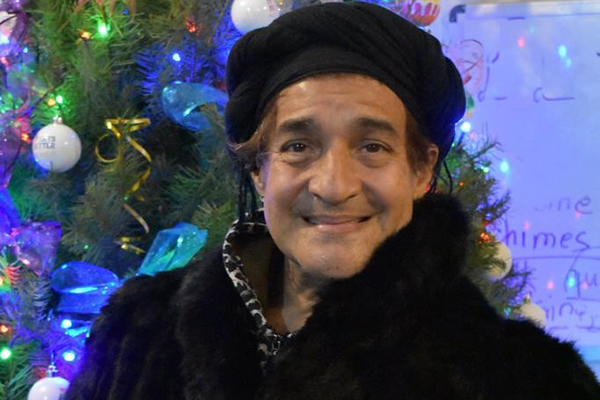 Carmona has lived at Casa Frida for seven months.
He told the Blade he feels at home, an experience that he had not felt for years. Carmona said he has learned how to take care of himself, how to be himself, how to enjoy differences and has seen his self-esteem grow to the point that people's opinions about his homosexuality no longer bother him.
Carmona also says Casa Frida has helped him prepare a resume and enrolled him in various courses.
He told the Blade he has continued his studies and helped with household chores. Carmona has also worked with a psychologist to further the process of self-acceptance and to reconcile with his family that was ultimately successful. 
Caporal told the Blade that in Carmona's case, Casa Frida was able to offer him assistance at the shelter.
"Successful mediation was achieved by achieving family reintegration," said Caporal. "For this, a comprehensive space for education and training in appropriate terminologies, introduction to diversity and gender in conjunction with the family was necessary. After a while the family members began to live together."
Carmona is once again back with his family, which is slowly learning to accept his sexual orientation and has stopped teasing him in a way that hurt him so much.
"At Casa Frida they boosted my self-esteem," Carmona told the Blade. "They made me get ahead, because I'm already working and thinking about my financial independence. They changed my life so much."
Casa Frida does not currently receive government funding, so donations from civil society organizations and members of the LGBTQ community make its work possible.
Caporal said Casa Frida has been able to survive the pandemic because of "the solidarity, love and support of the LGBTIQ community itself, organizations, neighbors and citizens."
Caporal also encouraged anyone who wants to support Casa Frida's work to make a donation through its website.
https://www.refugiocasafrida.com/donar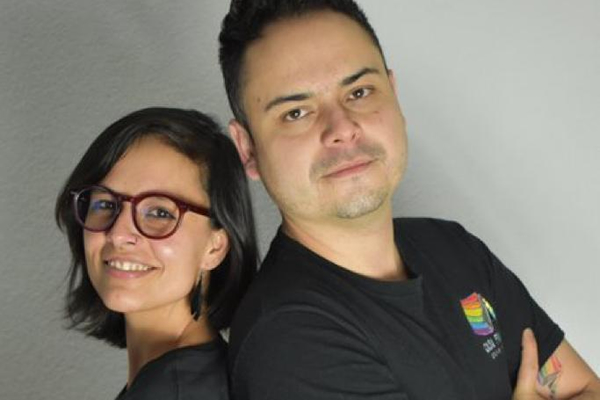 Patrick O'Connell, acclaimed AIDS activist, dies at 67
Played key role in creating red ribbon for awareness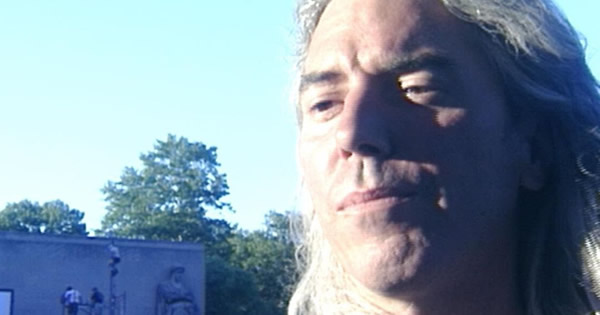 Patrick O'Connell, a founding director of the New York City-based AIDS advocacy group Visual AIDS who played a lead role in developing the internationally recognized display of an inverted, V-shaped red ribbon as a symbol of AIDS advocacy, died on March 23 at a Manhattan hospital from AIDS-related causes, according to the New York Times. He was 67.
Visual AIDS said in a statement that O'Connell held the title of founding director of the organization from 1980 to 1995.
During those years, according to the statement and others who knew him, O'Connell was involved in the group's widely recognized and supported efforts to use art and artist's works to advocate in support of people with HIV/AIDS and efforts to curtail the epidemic that had a devastating impact on the art world.
Thanks to a grant from the Art Matters foundation, Visual AIDS was able to retain O'Connell as its first paid staff member in 1990, the group said in its statement.
"Armed with a fax machine and an early Macintosh computer, Patrick helped Visual AIDS grow from a volunteer group to a sustainable non-profit organization," the statement says. "A passionate spokesperson for the organization, he helped projects like Day Without Art, Night Without Light, and the Red Ribbon reach thousands of people and organizations across the world," the group says in its statement.
"We were living in a war zone," the statement quoted O'Connell as saying in a 2011 interview with the Long Island newspaper Newsday. "But it was like a war that was some kind of deep secret only we knew about," O'Connell said in the interview. "Thousands were dying of AIDS. We felt we had to respond with a visible expression," he told the newspaper.
With O'Connell's help, Visual AIDS in 1989 organized the first annual Day Without Art in which dozens of galleries and museums in New York and other cities covered art works with black cloths to symbolize the mourning of those who died of AIDS. Among those participating were the Brooklyn Museum, the J. Paul Getty Museum in Los Angeles, and the Metropolitan Museum of Art in New York, which replaced a Picasso painting with a "somber informational placard," according to the New York Times.
In 1990 O'Connell helped Visual AIDS organize the first Night Without Light, which was held at the time of World AIDS Day. New York City's skyscraper buildings, bridges, monuments, and Broadway theaters turned off their lights for 15 minutes to commemorate people who lost their lives to AIDS, the New York Times reported.
In the kickoff of its Red Ribbon Project in 1991, McConnell helped organize volunteers to join "ribbon bees" in which thousands of the ribbons were cut and folded for distribution around the city, the Times reports. Those who knew McConnell said he also arranged for his team of volunteers to call Broadway theaters and producers of the upcoming Tony Awards television broadcast to have participants and theater goers display the red ribbons on their clothes.
Among those displaying a red ribbon on his label at the Tony Awards broadcast was actor Jeremy Irons, who was one of the hosts. In later years, large numbers of celebrities followed the practice of wearing the red ribbon, and in 1993 the U.S. Postal Service issued a red ribbon stamp.
The Times reports that O'Connell was born and raised in Manhattan, where he attended Fordham Preparatory School and later graduated from Trinity College in Hartford, Conn., in 1973 with a bachelor's degree in history. According to Visual AIDS, O'Connell served as director of the Hallwalls arts center in Buffalo, N.Y. from 1977 to 1978 before returning to New York City to work for a gallery called Artists Space.
The Times reports that O'Connell learned in the middle 1980s that he had contracted AIDS and began a regimen of early AIDS treatment with a cocktail of over 30 pills a day. His involvement with Visual AIDS, which began in 1989, ended on an active basis in 1995 when his health worsened, the Times reports.
As one of the last remaining survivors of his New York contemporaries who had HIV beginning in the 1980s, O'Connell continued in his strong support for AIDS-related causes through 2000s and beyond, people who knew him said.
Visual AIDS says it is gathering remembrances and photos for a tribute post for O'Connell on its website. It has invited people to share their memories of him by sending written contributions and images via email to: [email protected].
Activists concerned over removal of D.C. AIDS office executive
Dept. of Health declines to explain abrupt replacement of Kharfen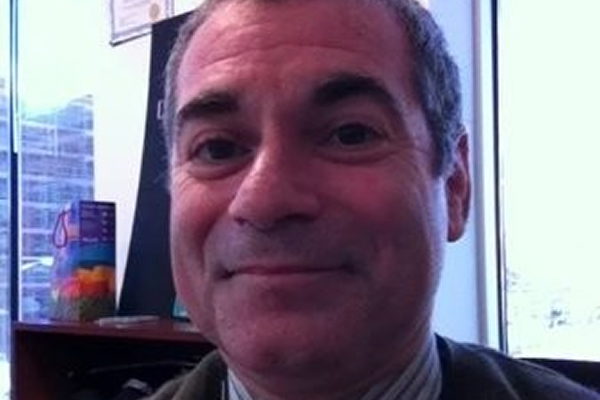 The leaders of several local and national AIDS organizations have expressed concern over a decision by D.C. Department of Health Director Dr. LaQuandra Nesbitt to abruptly dismiss Michael Kharfen from his position since 2013 as Senior Deputy Director of the department's HIV/AIDS, Hepatitis, Sexually Transmitted Disease and Tuberculosis Administration.
Under the leadership of Kharfen, who is gay, the Department of Health entity commonly referred to as HAHSTA has played a lead role in what AIDS advocacy organizations consider to be D.C.'s highly successful efforts in recent years to lower the rate of new HIV infections among city residents.
Alison Reeves, a spokesperson for Nesbitt, declined to give a reason for Kharfen's termination, saying the DOH does not comment on "personnel matters." Reeves said DOH official Dr. Anjali Talwalker has been named as interim Senior DOH Deputy Director for HAHSTA while a national search is being conducted for a permanent HAHSTA leader.
People who know Kharfen have said he has declined at this time to publicly comment on his departure from HAHSTA. He could not immediately be reached by the Blade for comment.
"Michael Kharfen's departure is a real loss to HAHSTA, the D.C. community, and nationally," said Paul Kawata, executive director of the D.C.-based National Minority AIDS Council. "It is important to remember that when Michael took over HAHSTA there were real challenges and concerns," Kawata said.
"He transformed the agency and built strong relationships with local organizations and D.C.-based national organizations," said Kawata. "His reasoned voice and ability to collaborate will be sorely missed."
At least three sources familiar with HAHSTA, who spoke on condition of not being identified, have said reports have surfaced internally from DOH that director Nesbitt is planning to reorganize several DOH divisions, including HAHSTA.
The sources say people familiar with the reported reorganization expressed alarm that HAHSTA would be dismantled as a separate DOH entity, with AIDS-related programs operated by other DOH divisions.
"Some think she wants to use the funds earmarked for HAHSTA for other things," said one of the sources. "She could be jeopardizing federal grant money for HIV and hepatitis," the source said.
The Washington Blade raised questions surrounding Kharfen's departure with John Falcicchio, the D.C. Deputy Mayor for Planning and Economic Development, who also serves as Mayor Muriel Bowser's chief of staff, at a press conference on Monday on an unrelated topic. Falcicchio said he would try to arrange for mayoral spokesperson LaToya Foster to respond to the Blade's questions about a possible DOH reorganization of HAHSTA and the issues surrounding Kharfen's departure from DOH.
Neither Foster nor another mayoral spokesperson had responded as of late Tuesday.
"Michael Kharfen's leaving D.C. government is a huge loss to the D.C. community and potentially puts at risk federal grants for HIV, sexually transmitted diseases, and hepatitis," according to David Harvey, executive director for the D.C.-based National Coalition of STD Directors.
"If his departure is about a consolidation of agencies within DOH, then the community will be the loser," Harvey said.
"We need HAHSTA to continue," he said, adding, "The mayor should reverse this decision and reinstate Michael Kharfen."
Sources familiar with the D.C. government's personnel polices have said that Kharfen and other high-level officials holding positions such as that of a senior deputy director are considered "at will" employees who serve at the pleasure of the mayor and the agency head for whom they work. They can be removed for any reason or no reason, those familiar with the personnel policy say.
Before becoming the DOH Senior Deputy Director in charge of HAHSTA in 2013, Kharfen served from 2006 to 2013 as HAHSTA's Bureau Chief for Partnerships, Capacity Building, and Community Outreach. Those who know Kharfen said in that role he is credited with working closely with a wide range of local and national organizations that provide services for people with HIV/AIDS as well as other public health organizations.
Among them is the D.C. Appleseed Center for Law & Justice, which has worked closely with HAHSTA and the DOH to develop, among other things, a plan to significantly curtail new HIV infections in the city by 2020.
Other groups working closely with Kharfen have been the Washington AIDS Partnership, the National Coalition of STD Directors, the Prevention Access Campaign, and the HIV-Hepatitis Policy Institute.
"Under Michael's leadership, D.C. was instrumental in pioneering many new innovations in preventing and treating HIV that were later adopted by other jurisdictions," said Carl Schmid, executive director of the D.C.-based HIV-Hepatitis Institute. "And if you look at the results, I think it demonstrates success," Schmid said.
"I do not know any details of his departure, but I know he will be missed not only in D.C. but across the country," Schmid told the Blade.
Trans teacher, P.G. County schools face off in discrimination lawsuit
Officials deny charges of harassment, retaliation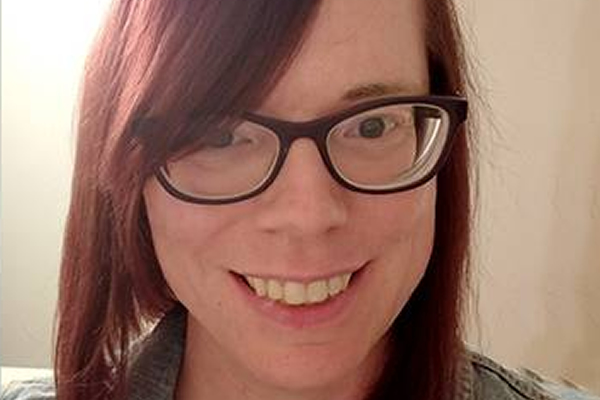 Attorneys representing transgender former English teacher Jennifer Eller in a 2018 discrimination lawsuit against the Prince George's County Public Schools and the county's Board of Education filed a motion in federal court last week asking a judge to rule in support of Eller's two main allegations against school officials.
The motion for partial summary judgment, filed on April 28 in U.S. District Court for the District of Maryland, calls on the court to affirm Eller's charges that school officials acted illegally by failing to intervene when she was subjected to a hostile work environment for five years that included abuse and harassment by students, parents, fellow teachers and supervisors and retaliation by administrators.
The motion also calls on the court to affirm that Eller, 39, was forced to resign from her teaching job in 2017 because of the harassment and discriminatory action based on her gender and gender identity.
Eller's motion for summary judgement, which calls for a ruling in her favor on the allegations, came one month after attorneys for the P.G. County Schools and the school board filed their own motion seeking summary judgment against all the allegations in Eller's lawsuit. If U.S. Magistrate Judge Charles B. Day rules in favor of the school system's motion, which court observers do not think will happen, it would result in the dismissal of the lawsuit.
The motion filed by Eller's attorneys calls on the court to rule against the school system's motion for summary judgment.
Court records show that the motions by the opposing sides in the case came after Magistrate Judge Day issued a March 26 directive requiring the two sides to attend a May 7 settlement conference in which an effort must be made to settle the case before it goes to trial.
Day's directive, in the form of a letter to the attorneys, called for Eller and her attorneys to submit 10 business days in advance of the conference a "written demand" for what a settlement agreement should include. Day's letter calls for P.G. school officials and their attorneys to submit five days in advance of the conference a "written offer" to Eller for what a settlement should consist of.
"For years, I was aggressively misgendered, attacked and harassed in the hallways and even in my own classroom by students, peers and supervisors," Eller said in a statement released by the LGBTQ litigation group Lambda Legal, which, along with the D.C. law firm Arnold & Porter, is representing Eller.
"My pleas for help and for sensitivity training on LGBTQ issues for students and staff, were ignored," Eller said. "The relentless harassment stripped me of the joy of teaching and forced me to resign," said Eller. "It is time for Prince George's County Public Schools to be held accountable."
Eller charges in her lawsuit that the harassment and discriminatory action against her began in 2011 when she began presenting as female during the school year. The lawsuit says school officials initially responded to her complaints about the harassment by demanding that she stop dressing as a woman and return to wearing men's clothes, which she refused to do.
The lawsuit says she was forced to resign from her teaching job in 2017 after being diagnosed with post-traumatic stress disorder due to the alleged abuse she faced on the job.
In addition to naming P.G. County Public Schools and the P.G. County Board of Education as defendants, the lawsuit also names as a defendant the school system's CEO Monica Goldson.
The lawsuit charges that the school district and its administrators violated Title VII of the U.S. Civil Rights Act of 1964, Title IX of the U.S. Education Amendments of 1972, the Equal Protection Clause of the U.S. Constitution, the Maryland Fair Employment Practices Act, and the Prince George's County nondiscrimination code.
In its official response to the lawsuit, attorneys for the school system denied Eller's allegations and claimed the school system had in place nondiscrimination policies that covered gender identity and sexual orientation for school employees and students. The school system also states in its response that Eller may have failed to exhaust administrative remedies required prior to filing a lawsuit and that the lawsuit missed deadlines for certain legal claims.
It also says her legal claims may be disqualified because of her "voluntary resignation of employment," an assertion disputed by Eller's attorneys who say the resignation was forced by the abuse and harassment Eller faced on the job.
Her attorneys also point out that Eller filed a complaint against school officials in 2015 before the U.S. Equal Employment Opportunity Commission, which conducted an extensive investigation into Eller's complaint. The attorneys note that in 2017 the EEOC issued a letter stating that there was "reasonable cause" to believe Eller had been subjected to unlawful treatment based on her sex and gender identity.
"After she filed this discrimination charge, the school administration retaliated against Ms. Eller by taking away her advanced placement English class and opening a disciplinary hearing against her that ended in no discipline," the Lambda Legal statement says.
P.G. County school officials have declined requests from the Washington Blade for comment on Eller's lawsuit, saying they have a policy of not commenting on pending litigation.
Among those expressing concern over the issues raised in the Eller lawsuit is College Park, Md., Mayor Patrick Wojahn, who is gay. College Park, which is home to the University of Maryland, is in Prince George's County.
"It's important for our county and for the entire community, especially for the kids, that the schools be places free of harassment and discrimination," Wojahn said. "And if what Ms. Eller says is true, then it shows that the school system has fallen seriously short."