July 18, 2019 at 7:24 pm EDT | by Yulani Rodgers
Kinsey Sicks founder Rachel/Ben Schatz to bid the road farewell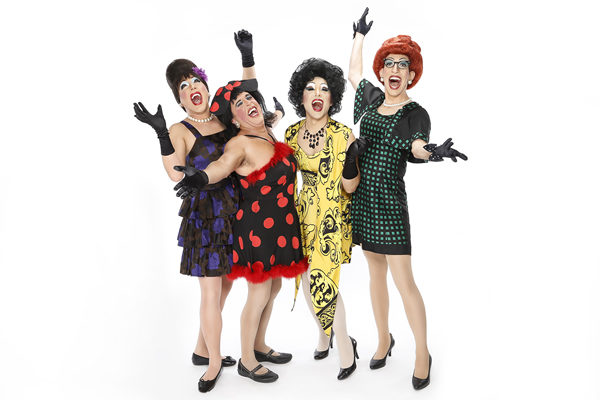 CAMP Rehoboth Presents
The Kinsey Sicks
'Things You Shouldn't Say'
Rehoboth Beach Convention Center
229 Rehoboth Ave.
Rehoboth Beach, Del.
$35-500
camprehoboth.com
kinseysicks.com/calendar
The Kinsey Sicks is celebrating 25 years of dragapella, performing their hit Off-Broadway show "Things You Shouldn't Say" and "Naked Drag Queens Singing" until September at the Art House in Provincetown, Mass.
The tour is bittersweet however as Benjamin Schatz, founder and chief writer for the group, will retire along with his character Rachel at the end of the month. The quartet was founded in 1993 when five friends went to a Bette Midler concert as the Andrews Sisters and were requested to sing.
Their decline was short lived once they realized that they all had musical backgrounds. From then on, they've performed all around the country at some of the most prestigious venues such as Herbst Theatre in San Francisco, the Nordstrom Recital Hall in Seattle, the Broward Center in Ft. Lauderdale, the Hobby Center in Houston, the Wheeler Opera House in Aspen and the Pacific Design Center in Los Angeles. Schatz/Rachel spoke with the Blade about her beginnings with the Kinsey Sicks, her love for the stage and her plans for retirement.
WASHINGTON BLADE: How were you introduced to drag?
BENJAMIN SCHATZ: I used to do drag in college but I always did it as a politically provocative thing. This was back in the '70s so drag was pretty threatening back then. Back in the late '80s and early '90s when I was an attorney and executive director at the peak of the age of terror in terms of discrimination and hatred, I used to organize drag excursions with my friends. Part of my job as an activist back then was to be a respectable homosexual and I wanted to remind myself that I wasn't, in fact, respectable.
BLADE: When you founded the Kinsey Sicks, how did the character of Rachel come about? Or has Rachel always been the name you used while doing drag?
SCHATZ: Back in college my friends and I assigned each other drag names. I'd do it to anybody who was queer, male or female, and I'd give them a drag name. So my friends called me Rachel. The character of Rachel has evolved or devolved over time to be somewhat different from Ben I hope. It was just a name that people originally assigned to me and it stuck.
BLADE: How has Rachel shaped or shifted the way the way you present yourself as Ben?
SCHATZ: I often say that Rachel gives Ben a fighting chance of being socially appropriate because Rachel gets all of that out of Ben's system. Rachel is an unboundaried mess. A delightful unboundaried mess and let's just say Ben has a tendency to let Rachel do the work for him. Rachel has changed over time. One of the Kinsey Sicks moms said, "You should make Rachel more vulnerable," and I did. I started making her more vulnerable and more lovable. She's a lovable unboundarly mess. I think Rachel represents for a lot of people their queerness, unboundaried, embarrassing self. But she does it with such utter cluelessness that you just can't help but love her. There is nothing she won't do or say. Although, as a writer, there are many directions we won't have her go. People think that we'll go anywhere but in fact, as a writer, we're very careful about racism, gender stereotypes and sexism. We're very careful about who's the butt of our jokes.
BLADE: Speaking of your writing, as I was looking at your repertoire of songs, I noticed the amount of creativity that goes into creating these and I think it's amazing. So, how do you come up with these titles?
SCHATZ: I appreciate your lack of taste and judgment. That's a promising sign. So there's three different types of writing goes on. About 60 percent of our songs are parodies and 40 percent are original songs. For parodies, that just happens when I hear something and all of a sudden the idea comes to mind. It's very easy to write words to another tune. The challenge is to change as few words as possible, use the original lines and completely subvert the original intention. So once I get an idea for a parody, I spend a lot of time with the original rhyme scheme and thinking about making as few changes as possible and words I can change the intent and the meaning 100 percent. With original songs, that's more of isolating myself. I'll often say I'm taking this time on the side to write a song. I don't really know where they come from. I have no idea. Then there's the writing of the script, which is a whole other beast in itself. They utilize different skills and they're all entirely different skills than the performance. So, I can't write when we're on the road. That's sort of an extroverted energy while writing is very quiet, withdrawn and un-Rachel like. I hate writing. I love having written. You can have an office job and coast but if you're writing you want to write the best you can and you never can write the best you can. There's always something better you can do which can make it torture.
BLADE: With you retiring from the show, how will that process change?
SCHATZ: The great thing is that I still get to offend people all over the world without having to get dressed or leave my house. That's what I'm really excited about. I love the performing. I've loved it as much as I ever have but, touring life after a couple dozen years, and it's not like we're Cher or Madonna with a glamorous entourage, we're schlupping luggage upstairs at three in the morning. It loses its glamour after a couple dozen years when your body gets old. So, I have mixed feelings about retiring from touring but my body does not. So, it'll require more communication with the group because part of what we do now is we test it out on the road and we say, "Oh that didn't get a laugh" or "that needs a different ending musically because it doesn't have enough pop" and I won't be there for that. There will also be times when the group will be performing where I am. It's much easier to critique what's going on on stage when you're not actually on stage performing. I will really be thrilled to be able to write stuff and then be in the audience not trying to remember my lines, or my note, or my choreography. Just to see what's going on and how the audience reacted. That's something I'm really looking forward to.
BLADE: Angel is the group's newest member. How will the transition from Rachel to Angel affect the content of the show?
SCHATZ: Well the show is a show I wrote and we started it off with me. Angel is taking over the spot. Rachel and I met with J.B. (McClendon), who plays Angel, and we got to know each other and I think I gave him some useful tips. We've had people replace other people in the past, not too often because we have a lot of longevity like Jeff (Trixie) who's been with us for 16 years, so the others tell me great things. It takes awhile for people to sink to the level of performing with a group. So there's a certain kind of observation that's our own and I think that culture remains very strong. So the others are really excited about Angel's performances and I think they have the tools to guide Angel to blossom over the years to come.
BLADE: You all are currently performing two shows: "Things You SHouldn't Say" and "Naked Drag Queens Singing." How will "Naked Drag Queens Singing" be different or similar to previous shows?
SCHATZ: The show that they're doing in Rohoboth ("Things You Shouldn't Say") was the first time we broke character in the show. It's a really powerful show, on top of being hilarious, it's also very heartbreaking. So the question was what do we do after that? So "Naked Drag Queens Singing" was another "let's try this experiment and see if it works." So, everybody breaks character and we kind of go seamlessly back and forth between character and not and talking with the audience. It's a very exciting experiment and it's been going fantastically so that really people get eight characters for the price of four. It's a really interesting experiment because lots of drag performers are very tethered to their personas and I think a lot of people are interested to see what's behind drag and the members of the Kinsey Sicks are very thoughtful. While we are a comedy group, there's a lot of thought behind what we have to say and why we say it. It was another big risk and it turns out it was a successful one.
BLADE: Let's say under this current administration that the Kinsey Sicks were invited to perform at the White House. What would you all perform and what would you want to accomplish?
SCHATZ: I would totally take the opportunity to perform. My personal goal would be to induce a heart attack. I think that would be a worthwhile goal. People like the current administration need to be challenged. They shouldn't have safe spaces. So I would perform at the White House. And I'll tell you what; when we're done with this conversation, I'll sit by my phone waiting for the invitation. I would definitely come out of retirement for that.
BLADE: What will you miss about performing?
SCHATZ: Well, I'll definitely miss picking on big guys and sitting on them. It tends not to work very well in civilian life. I love making people laugh, making people think (and) I love the uniqueness of us. There's nothing like us. I never feel more alive then when I'm on stage and I never feel more dead then when I'm on the road waking up at 3 in the morning getting ready for the next gig. I'll miss the incredible excitement and satisfaction. I love the feeling of constantly growing and I do a lot of improvisational humor so I'll definitely miss that. But, the goal is to quit while you still love it and while people still love you.
BLADE: Is there anything in your personal life that you'll be doing to replace that theatrical high?
SCHATZ: I promised myself that I would set no goals for my retirement for at least a year. I've spent my whole life perpetually making the impossible happen so right now I'm letting things happen to see where things go which is kind of revolutionary. I suspect that I'll be writing again soon. Well, I know I'll be writing for the group. I don't know what I'll write. I don't know what I'm doing and I'm wildly excited about it. I know there will be other chapters but I don't know what they'll look like and that is fantastic.
BLADE: What's been your favorite Kinsey experience?
SCHATZ: There's a particular kind of experience that I love like Salina, Kansas. Going into conservative communities and rocking people's world and not holding back. We did this essentially county fair and there were letters to the newspaper and protests and threats on our lives. We did four sets over two days and by our fourth set, we drew the largest crowd the musical festival has ever drawn. And we did it unapologetically. We cleaned up our language but not our content. When you've got a bunch of kids around you're not going to say the f-word. But we had very political songs talking about racism and homophobia and I love the feeling of going to a place like that and winning them over shocking the hell out them and making them love you for it. People who have no business loving us coming out and loving us anyway. I was an activist for years and still consider myself one today, but what you can do with laughter and music in terms of opening people up, is something you can't do in another context. I'm so proud at the fact that we've been able to do that and we continue to do that.
BLADE: Who's your all-time favorite drag queen?
SCHATZ: I would name two who are very different: Divine and Coco Peru. Divine was absolutely fearless and was not trying to pass and was not trying to look pretty. Divine was drastically provocative and in your face. Coco is so thoughtful and I love how she mixes comedy with heart, with politics and with integrity. You do not leave her show without thinking something and feeling something.
BLADE: Where do you see the Kinsey Sicks going in the next decade?
SCHATZ: If you would've asked me when we started the luck we'd have 26 years later, I never would've thought it possible. I think the goal is to be provocative, fresh, to take risks and to be unafraid. We'd be a lot more commercially successful if we would've said, "What does the market want and let's do that." So we always try to be cutting edge, to push the boundaries, to test things and to risk provoking people and people know when their seeing something that it's live and not safe. So I hope the group continues to take risks because there's no shortage of people out there who are playing it safe and who's taking the less controversial route. To take risks creatively in terms of what we're willing to do. That's the goal and to keep loving what we do.