July 18, 2019 at 5:00 pm EDT | by Joey DiGuglielmo
QUEERY: Desiree Dik (aka George Marius)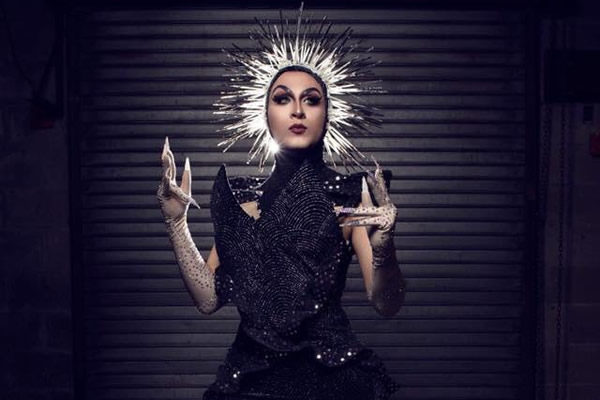 Desiree Dik has a funny take on the evolving D.C. drag scene.
"Drag queens are like roaches," the 26-year-old performer says. "Even when places close, we go and invade another place and try to keep the party going."
She's quickly become one of the city's most ubiquitous drag performers. She headlines Rooftop Disco on July 19 at Cambria Penthouse (899 O St., N.W.) at 9 p.m. (details at tfl.events/dc). She hostesses the drag show with Leronica Vegas, Nadia Cole, Cake and Bombalicious Eklaver on Saturday, July 20 at 9 p.m. at Red Bear Brewing Co. (209 M St., N.E.) and also the monthly show "Desiree Dik's: Oddball" on Friday, July 26 at 11:30 p.m. at Slash Run (201 Upshur St., N.W.).
"'Oddball' started by me wanting to have a show where anyone can come and explore their wild side," Dik says. "I wanted to provide a show where everyone gets an opportunity to try drag and to step out of their box, which you can't really do in a lot of places in D.C. A lot of people expect drag to be wearing gowns and looking beautiful, but oddball is for the ones who like to let their spooky ooky out and push the limits of art."
George Marius was born in Falls Church, Va., but sent to Peru at 6 months old to be raised by his sister. He lived there until age 10, went back to live with parents in Falls Church and was kicked out at age 16 for being gay.
He got into drag on his 17th birthday at Freddie's Beach Bar and said it just "made sense because I was a gay theater kid." He tried it again a year later at a Town competition and was hooked and says he'd do drag full time "if I could."
Marius works by day as an assistant teacher and lives with his fiance, Jon Pallis, in Columbia Heights with their dog, Leila.
He enjoys sewing, crafting, cooking, video games, horror movies and hanging out with friends in his free time. Follow Dik on social media (Desireedik69 on Instagram) for upcoming performances.
How long have you been out and who was the hardest person to tell?
I have been out since I was 15 or 16 years old. I guess the hardest person to tell was my sister, but she raised me, so she basically knew. On the other hand, my mom and dad found out I was gay when they saw me hanging out with some gay friends. They despised that I was gay, kicked me out and I ended up becoming homeless.
Who's your LGBTQ hero?
I'm a big fan of cartoons and animation so my hero is Rebecca Sugar, creator of "Steven Universe," a queer-friendly cartoon.
What LGBTQ stereotype most annoys you
When people think drag queens are bottoms.
What's your proudest professional achievement?
When I got my certification in ASL Interpretation. I am also proud of how far my drag career has come. I can't wait to see where it goes!
What terrifies you?
Not having enough lube.
What's something trashy or vapid you love?
I have a Twitter porn addiction.
What's your greatest domestic skill?
Cooking, sewing and getting shagged on a Sunday afternoon.
What's your favorite LGBTQ movie or show?
"Golden Girls," "Queer As Folk," "Pose," "Dragula," "Steven Universe," "To Wong Foo," "Paris Is Burning" and the "Eating Out" movie series.
What's your social media pet peeve?
When people reply with just an emoji.
What would the end of the LGBTQ movement look like to you?
I can't predict the future, but I think we will always need a movement. No matter how much progress we make, there are still people trying to hold us back. That's why we can't give up and must keep moving forward by spreading kindness, love and acceptance.
What's the most overrated social custom?
The overuse of the phrase "I love you" when you're not even that close to that person. Like am I supposed to say it back?
What was your religion, if any, as a child and what is it today?
666
What's D.C.'s best hidden gem?
My butthole.
What's been the most memorable pop culture moment of your lifetime?
When I proposed to my fiancée at a Lady Gaga concert, while she sang "Bad Romance." That night she also performed "The Cure" live for the AMAs and won favorite female artist.
What celebrity death hit you hardest?
When Billy Mays died. He knew how to sell me a product and make me wet at the same time.
If you could redo one moment from your past, what would it be?
I think everything happens for a reason, so I wouldn't really change anything. But if I REALLY had to, I would have started drag earlier and polished it right away.
What are your obsessions?
Cartoons, Kit Kats and what's my last name? Oh yeah, DIK!
Finish this sentence — It's about damn time:
People are opening their eyes to some spooky-ooky drag.
What do you wish you'd known at 18?
That you can create your own family and that living in fear will only hold you back. You don't have to be afraid to be yourself. Expressing yourself through your creativity will free you.
Why Washington?
Uhhh, I don't know. I just got stuck here.