July 11, 2019 at 10:53 am EDT | by Mariah Cooper
'Drag Race' lightning rod Plastique Tiara on family, rivals and drama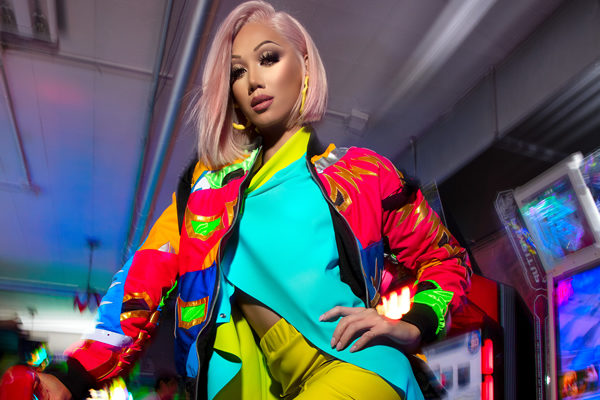 Plastique Tiara, real name Duc Tran Nguyen, walked into the Werk Room on season 11 of "RuPaul's Drag Race" with the most social media followers of any queen on her season and, at 21 years old during filming, the youngest queen in her season to compete.
Tiara's presence would cause a stir in the competition as the Vietnam-born performer openly shared her story of her family not supporting her drag. The story moved RuPaul to embrace Tiara in a rare display of affection and sent contestants A'kiera Chanel Davenport and Ra'Jah O'Hara into a tailspin of questions. Tiara was also in the middle of the now infamous WigGate when confusion erupted over exactly for whom Ariel Versace left her wigs behind.
Tiara, now 22, is on tour with other contestants from season 11 including winner Yvie Oddly, Silky Nutmeg Ganache, runner-up Brooke Lynn Hytes, A'kiera Chanel Davenport, Kahanna Montrese, Nina West and Versace. "RuPaul's Drag Race Season 11 Tour" comes to the Lincoln Theatre on Thursday, July 18. Details at vossevents.com.
The Washington Blade caught up with Tiara over the phone while she was performing in London. Tiara dished on what it was like to be comforted by her idol RuPaul, why she thinks contestants questioned her background and what really happened during WigGate.
WASHINGTON BLADE: It's been a few weeks since the season wrapped up. What have you been up to since then?
PLASTIQUE TIARA: I've been working and I'm so grateful for it. There's been so many opportunities that come from the show. There's so many fans and I just get to travel around and meet all of them.
BLADE: One of the stand out scenes of the season was when you had that emotional moment with RuPaul. What was it like for you in that moment and what was it like to see it again on TV?
TIARA: Going into the show I thought that I was going to be the strong one, the ice queen of the season. I thought I knew who I was and this wasn't going to bother me. However, at that moment it was just such a vulnerable moment for me. For RuPaul, I thought he had heard the story a million times over and over. So for him to comfort me at that very vulnerable moment, it was something that I'll never forget. It's something that is a blessing for me. He's been an idol for me for a long time. So to have your idol feel for you like that is something that can't be explained. I was very happy. And watching it on TV, it was like "Wow." He is a celebrity but he still has a heart.
BLADE: Have you been in touch with RuPaul since the show ended?
TIARA: We don't text but I know that he cares about each and every one of us.
BLADE: You were also the center of a lot of drama this season. Your authenticity was questioned by A'kiera and Ra'Jah in "Untucked." A'kiera thought that your boyfriend's message to you in "Untucked" meant that your family was more supportive of your drag than you had said. It seemed like A'kiera was trying to stir the pot by telling Ra'Jah. Did you feel like you were being targeted?
TIARA: Oh, yes. During the filming process, it wasn't brought to my attention that A'kiera was the one who started everything. That's the magic of the show, obviously. Watching it back I was like, "Oh my gosh." I did feel a type of way about what was happening. It really shook me because going through this process, I really thought we were cool and everything. Watching it back on TV to where the camera caught everything, it was a different experience for sure. As a viewer, it was like, "Ohh." It opened my eyes a little bit more.
BLADE: Why do you think some contestants were so invested in your background and family?
TIARA: I don't know. I really don't. I told my story over and over again. The audience seemed to get it. On this show, when you're in a competitive environment, you reach for everything to nitpick at other people. If they're doing well you find little details to tear the other person down. That's my only assumption of that.
BLADE: Did being on the show help your family better understand what you do?
TIARA: You know what, it's been so much better with my family since the show. My grandparents travel back and forth from Vietnam a lot and I have a big fanbase over there. They actually heard of me going on television from one of our friends in Vietnam. And now that I'm doing all these campaigns and making money they're like, "Oh, wow." It's not as shady as they thought it was going to be. I think it's a lot better now. It's a blessing.
BLADE: Some people on social media called Silky racist for speaking Japanese to you during the reading challenge when you're Vietnamese. Did you feel that was racist?
TIARA: I didn't think it was racist. At the moment, I was just surprised at her doing it. I didn't think that was going to come out her mouth. But watching it back, I can see where the audience is coming from. But I do not fault her for it because we all make mistakes. But I see that moment as an opportunity for all of us to learn from our mistakes. That's why I stand up for Asian representation, especially queer Asian representation, so much because we don't get as much attention in the media. There's just more to learn about different cultures and to learn from our mistakes.
BLADE: Then there was WigGate. Can you explain what really happened?
TIARA: It's kind of funny because everyone was pointing fingers at me when I'm the one who didn't take one wig. I'm the one who didn't take anything. And the funny thing is I said that, "I don't need them" but everyone is saying that I said, "They need them," which is a big difference between the two. It's funny to see how people can take your words and twist them in order to make their actions seem righteous. That was entertaining watching it back for sure. It was a fun moment during the season. I feel like now WigGate is still not even solved so what can you do?
BLADE: Your drag mother is Alyssa Edwards and she's been on "Drag Race" before. Did she give you any advice for being on the show?
TIARA: Yes, she did. Alyssa is a person that I'm very grateful to have in my life. She has always been there for me even from when I was a baby queen. She always reminded me that I was a star. Every time I see her she's like, "You're a star. You need to know that." So going into "Drag Race" she always told me to have fun. Because you have the drag, the look, just have a good time. She's one of the first people to believe in me and I'm so fortunate to have her in my life.
BLADE: You were one of the queens with the biggest social media followings. Do you think that gave you an advantage in the competition?
TIARA: Definitely not. Going in you have so much expectation behind you. That's why the social media queens thing started because the other queens say that social media queens can't do much other than post a pretty picture. There's so much for us to prove going in. Going in I had to prove to them I can act, I can sew and do everything it takes to take the crown. It's not an advantage.
BLADE: What can people expect from you during the "RuPaul's Season 11" show?
TIARA: People can expect a different side of Plastique for sure. I'm having something really fun planned and I can't wait to showcase it. It's going to be super fun and I can't wait for people to see.