July 10, 2019 at 10:30 pm EDT | by Joey DiGuglielmo
QUEERY: Amanda J. Hackett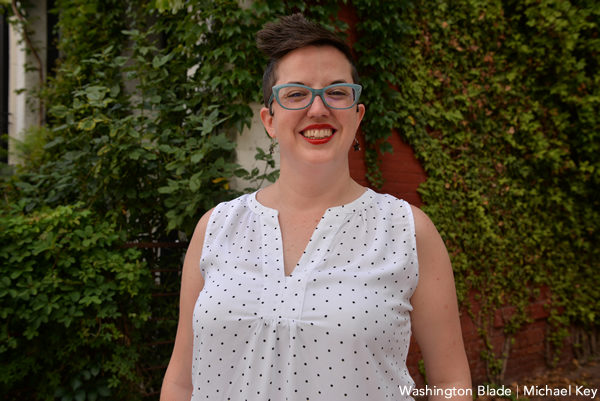 It's mid-summer so we're revisiting some worthy folks we didn't have time to get to when Pride season was in high gear.
Amanda J. Hackett opened her eponymous law practice to serve LGBT asylum seekers and other immigrants.
"Immigration is a vast field of law and asylum seekers in particular need an attorney they can trust because they need to be able to convey very intimate, painful memories," says the 35-year-old military brat — she claims no hometown.
The issues are many and complex, Hackett says. Many LGBT asylum seekers are not comfortable joining organizations that could help them for fear of being outed, she says. They often have no family support and culture shock can both a blessing and curse, Hackett says.
"The freedom that many LGBT people in the U.S. experience can be overwhelming for someone who has not been able to even claim the word for their identity publicly," she says. "Learning who they'd like to be is a journey."
Hackett was named one of this year's Capital Pride Honorees (previously dubbed "Heroes") for her work.
"Amanda's work is truly transformational," the citation read. "She helps people who are living in the shadows, some who may be afraid to come out and those who are fighting for their lives."
Hackett came to Washington in 2008 to attend The Howard University School of Law. She's been in practice since 2012 and specializing in immigration law since 2014. She says it's a thorny topic because U.S. immigration law is inherently xenophobic and political.
"I don't believe there is enough will from the electorate or the legislative branch to work toward a long-term answer yet," she says. "Asylum should be thought of as a political tool that countries use against one another to show disfavored status. Persecution should be thought of in the same way."
Hackett is single and lives in Takoma with roommates. She enjoys singing, Pilates, reading, running and studying Indonesian in her free time.
How long have you been out and who was the hardest person to tell?
I came out in the summer of 2010 after my second year of law school. It was hardest to tell my best friend from Smith College.
Who's your LGBTQ hero?
Holly Near. As a deeply closeted fresh graduate in Northampton, Mass., I ran live events at the Academy of Music. Holly was very kind to me and gifted me one of her CDs before loading out; I think she saw through my closet the way many people did. I played "Hattie and Mattie" so often that my roommate started asking questions about why I loved that particular song so much.
What LGBTQ stereotype most annoys you?
People who believe that all lesbians are masculine of center.
What's your proudest professional achievement?
Opening my law office. I had no idea if I could do it. Supportive friends who believe in you are vital for any grand endeavor.
What terrifies you?
Alligators — even in places they don't exist.
What's something trashy or vapid you love?
Candy corn and circus peanuts.
What's your greatest domestic skill?
I am an excellent baker.
What's your favorite LGBTQ movie or show?
"D.E.B.S."
What's your social media pet peeve?
Not captioning photos.
What would the end of the LGBTQ movement look like to you?
I don't conceive of an end. It will take many generations beyond the dismantling of the kyriarchy to heal what ails society.
What's the most overrated social custom?
Not talking openly about money and salaries and the effects of generational wealth.
What was your religion, if any, as a child and what is it today?
Evangelical Christian. Atheist.
What's D.C.'s best hidden gem?
The National Museum Of Women in the Arts. The building itself is gorgeous, they curate exhibits beautifully and there are so many free events.
What's been the most memorable pop culture moment of your lifetime
"Lemonade's" release.
What celebrity death hit you hardest?
Leonard Cohen. I got to see him live once and it felt like magic. He wrote so beautifully and seemed to have such a deep respect for women.
If you could redo one moment from your past, what would it be?
None. I can learn from bad moments and decisions, too.
What are your obsessions?
Proper lotion.
Finish this sentence — It's about damn time:
For equal pay
What do you wish you'd known at 18?
That nonprofits are not the only effective way to make a difference and that they can also have repressive structures that harm workers and beneficiaries.
Why Washington?
It has a vibrant queer community and I love not having to drive.