August 6, 2019 at 12:06 pm EDT | by Peter Rosenstein
Trump has blood of the innocent on his hands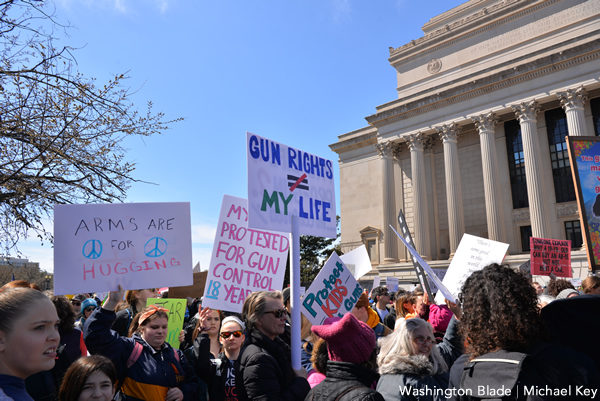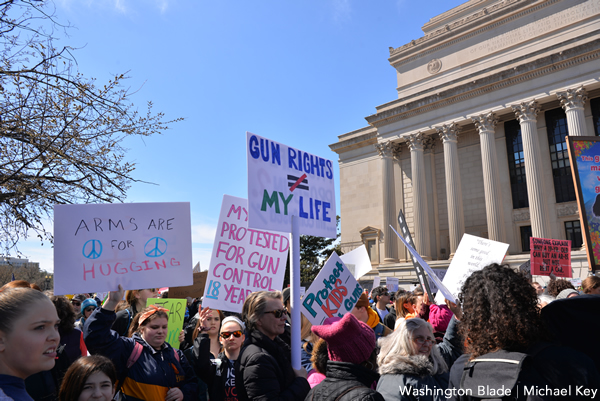 There were white terrorists before Trump came to office. They have been around for hundreds of years. There is the KKK; Oswald killing Kennedy, and Timothy James McVeigh, who perpetrated the 1995 Oklahoma City bombing killing 168 people and injuring more than 680 others. What's different today is never before have we had a president who encourages the people who would do this kind of violence by his words and actions.
The disgusting excuse for a man sitting in the Oval Office thinks there are "good people on both sides" at a Charlottesville white nationalist rally. He claims violence in this country is about foreign terrorists and with his words gives succor to domestic terrorists who are doing the killing here at home. Bearing as much responsibility are Republicans sitting in Congress, Republican governors, and those around the nation who refuse to speak out against the racism constantly spewed by this president. One who calls an American city a rat hole that no decent person would live in; attacks the African-American congressman who represents those people; then tweets he is happy his home was burglarized. Who does that but the racist deranged man now calling himself our president?
For decades, we have fought to end racism, homophobia and sexism. We know we have not yet been successful. Just ask any black mother or father who must teach their child about being stopped while driving for being black. Ask any woman who makes less money for the same job as a man or is still told her healthcare will cost more and she can't make decisions about her own body. Or any member of the LGBTQ+ community who can now get married but can be fired or lose their home the next day.
After two mass shootings within 24 hours we find ourselves listening to Mick Mulvaney, the president's chief of staff, appearing on "Meet the Press" to say President Trump has no responsibility for what is happening. The president has stoked racial unrest since the day he announced his candidacy. He has given cover to white nationalists and has taken no action to stop the proliferation of guns. Mulvaney argued the president has no responsibility for the rhetoric he sows. Mulvaney doesn't think we should discuss gun control after these two shootings.
On March 24, 2018 nearly one million people came to D.C. to "March for Our Lives." Millions more marched across the nation after the massacre at Marjory Stoneman Douglas High School in Parkland, Fla. Today it seems we have already forgotten that day. WE MUST NOT FORGET AND WE MUST DO SOMETHING REAL TO STOP THIS VIOLENCE.
We are in the 2020 presidential race. We will be electing a new House of Representatives and a third of our Senate. We as Americans can do something real now. We can kick out those who do nothing and elect people who say NO to the National Rifle Association. People who will vote to close the gun-show loopholes. People who will vote to ban assault weapons, weapons of war, from our streets. America must recognize that a nation of 350 million people collectively owning 354 million guns is insanity.
We must rid ourselves of the scourge of Trump and all those politicians who either agree with his racism, sexism and homophobia or are just too afraid to call him out for his words and actions. We must rid the Senate of Mitch McConnell, "Moscow Mitch," who will not bring the hundreds of bills Democrats in the House passed to the floor of the Senate and who gives cover to the pig in the White House. President Trump and his acolytes in Congress are in the process of destroying our country. This is not about policy differences. This is about a cultural war on decency.
If a Democrat wins we will rejoin the Paris Climate Accords, try to salvage the Iran deal to prevent them from getting nuclear weapons, and we can tax wealthier Americans. Those are the legitimate policy debates we can have. But it will take decades to put the genie of racism, sexism and homophobia and the vitriol unleashed against immigrants back in the bottle. Trump and his acolytes have waged a war on American decency and we will have to fight for years to regain it.
Meanwhile those of us here now, our children and even our grandchildren, will suffer because of what he has wrought.  
Peter Rosenstein is a longtime LGBT rights and Democratic Party activist. He writes regularly for the Blade.