August 8, 2019 at 5:28 am EDT | by Brian Gaither
Mayor Pete should say 'husband' more often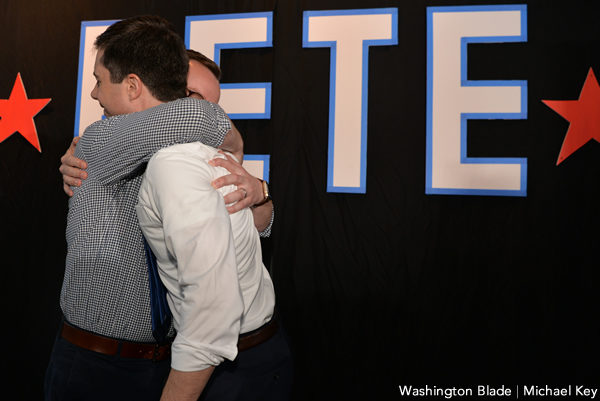 Six years ago, as he was dying of ALS, John Arthur and his partner of 20 years, Jim Obergefell, chartered a plane from Cincinnati to Baltimore so they could wed in one of the few places it was legal. Because of John's failing health, his time with Jim was limited; but for whatever time remained in their life together they wanted to be legally recognized as one another's husband.
Their tarmac wedding at BWI was possible because Maryland's General Assembly passed the Civil Marriage Protection Act and the state's residents confirmed it at the polls. It was possible because Edie Windsor, with her lawyers, turned back the Defense of Marriage Act at the Supreme Court. It was possible because they had the support of friends and family who raised the money for their flight. Mainly, though, it was possible because of their love and commitment to one another.
They returned to Cincinnati hoping the State of Ohio might honor the legal distinction Maryland bestowed upon their relationship, but John died before he could see it happen. Jim, however, kept fighting for it. And when the Supreme Court issued its ruling in Obergefell v. Hodges, every gay man in America had the right to a husband of his own.
When we say "husband," we're asserting that our marriages have equal dignity with all others, and we're memorializing the collective effort it took to win the right to simply use the word. In a world that assumes we're straight, the man who speaks of his "husband" is being bold. To say "spouse" is to be married, but to say "husband" is to be openly gay.
During the past few weeks it's become apparent that Pete Buttigieg is avoiding the word "husband" with certain audiences. He's spoken of a spouse or his marriage, but not even during an interview with Blair Garner, the openly gay and married country music radio host, did Pete say "husband." Days later, at the national convention of the NAACP, Pete described his relationship with Chasten in a manner so oblique that an attendee from the Brooklyn chapter heard him say "married a teacher" and tweeted that he'd mentioned his "wife." The same week, while addressing members of the National Urban League, he referred to the student loan debt of his "family." Anyone introduced to Pete in these instances would've heard nothing to indicate he's a gay man.
That's disappointing because it can't be accidental.
Language is the stock-in-trade of politicians. Every stump speech, every prepared remark, and every possible response to a question is rehearsed and refined to either eliminate nuance or to insert ambiguity. Pete has often demonstrated his eagerness to articulate that he's a war veteran who carried a big gun in Afghanistan. Likewise, he uses a variety of references to Chasten in order to selectively downplay his gay identity.
Perhaps that's the reason Carson Jones, the gay son of Alabama's Sen. Doug Jones, published an open letter in the Advocate on the first day of the recent Democratic debates. In it, he urged Pete, "already known as the gay candidate," to use the event as the start of a national conversation about LGBTQ rights. "Speak boldly. Speak passionately. Make it personal and speak from experience."
Sadly for Carson, if he watched Pete in the debates the only conversation he saw that came close to addressing the LGBTQ community in any way was when Dana Bash asked a question of Pete in which she used the word "husband" and then in the closing remarks of Sen. Bernie Sanders who called Trump a homophobe.
Even if Pete doesn't convert his campaign into a national conversation about LGBTQ rights (definitely not happening), what does he risk in choosing the word "husband" whenever that choice is available? Why minimize the struggles of people like Jim Obergefell, whose legal victory at the Supreme Court allowed Pete to come out, to fall in love, and to marry a teacher?
It would be exciting to see Pete more comfortably speaking about himself as a gay man in all the places he's campaigning. Until that happens, though, it would be nice to just hear him say "husband" as fluently as he says "veteran."
Brian Gaither is a Baltimore-based writer and activist.