August 8, 2019 at 5:48 pm EDT | by Kathi Wolfe
My man crush has been dead for 500 years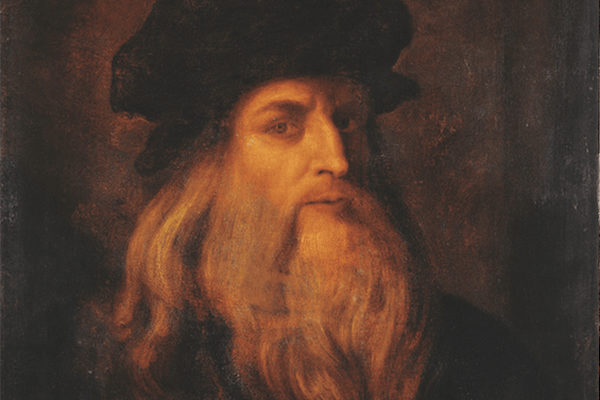 I rarely have male crushes, but this guy's really something!
He's gorgeous, dresses beautifully, plays the flute, paints amazing portraits, designs festivals, and knows something about everything from flying to medicine.
My man crush has been dead for 500 years. Leonardo da Vinci, the ultimate Renaissance man, died on May 2, 1519 at age 67. The word genius is egregiously overused. Yet, how else can you describe Leonardo? Openly queer, he was a polymath's polymath.
Leonardo dissected cadavers to understand human anatomy, thought of the idea of a flying machine and designed theatrical productions and war machines. In more than 7,200 pages of notebooks, he recorded his musings on everything from architecture to civil engineering. On his to-do lists, Leonardo admonished himself to "describe the tongue of a woodpecker" and to "Go every Saturday to the hot bath where you will see naked men."
Did I mention that Leonardo also painted two of the most famous paintings in history: the "Mona Lisa" and the "Last Supper?"
The 500th anniversary of Leonardo's death's isn't going unnoticed. This fall, the Louvre in Paris will mount an exhibit of Leonardo's work. Last month, the Metropolitan Museum in New York mounted an exhibit of one of Leonardo's unfinished paintings "Saint Jerome Praying in the Wilderness." (The exhibit runs through Oct. 6.)
You might think that someone as talented and brilliant as Leonardo would have been well educated or from an upper-class background. But you'd be wrong. He was an illegitimate son of a notary and a 15-year-old orphan from Vinci, a town in rural Tuscany. Leonardo received little schooling, yet became a superb auto-didact.
Leonardo, like other artists of his time, depended on patrons. His charm and talent enabled him to thrive under patrons in Milan, Florence, Rome and France. One of his patrons, Francis I, became friends with Leonardo. Francis cradled Leonardo's head in his arms as he died in France, the 16th century art historian Giorgio Vasari said in his biography of Leonardo.
Some geniuses are so smart – seemingly so perfectly – that we lesser mortals feel as if we could never measure up as if we had nothing in common with them.
But it would be different if we met Leonardo. Sure, dressed in his fab pink tunic, he'd be the smartest and handsomest person in the room. Even in his lifetime, people were dazzled by his brilliance and beauty. Vasari said Leonardo was "divine." Yet, those of us who are outsiders – different in any way – would feel an affinity with Leonardo. He was openly queer centuries before marriage equality; left-handed when that was considered abnormal; a vegetarian when most people ate meat, and, like so many of us on social media, easily distractible.
As Walter Isaacson makes clear in his superb biography "Leonardo Da Vinci," Leonardo often veered from one thing to another without competing the project. He spent so many hours trying to figure out everything from why the sky is blue to how a pig's lungs work that much of his work was unfinished. Leonardo finished fewer than 20 paintings.
Those of us who procrastinate have an ally in Leonardo. "Men of lofty genius sometimes accomplish the most when they work least," he informed one of his patrons, "for their minds are occupied with their ideas and the perfection of their conceptions, to which they afterwards give form."
He had his dark moods. "Had he been a student at the outset of the twenty-first century," Isaacson writes of Leonardo, "he may have been put on a pharmaceutical regimen to alleviate his mood swings and attention-deficit disorder."
Leonardo offers hope and beauty for this era when artists and creative thinkers, queer and hetero, are often under attack. Few of us will be geniuses like Leonardo. But, we can work to carry on his legacy by making art, supporting artists and being curious about our world. Thank you, Leonardo!
Kathi Wolfe, a writer and poet, is a regular contributor to the Blade.