August 13, 2019 at 2:58 pm EDT | by Richard J. Rosendall
'Terrible things are happening outside'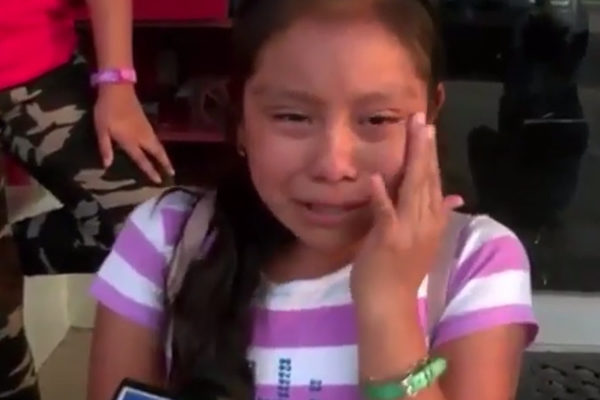 "Terrible things are happening outside. At any time of night and day, poor helpless people are being dragged out of their homes…. Families are torn apart; men, women, and children are separated. Children come home from school to find that their parents have disappeared."
This is not from Mississippi in August 2019 but Anne Frank in Amsterdam in January 1943. As some assure themselves it can't happen here, 11-year-old Magdalena Gomez Gregorio pleads on television for her father's release from ICE detention.
BuzzFeed News reports, "A Vegas Man Was Arrested For Plotting A White Supremacist Attack On An LGBTQ Bar Or Synagogue." Trump's unrelenting hate rhetoric increases the likelihood of more massacres like the ones in Orlando and Pittsburgh. In El Paso he grins and gives a thumbs-up while posing with an infant whose parents died shielding him from the shooter. His regime continues attacking transgender rights as hate crimes rise. In Dayton, the victims include the shooter's trans brother
In a marriage of idiocy and cynicism, Walmart is removing its violent video game displays but continuing to sell guns. This is the right's response to domestic terror: make it about anything and everything except the mad proliferation of assault weapons on our streets.
Denial is rampant, as with white people who complain about being reminded of slavery during plantation tours. Perhaps we can chat over coffee about which artifacts should be acquired for the National Museum of White Fragility.
I write on the second anniversary of the deadly Unite the Right rally in Charlottesville. Contrary to the moral equivalence voiced by our obscene president, opposing neo-Nazis does not put oneself on their level.
People continue to fight back against hate. A federal judge in Virginia last week ruled that transgender student Gavin Grimm's constitutional rights were violated when Gloucester County Schools barred him from using the boys' restroom. Two women, Taylor Dumpson and Tanya Gersh, won federal lawsuits against Andrew Anglin of The Daily Stormer, who orchestrated "troll storms" against them. Many American Jews observed Tisha B'Av, the annual day of mourning, by participating in anti-ICE "Close the Camps" protests.
What a week. I grab an iced tea and head to the roof, where there's a nice breeze. The waxing moon is in the south between Jupiter and Saturn. Earlier I counseled a friend in Kenya whose children are sick and who must devise a strategy for dealing with a healthcare system indifferent to refugees.
I look up at the night and imagine the world returning to the wild without us. Overhead, Vega is 25 lightyears distant; by the time the light it radiates today reaches us, I at least will likely be gone.
Crisscrossing timelines can bring old events alive in our minds: a month after Anne Frank wrote that diary entry, my father, fighting Nazis, was captured in North Africa and became a prisoner of war.
It is morning in Nairobi, where my friend is returning with his children to the clinic. Maybe today they will find a doctor who does not just give them pills but sets about healing them. Another refugee wishes me Eid Mubarak.
The sight of sobbing children robbed of their parents makes many of us angry, ashamed, and determined not to be complicit by silence in 45's stone-hearted, racist policy. We must call it what it is if the heavens fall. He will talk his trash in any case.
The heavens will not fall, meteor showers notwithstanding. There is no point in waiting for the wind and sky to shift before upholding our values. In a flash by the stars' time frame, a different being will cast its shadow in our place, and all the supreme whiteness being noised about won't even be a layer in the geologic strata.
Life is for the living. I raise my Arizona Iced Tea to the stars, and think of Trayvon Martin on his way home with a similar drink that fateful night in Sanford, Florida, and of all the others fallen, and am grateful that these eyes staring upward are not lifeless.
To the ancestors, and to the children: May our actions be worthy of you.
Richard J. Rosendall is a writer and activist. He can be reached at rrosendall@me.com.
Copyright © 2019 by Richard J. Rosendall. All rights reserved.