August 5, 2019 at 12:08 pm EDT | by Richard J. Rosendall
It's the politics that got small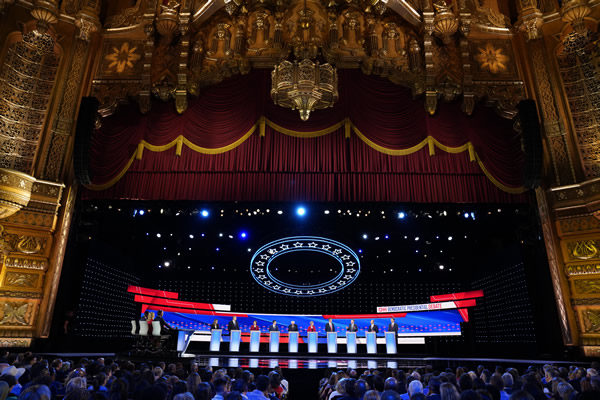 Detroit's Fox Theatre, where CNN held a pair of Democratic presidential debates at the end of July, opened in 1928 as a movie palace. Having served for ninety years as a magic portal to other worlds, it was a fitting debate venue for an age when a president alters reality to suit himself through repeated lying.
To paraphrase Norma Desmond in Sunset Boulevard, America is still big. It's the politics that got small.
The smallness is exemplified by the occupant of the White House. The greater problem is that his appeals to our meanest impulses find fertile soil.
Washington Archbishop Wilton Gregory wrote last week, "I fear that recent public comments by our President and others and the responses they have generated, have deepened divisions and diminished our national life." Faith leaders at Washington National Cathedral denounced Trump's "violent dehumanizing words," asking, "When does silence become complicity? What will it take for us all to say, with one voice, that we have had enough? The question is less about the president's sense of decency, but of ours."
Indeed, a bully is nothing without his enablers. Take Senate Majority Leader Mitch McConnell (please), who is up for re-election in 2020. He resents being called #MoscowMitch despite helping a firm controlled by Oleg Deripaska gain sanctions relief and invest in Kentucky, as well as blocking bills designed to thwart Russian interference in our elections.
Some of the candidates on the overcrowded debate stage talked as if the most urgent priority for Democrats is to abandon President Obama's centrist politics. They need a reminder of something he achieved that they have not: winning election as president twice with outright popular majorities.
The Sanders "revolution" is a soliloquy in a booby hatch. His models for socialism are Scandinavian—capitalist countries with generous social welfare policies and high taxes. That is not socialism, which traditionally involves collective ownership or control of the means of production, as in Cuba and Venezuela. Some true believers insist those despotisms are not "real" socialism, though a leftist pastor I know eagerly defends Venezuela's Maduro and his "Bolivarian revolution." Carelessness about definitions, like bias that excuses favored pols, only fosters slipperiness that impedes accountability.
Speaking of what is real, most revolutions bring blood and misery, not Utopia. Regarding Bernie's assurance (with typical Washington hubris) that "Medicare for All is comprehensive—it covers all health care needs"—as Rep. Tim Ryan said, "You don't know that." Sanders can sell all the "I wrote the damn bill" merch he wants, but drafting a bill confers no omniscience as to its final form or implementation. And with Bernie's scant record, you have a better chance of booking a flight to Wakanda.
Our attention spans have shrunk so much that our election mascot should be Dory the Forgetful Voter. We are a nation of children with ADHD. Which reminds me, Tulsi Gabbard is wrong about an 11-year-old hacking a replica of Florida's voting system.
Our vulnerability to smooth talk was illustrated at the July 31 debate when spiritualist author Marianne Williamson referred to Trumpism as a "dark psychic force." She was right about that, but her history as an anti-vaxxer and dismissiveness toward clinical depression make her dangerous. To her devotees about to attack me: visualize yourself jumping in a lake.
Recent acts of domestic terrorism, one of whose perps posted a manifesto on 8chan saying he was rescuing Texas from a "Hispanic invasion" (excuse me, but we stole it from Mexico), should make clear what is at stake if it wasn't already: our president's relentless hatemongering is getting people killed.
The level of denial is staggering. On Meet the Press, instead of admitting that the El Paso massacre was an act of domestic terror, White House Chief of Staff Mick Mulvaney talked about the shooter being crazy and sick. In Trumpland, only The Other—an immigrant or person of color—can be a terrorist. Through the white nationalist filter, 45's endless incitements, because taken for granted, cannot even be noticed.
The lies, diversions, and distractions will proliferate. Democrats need to keep our feet on the ground, adhere to America's founding principles, and work together to rescue our country.
Richard J. Rosendall is a writer and activist. He can be reached at rrosendall@me.com.
Copyright © 2019 by Richard J. Rosendall. All rights reserved.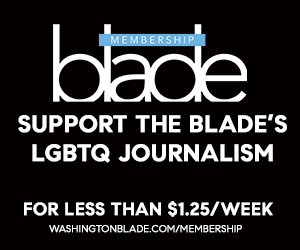 Sign Up for Blade eBlasts