August 15, 2019 at 4:48 pm EDT | by Brian T. Carney
'Ferry' fizzles, 'Century' sizzles in Reel Affirmations double header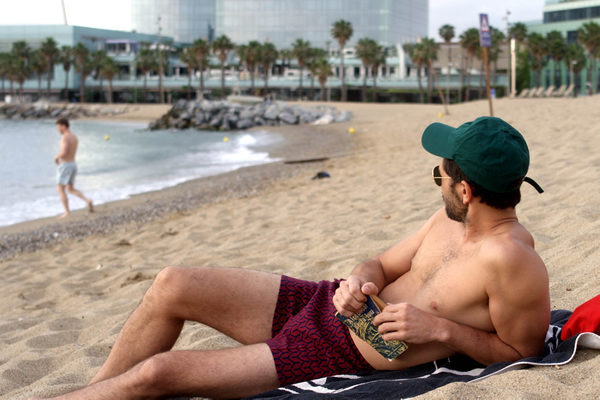 Reel Affirmations

Monthly Xtra Series

Thursday, Aug. 22

'Last Ferry' — 7 p.m.

'End of the Century' — 9 p.m.

Landmark E Street Cinema

$14
Reel Affirmations says farewell to summer with a double bill of sexy beach mysteries on Thursday, Aug. 22.
Written by and starring Ramon Torres, "Last Ferry" is about a naïve young lawyer from Manhattan named Joseph who suddenly decides to go to Fire Island for the weekend, even though it's the off season, even though he misses some important deadlines at work (his colleagues are not amused) and even though he has not bothered to pack a swimsuit or make a reservation.
The trouble starts when Joseph hits the beach and meets a handsome stranger (Henry Ayres-Brown) who offers him a drink from his water bottle. The gullible young visitor takes a drink and (surprise!) the water is drugged. The thief takes off with Joseph's wallet; while he's still woozy. Joseph sees — or thinks he sees — a murder take place.
Joseph is saved by the good-hearted Cameron (Sheldon Best), but he begins to suspect that there's a link between Cameron and the possible murder. His instincts (for once) are right.
Despite some pretty beach scenery, "Last Ferry" never really comes together. Director Jaki Bradley is not able to do much with a terrible script. The plot doesn't make a lot of sense and the lead characters are inconsistent and not terribly interesting. The pacing is slack and there's not a lot of chemistry between the cast members.
On the other hand, "End of the Century" ("Fin de Siglo" — it's in Spanish with English subtitles) sizzles with erotic intrigue from beginning to end. Ocho (Juan Barberini) is a 30-something Argentinian poet who's living in New York. He's vacationing in Barcelona and keeps seeing Javi (Ramón Pujol), a Spaniard who lives in Berlin but is visiting his family in Barcelona.
After a series of missed connections, the two finally meet and the sparks fly. The connection is so intense that Ocho begins to wonder if they have met before.
To say any more would spoil the wonderful twists and turns that out Argentinian director Lucio Castro magically weaves into his debut feature film. Castro writes and directs with the confident flair of a master filmmaker. He makes bold and innovative choices that gently support the cinematic magic realism of the epic love story he tells.
One of the most interesting choices Castro makes is to keep the film quiet. Working with Roberto Lombardo (who is credited with the sound design and music, a credit that highlights how important the overall soundscape is), Castro focuses on the ambient sounds of Barcelona: waves on the beach, cars on the street, birds in the trees. Nobody speaks for the first 12 minutes. Instead, Castro focuses on the small details of Ocho's day, an extraordinary revelation of character.
When there is music, it has a big payoff after the powerful silence. When Javi and Ocho listen to a "Space Age Love Song," the infectious music (and tequila) takes their passion to an even higher level. When their friend Sonia (the aptly named Mia Maestro) sings, her penetrating voice and beautiful classical arias also have a direct impact on their souls.
The cast is simply amazing. Both Barberini and Pujol are powerful in their own multi-faceted roles and the dynamic chemistry between them is intense. Their sex scenes are searing: sensuously choreographed and deeply intimate and vulnerable, a subtle dance of dominance and desire.
They are ably supported by the lovely Maestro whose beautiful voice and melancholy presence adds greatly to the delicate texture of the movie.
Finally, Director of Photography Bernat Mestres beautifully captures the magic of Barcelona in summer. His sumptuous cinematography captures the many moods and places of the city which becomes an enchanted backdrop for the timeless love story which is unfolding. From the odd contours of the Airbnb Ocho is renting to the lovely architecture of the city to the natural beauty of the beach and the parks, the movie is also a valentine to Barcelona.
Lucio Castro is definitely a filmmaker to keep track of. "End of the Century" is a sensual and thoughtful exploration of love and loneliness, a brave examination of marriage and monogamy, an enigmatic glance at missed connections and a rich celebration of yearning and creativity. It's time for a trip to Barcelona.
When it comes to this month's double feature at Reel Affirmations, you may want to miss the "Last Ferry" and head straight to the "End of the Century."