August 30, 2019 at 12:30 pm EDT | by Kathi Wolfe
Gay poet ponders life and love in new Shakespeare-inspired collection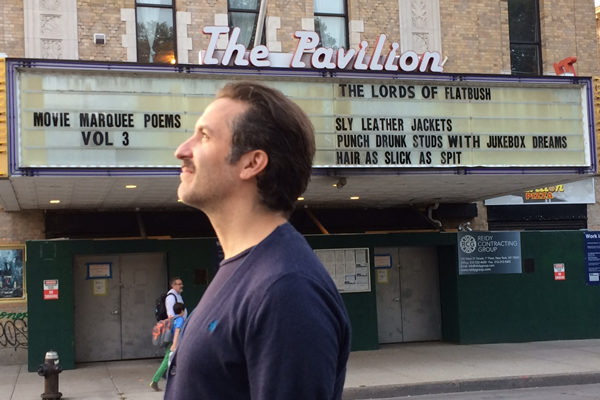 'Infinity Standing Up'
By Drew Pisarra
Capturing Fire Press
$10
58 pages
Available at Amazon and other retailers
Poets, you might think, are ethereal, humorless beings far removed from the joys and vexations of real life. If you're looking for something playful, sexy, horny and brimming with heartbreak and betrayal, you likely would stay away from poetry. Especially, a book of sonnets.
Yet, after reading even a few lines from "Infinity Standing Up," a volume of Shakespearean sonnets by gay poet Drew Pisarra, your misgivings about poetry will be cast aside. Pisarra's witty, elegant, yet poignant work adroitly punctures the myth that poets pompously pontificate on Mount Olympus.
Pisarra, who grew up in Silver Spring, Md., is no Mount Olympian. He has his literary chops: he's the author of "Untitled & Other Poems," "Religion, Anatomy, Catastrophe" and other publications. His short story collection "Publick Spanking" was published by Future Tense. Yet his life has had some fascinating extra-poetic facets.
He toured the country with his mon4ologues "Queer Notions," "Fickle" and "The Gospel According to Saint Genet." At one point, Pisarra had a ventriloquist act called "Singularly Grotesque," commissioned by the Portland Institute for Contemporary Art.
Recently, with Molly Gross, Pisarra has been part of Saint Flashlight, an instillation art duo that works to get poetry into public spaces. One of the most inventive methods was movie marquee haiku.
You can enjoy "Infinity Standing Up" without knowing anything about Pisarra's bio, yet his work reflects the sophistication, wit, queerness and earthiness of his pursuits: from monologues about "Queer Notions" to hammering the letters of a haiku onto a movie marquee. Pisarra's poetry is tethered to the things of this world — from love triangles to emoticons to sexting to traffic lights to sidewalk cracks.
Shakespeare wrote in his sonnets not only of the joys of love but its vicissitudes (betrayal, unrequited affection, rivals). Today, more than 400 years after Shakespeare's time, there's still nothing more delicious or capricious than love. "Infinity Standing Up" is the story of a man who has a passionate affair with his male lover. They break up, then get back together again and again. There's jealousy, a rival, rage, despair as well as lust, joy and tenderness.
As Mave Davis says in the foreword to "Infinity Standing Up," Pisarra "joins a long line of lovers who have used the sonnet form to rebuild walls and repair roofs after a hurricane of love and loss."
Yet, Pisarra makes the form his own. From the get go, he muses about and tweaks the conventions and meaning of love and sonnets. "What did it mean?/What did he mean?/Was he it?/Was it love?/Was love sex," Pisarra writes in "Intro: In Bed With the Muse," his introduction to his sonnets. "Why are sonnets always numbered?/What's in a number?"
Pisarra's sonnets are numbered in wonderfully zany ways. "What a cunning way to depict a sex/act! What a visual symbol for such sensual play!/Oh, what wise intellects/first saw in these digits the way to touch/on the frankly risque!" he writes in the marvelously raunchy Sonnet 69.
Sonnet $18.99 tells how the lover won't allow the narrator of the poem to buy him a meal. "You wouldn't even let me treat you to tacos," Pisarra writes, "because you equated me buying you dinner/with dating and so we watched You Tube videos/before sex then chatted like two shy beginners/post bonk, our eyes cast downwards or staring out/into the dark, unseeing."
"If music be the food of love, play on," Shakespeare wrote in "Twelfth Night."
If Shakespeare and Cole Porter had a love child it would be Pisarra. "I'd play a tune on xylophonic ribs," Pisarra writes in Sonnet 8, "and make your diaphragm my trampoline/to spring me to that spot near grinding hips/where kidneys dance in pairs like jumping beans."
Reading Pisarra's sonnets is often like listening to heartbreaking, yet witty torch songs. "I wish your loving me/would've lasted longer, had been more than passing/fancy," he writes in Sonnet 1, "that our romance hadn't ended with me/getting dumped for that beauty from central casting."
If you're in the mood for a sexy, witty, torchy read, check out "Infinity Standing Up."