September 11, 2019 at 12:00 pm EDT | by Philip Van Slooten
FALL ARTS 2019: BOOKS — 'Revisiting Gilead'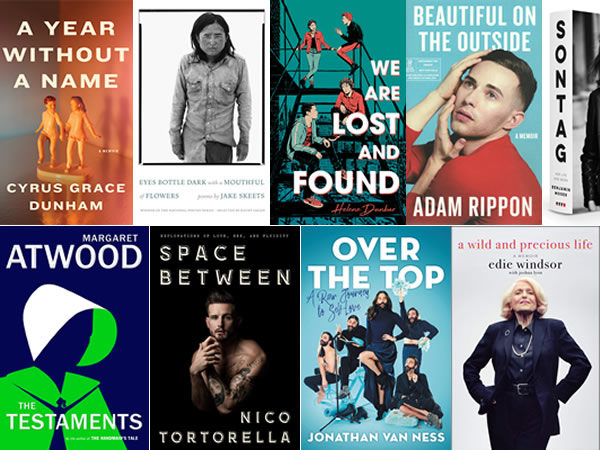 Inspirational "tell-alls" from athletes, activists and celebrities comprise many of the highly anticipated LGBT books slated for release in the coming months.
Kicking things off Sept. 3 was the release of former NFL player Ryan O'Callaghan's memoir "My Life on the Line: How the NFL Damn Near Killed Me and Ended Up Saving My Life." O'Callaghan's work reveals the physical and emotional pain driving his addictions and suicidal thoughts while struggling as a closeted lineman for the New England Patriots and later the Kansas City Chiefs. His journey to self-acceptance is challenging as it detours through the hyper masculine world of professional football.
"We are Lost and Found" by Helene Dunbar is a coming-of-age story of a group of gay friends struggling to find their identities against the backdrop of the early 1980's AIDS crisis. This YA novel provides an interesting way for youth of all backgrounds to explore a dark history that is rarely discussed. It was released Sept. 3.
Finding poetry in Drunktown, N.M., where men "only touch when they fuck in a backseat" is exactly what Jake Skeets had done with "Eyes Bottle Dark with a Mouthful of Flowers." This debut collection finds beauty in brutal sex against an unforgiving landscape, yet also reveals unexpected love. Blending Navajo history with mining culture, Skeets' work was selected as a winner of the 2018 National Poetry series. It was released Sept. 10.
Also released earlier this week was "The Testaments: the Sequel to the Handmaid's Tale" by Margaret Atwood. Since the hit Hulu series captured fire, Atwood opted to finally write a follow-up to her acclaimed 1985 novel upon which the series is based. It picks up Offred's story 15 years after the first book and weaves in strands of story from the show that weren't in the original book.
"Sontag: Her Life and Work" by Benjamin Moser explores the writing, public radicalism and private thoughts of queer activist Susan Sontag, who wrote on feminism, homosexuality, drugs and fascism long before these issues went mainstream. She was there for the Cuban Revolution, the Vietnam War and the fall of the Berlin Wall. She covered it all while enduring intense relationships with glamorous lovers. This hefty work — it's more than 700 pages — explores her public successes and private failures with an eye toward history that makes it a must read. Out Sept. 17.
Releasing the same day is "Space Between: Explorations of Love, Sex and Fluidity" by gender-fluid actor and model Nico Tortorella, who has had roles in "Scream 4," "The Following" and "Younger." It investigates love, sex, gender, addiction, family, fame and fluidity through their personal story and through the lens of their nonbinary identity. This memoir tells of their dark journey through pain and addiction toward sobriety and an unconventional marriage outside the gender binary. This title is available for pre-order on Amazon and Barnes and Noble.
"Queer Eye's" Jonathan Van Ness's memoir "Over the Top: A Raw Journey to Self-Love" is out Sept. 24.
Poet (and regular Blade contributor) Kathi Wolfe's new book "Love and Kumquats: New and Selected Poems" will be published by BrickHouse Books in October. She will read selections at Busboys & Poets (14th and V) on Oct. 20.
"The Boy Who Listened to Paintings: A Memoir" by Benjamin Saltman Poetry Award winner Dean Kostos explores a point in his life when he was bullied to the brink of suicide and spent two years in the mental hospital where his mother had stayed. This work addresses mental illness in adolescents and celebrates the transformative power of art. Available Oct. 1.
Edie Windsor sued the U.S. government for the right to marry Thea Spyer, her partner of 40 years, and she won. "A Wild and Precious Life" is her posthumous memoir (she died in 2017) describing gay life in 1950s and '60s New York and her longtime activism which opened the door to marriage equality. Available Oct. 8.
Selected by O Magazine, Marie Claire and others as one of the most anticipated books of fall 2019, "How We Fight For Our Lives" by Saeed Jones is a memoir about a young, black gay man coming of age in the South as he fights to carve out a place for himself in his family as well as his country. Fans of the film "Moonlight" will appreciate the honesty and vulnerability displayed in this work. Set for release Oct. 8.
Olympic medalist Adam Rippon's memoir "Beautiful on the Outside" releases Oct. 15 and blends humor with history as he shares his journey through the world of competitive figure skating.
Deborah Levy's "The Man Who Saw Everything" is novel that blurs the sexual and political binaries of masculine and feminine while telling the story of a narcissistic young historian who travels to Communist East Berlin in 1988 to publish a story favorable to the regime. It's slated for Oct. 15.
"A Year Without A Name" by Cyrus Grace Dunham is a memoir detailing their painful evolution from lovable little girl, to gay woman to nonbinary queerness. Dunham lays bare their personal experience to help readers feel the anguish of binary limitations but also the profound freedom of acceptance without resolution. Dunham's book also releases Oct. 15 and is available for pre-order
"Find Me," the sequel to queer love story "Call Me By Your Name" by Andre Aciman, is slated for an Oct. 29 release and will let the world know what became of Elio, Oliver and Elio's father, now divorced. The original novel inspired the 2017 film adaptation by Luca Guadagnino, which became a monster hit.
Trans novelist (and former D.C. resident) Alex Myers returns with his sophomore novel "Continental Divide," about a trans protagonist heading West to Wyoming in search of a new life, in November.
Carmen Maria Machado, winner of the Lambda Lesbian Fiction Literary Award for her debut short story collection, "Her Body and Other Parties," has a new memoir coming out Nov. 5 called "In the Dream House." This work is an account of an abusive relationship with a charismatic but volatile woman. Throughout the memoir Machado struggles to make sense of what happened to her and how it shaped the person she would become. "Dream House" is available now on Amazon for pre-order.
"Becoming Eve: My Journey from Ultra-Orthodox Rabbi to Transgender Woman" is Abby Stein's memoir about being raised in a Hasidic Jewish community in Brooklyn. But instead of becoming a leader of the next generation of Hasidic Jews, she leaves her home, her family, her way of life to become the person she was meant to be. Stein's memoir releases Nov. 12.
The alternative historical drama "Legislating Love: the Everett Klippert Story" by Natalie Meisner blends fiction with queer history as it tells the story of Maxine, a Canadian social policy researcher, who discovers the story of Everett Klippert, the last Canadian man jailed for homosexuality. Fascinated, she interviews the people who knew him while navigating her own relationship with Tonya. Set for release Nov. 15.