September 8, 2019 at 12:14 pm EDT | by Patrick Folliard
Signature's witty, clever 'Assassins' production teeming with talent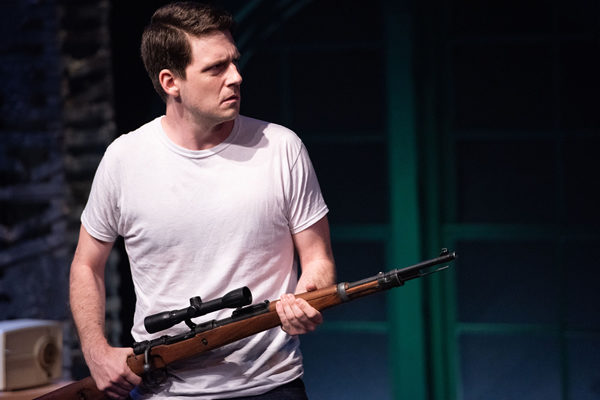 'Assassins'
Through Sept. 29
Signature Theatre
4200 Campbell Avenue, Arlington, Va.
Step right up and get your gun. Stephen Sondheim's insanely entertaining Tony Award-winning musical "Assassins," (music and lyrics by out genius Sondheim and book by John Wiedman), tells the stories of nine would-be and actual presidential assassins, revealing their hopes and motivations through the lens of a warped American dream.
Now at Signature Theatre, the terrific production unfolds in two hours without intermission. Set in a sort of decaying, burned-out Ford's Theatre (compliments of James Kronzer), it's a vaudeville of poorly laid plans and cockeyed aspirations. Director Eric Schaeffer strikes just the right tone of wry humor and seriousness; he's assembled a team of savvy designers and a cast of actors able to nail each character's mixture of madness and understandable disaffection with America. Sondheim's transporting score that samples American music styles from over the years, is played by an excellent unseen eight-person band impeccably led by musical director Jon Kalbfleisch.
The show opens with a carnival feel. A barker called Proprietor (Kurt Boehm) is doling out firearms to a band of alienated, misfits — background checks not required. There's Santa suit-wearing Samuel Blyck (Christopher Bloch) who has it in for Nixon; Reagan's nemesis John Hinckley (Evan Casey); Giuseppe Zangara (Ian McEuen) who takes a pop at FDR and missed; McKinley's assassin Leon Czolgosz (Lawrence Redmond); Garfield's killer Charles Guiteau (Bobby Smith); and hapless bad shots Sara Jane Moore (a wonderfully crazy-eyed Tracy Lynn Olivera) and Lynette "Squeaky" Fromme (Rachel Zampelli) who both went after Ford, unsuccessfully.
Joining this odd posse, the most famous of assassins emerges from the shadows. With his ghostly pallor, headful of wavy dark hair and black suit, he's unmistakably John Wilkes Booth (Joseph Kempski). Booth has come to flatter and gently cajole his newfound fellow zealots, malcontents and kooks, encouraging them to kill a president and join his rarified fraternity.
Armed with pistols and itchy trigger fingers, the shooters shoot for different reasons: Fromme and Hinckley do it for love. She thinks by offing Ford, she might give her boyfriend, madman Charles Manson, a national platform from which to espouse his manifesto; and seemingly mild-mannered Hinckley is proving his ardor for young actress Jodie Foster. (Little did he know, he was barking up the wrong tree in so many ways.) Rachel and Casey's duet "Unworthy of Your Love" in which they profess love for respective crushes is a beautifully sung and funny high point.
Garfield's deluded killer Guitreau (played with a kind of insouciant hilarity by Smith) seeks revenge. He has been passed over for ambassador to France, a position he long imagined was coming to him. Distress leads Byck (played to crank perfection by Bloch) to rid the world of Richard Nixon by crashing a plane into the White House. And middle-aged mom Moore — dressed to sit behind the wheel of a wood-paneled station wagon circa early '70s (the exquisite ordinariness of Kathleen Geldard's costumes is inspired) — just wants to make a statement.
Throughout the show, sunny, upbeat Balladeer (Sam Ludwig) serves partly as narrator and America incarnate before unexpectedly morphing into Lee Harvey Oswald, JFK's assassin. His unconventional life has led him nowhere. When we meet Oswald, he's working for little money in a book depository in Dallas, poised to end it all.
But before Oswald can kill himself, sexy shooter John Wilkes Booth arrives on the scene, offering these persuasive words: "They will hate you with a passion, Lee. Imagine people having passionate feelings about Lee Harvey Oswald."
And so, it goes.