September 12, 2019 at 10:05 pm EDT | by Patrick Folliard
FALL ARTS 2019: THEATER — 'Cats,' 'Cabaret,' 'Assassins' 'Doubt' and more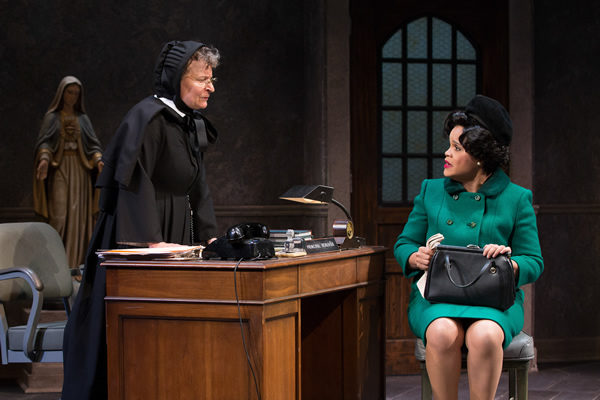 First, a few odds and ends:
More of a concert but worth nothing is "Coat of Many Colors: the Music of Dolly Parton," a tribute event featuring Joan Osborne, Garrett Clayton, Neyla Pekarek, Morgan James, Nova Payton, Jess Eliot Myhre, Rita Castagna and the American Pops Orchestra on Saturday, Sept. 21 at 8 p.m. at Arena Stage (1101 6th St., S.W.). Tickets are $25-75 at arenastage.org.
theatreWashington's Theatre Week! features discounted tickets on many area shows at $15 and $35 through Sept. 29. Details at theatreweek.org.
The D.C. Queer Theatre Festival continues its reading series of new and unpublished full-length plays on Saturday, Sept. 28 at 7 p.m. at The D.C. Center (2000 14th St., N.W., suite 105). Details at thedccenter.org/queertheatrefest.
Now, on to the regular productions.
Signature Theatre (4200 Campbell Ave., Arlington) continues with its season opener, a terrific production of Stephen Sondheim's musical "Assassins" (through Sept. 29). Beautifully staged by Signature's out artistic director Eric Schaeffer, the Tony Award-winning dark comedy tells the story of nine would-be and successful presidential assassins ranging from John Wilkes Booth to Lee Harvey Oswald.
Also, at Signature, out Helen Hayes Award-winning actor Holly Twyford is directing "Escaped Alone" (Sept. 24-Nov. 3). This newish play by brilliant British playwright Caryl Churchill ("Could Nine," "Top Girls") centers on three old friends gathered in an English garden "who are joined by a neighbor to engage in amiable chitchat — with a side of apocalyptic horror." Sounds intriguing. Full details at sigtheatre.org.
Through Oct. 6, "Cabaret" runs at Olney Theater Center (2001 Olney-Sandy Springs Road, Olney, Md.). Based on out writer Christopher Isherwood's literary classic "Berlin Stories," John Kander & Fred Ebb's stunning musical records the rise of fascism in Weimar Berlin through the lens of life in a seedy cabaret. Alexandra Silber stars as striving cabaret singer Sally Bowles and Mason Alexander Park is the Kit Kat Klub's genderfluid Emcee. Helen Hayes Award-winning out director Alan Paul directs. Full details at olneytheatre.org.
Then at Olney it's Marco Ramirez's "The Royale," a co-production with 1st Stage in Tyson's Corner (Sept. 25-Oct. 27). Inspired by the true story of African-American boxer Jack Johnson, this look into the mind of an early 20th century boxer is directed/choreographed by Paige Hernandez and features out actor Jaysen Wright.
Woolly Mammoth Theatre Company (641 D St., N.W.) has begun its season with "Fairview," through Oct. 6. Penned by Jackie Sibblies Drury and directed by Stevie Walker-Webb, this hard-hitting and inventively imagined and staged drama about family and race features a strong cast including Shannon Dorsey, Cody Nickell and Kimberly Gilbert. "Fairview" is the winner of the 2019 Pulitzer Prize for Drama. Full details at woollymammoth.net.
Studio Theatre (1501 14th St., N.W.) enters fall with playwright John Patrick Shanley's "Doubt: A Parable," through Oct. 6. The Pulitzer Prize-winning play concerns the suspicions of Bronx Catholic school principal Sister Aloysius (out actor Sarah Marshall) surrounding a young priest's keen interest in a little boy, the school's first and only black student. Matt Torney directs. Full details at studiotheatre.org.
GALA Hispanic Theatre (3333 14th St., N.W.) is presenting a commissioned adaptation of Pedro Calderón de la Barca's classic "La vida es sueño (Life Is a Dream)," through Oct. 13. Adapted by out playwright Nando López, the new take on a timeless work of Spanish Golden Age theater, explores free will, fate and tyranny. The cast of familiar faces features out Spanish actor Mel Rocher. Hugo Medrano directs. Full details at galatheatre.org.
Folger Theatre (201 E. Capitol St., S.E.) has kicked off its season with Shakespeare's "1 Henry IV" (through Oct. 13). The compelling history play directed by Rosa Joshi, stars Edward Gero as Falstaff and Avery Whitted as Prince Hal.
Then next on Folger's docket, it's out Londoner Richard Clifford directing Nick LaMedica as Mozart and Ian Merrill Peakes as Salieri in gay playwright Peter Shaffer's sensational Tony Award-winning play "Amadeus" (Nov. 5-Dec. 22). Accomplished D.C. scenic designer Tony Cisek is creating the sets for both Folger productions. Full details at folger.edu/folger-theatre.
The Kennedy Center presents "Cats" (Sept. 17-Oct. 6). Based on poems by T.S. Eliot, Andrew Lloyd Webber's Tony Award-winning mega hit musical tells the story of one magical night when an extraordinary tribe of cats gathers for its annual ball to rejoice and decide which cat will be reborn. If you haven't yet witnessed a bewhiskered thespian sing "Memory," resist no more. Now's the time to see it. Full details at kennedy-center.org.
At Round House Theatre (4545 East-West Highway, Bethesda) Nicole A. Watson is directing Jocelyn Bioh's hit off-Broadway comedy "School Girls; Or, The African Mean Girls Play" (Sept. 18-Oct. 13). When the new girl arrives in Ghana from America loaded with Western ideas and superior beauty products, she threatens to steal of the crown from her new boarding school's reigning queen bee. Hilarious battle ensues. The eight person of color cast includes out actor Jade Jones and Temidayo Akibu who recently came out as nonbinary. More details at roundhousetheatre.org.
Taffety Punk (Capitol Hill Arts Workshop, 545 7th St., S.E.) presents "Riot Grrrls: Othello" (Sept. 19-Oct. 12). Directed by Kelsey Mesa, the all-women cast stars terrific actors Danielle A. Drakes, in the title role, and Lise Bruneau as evil Iago. Details at taffetypunk.com.
For fall, Synetic Theater (1800 South Bell Street, Chrystal City) is reprising its 2013 movement-based interpretation of Shakespeare's "The Tempest" (Sept. 25-Oct. 20). Along with the water-filled stage that made this take on the Bard's irreverent comedy so memorable, Synetic is keeping it fresh by casting gifted company co-founder Irina Tsikurishvili as "Prospera." The cast also includes talented out actor Alex Mills as Ariel. Full details at synetictheater.org.
Spooky Action Theater is set to present Tennessee William's "The Lady from the Village of Falling Flowers" for one performance only (Sept. 21) before it moves on for a short run in Provincetown, Mass. (Sept. 26-29). The newly discovered and never-before-produced one act directed by Natsu Onoda Power mixes Japanese kami-shibai style street theater with storytelling performers in "a punchy send-up of love, the perils of first impressions and our earthly attempts to touch something eternal." Details at spookyaction.org.
Shakespeare Theatre Company (Lansburgh Theatre, 450 7th St., N.W.) kicks off new artistic director Simon Godwin's inaugural season with "Everybody" (Oct. 15-Nov. 17). Penned by hot out playwright Branden Jacobs-Jenkins, it's a takeoff of the 15th-century play "Everyman." It's described as "an irreverent, rollicking ride that asks deep questions of all who see it. Remixing the archetypal medieval morality play into an explosive experiment of wit and emotion." The diverse nine-person cast includes local favorite Nancy Robinette as Death, and nonbinary actor Avi Roque as Somebody. Trans identifying Will Davis directs. Full details at shakespearetheatre.org.
At Theater Alliance (Anacostia Playhouse, 2020 Shannon Pl. S.E.), co-directors Raymond O. Caldwell and Angelisa Gillyard are staging an imaginative retelling of Douglas Turner Ward's 1965 play, "Day of Absence" (Oct. 5-Nov. 3). Expect a "comedic and pointed commentary on systemic racism that still bears relevance today." Full details at theateralliance.com.
For fall, Constellation Theatre Company (1835 14th St., N.W.) is doing "Little Shop of Horrors" (Oct. 17-Nov. 17). Set in an obscure Skid Row flower shop, Howard Ashman and Alan Menkin's zany musical plumbs the mad depths of success, love and bloodthirsty posies with doo-wop and Motownesque sounds. Nick Martin directs. Full details at constellationtheatre.org.
In time for Halloween, Rorschach Theatre presents Qui Nguyen's "She Kills Monsters" (Oct. 18-Nov. 10). The 2014 inspiring comedy rife with homicidal fairies, nasty ogres and '90s pop culture, has been re-imagined for 2019, this production will include site-specific elements that bring audiences into unseen places throughout the Atlas Performing Arts Center (Center, 1333 H St., N.E.). Details at rorschachtheatre.com.
The always timely Mosaic Theater Company (Atlas Performing Arts Center, 1333 H St., N.E.) presents "Theory," playwright Norman Yeung's techno thriller set against a campus free speech debate (Oct. 23-Nov. 17). Victoria Murray Baatin directs.
Following "Theory" is California-based playwright Jonathan Spector's "Eureka Day" (Dec. 4-Jan. 5). A mumps breakout at a prestigious day school in liberal Berkeley, Calif., pushes thoughts on facts, consensus and social justice into the spotlight. Mosaic's talented out managing director and producer Serge Seiden directs a cast of topnotch actors including Regina Aquino, Lise Bruneau, Erica Chamblee, Sam Lunay, and Elan Zafir. Full details at mosaictheater.org.
D.C.'s company dedicated to the LGBT experience, Rainbow Theatre Project (D.C. Arts Center, 2438 18th St., N.W.), kicks off the season with the world premiere of "Blue Camp" (Oct. 31-Nov. 24). Penned by out writers Tim Caggiano and Jack Calvin Hanna and directed by Christopher Janson, it's described as a Vietnam War story of discrimination in the military, as relevant now as it was then. Details at rainbowtheatreproject.org.
At Theater J (1529 16th St., N.W.), it's legendary gay playwright Edward Albee's "Occupant" (Nov. 7-Dec. 8). In this late career work, Albee ("Who's Afraid of Virginia Woolf?") probes the life and times of famed sculptor Louise Nevelson. Local actor Susan Rome plays Nevelson and Aaron Posner directs. Details at theaterj.org.
A few other odds and ends: "19: the Musical," which tells of women who fought for women's voting rights, runs Nov. 25-27 at the National Museum of Women in the Arts (1250 New York Ave., N.W.). Details at nmwa.org. "My Barking Dog" is Oct. 4-13 at Caos on F Street (923 F St., N.W.). Details at universeplayers2.tix.com. "Paris! the Show" is Tuesday, Oct. 22 at GW Lisner. Tickets are gwutickets.com. And Young Artists of America presents "Once Upon a Mattress" on Sunday, Oct. 27 at 4 p.m. at the Clarice Smith Performing Arts Center in College Park, Md., and Saturday, Nov. 2 at 6 p.m. at the Kennedy Center. Details at youngartistsamerica.org.