September 26, 2019 at 11:45 am EDT | by Patrick Folliard
Pulitzer-winning drama 'Doubt' winningly adapted in Studio production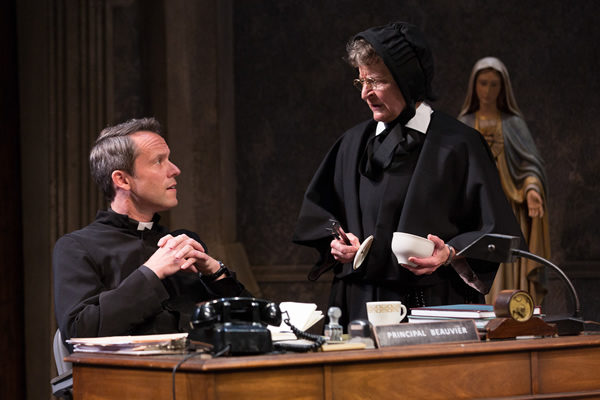 'Doubt: A Parable'

Through Oct. 6

Studio Theatre 

1501 14th St., N.W.

$20-111
Inspired by the shortcomings of certainty, John Michael Shanley wrote "Doubt: A Parable" around the time of the Iraq War. Timely then, and timely now when immutable convictions continue to substitute for something better.
Now at Studio Theatre in a deeply satisfying production directed by Matt Torney, Shanley's Pulitzer Prize-winning, tightly constructed drama makes you think. In short, it's the story of an old school nun who accuses a younger priest of molesting a 12-year-old boy. Without actual proof, she remains adamant in her claim because she "knows people."
Set at St. Nicholas, a Catholic working-class church and school in the Bronx, New York, "Doubt" takes place over the autumn of 1964. Reeling from the modernizing Second Vatican Council, the old guard is grappling with change while a younger clergy strives to move forward. The piece was winningly adapted to the screen in 2008 with Meryl Streep and Philip Seymour Hoffman.
The primary school's principal Sister Aloysius Beauvier (out actor Sarah Marshall) is of the former camp.
To say she's resistant to change is a wild understatement. A doctrinaire termagant, she's an advocate of fear-instilled discipline. Her pet peeves are ball point pens, sugar in tea and men with manicured nails. She warns against introducing secular music into the annual Christmas pageant, particularly "Frosty the Snowman" which she perceives as a celebration of the occult — the enchanted top hat, etc.
Next to the principal, young Sister James (winsomely played by Amelia Pedlow) is a breath of fresh air. Her love for teaching history and concern for her students is admirable. While Sister Aloysius would prefer a nun with more experienced (read: less kind) teaching a troublesome, hormonally charged eighth grade class, she's "working within constraints" (a diminishing population of sisters).
Sister Aloysius' true opponent is formidable Father Brendan Flynn (the excellent Christian Conn), a vigorous, charismatic priest who relates easily to the children, especially the boys. He's a proponent of progressive education and a more welcoming, forgiving church. If that weren't enough, Sister Aloysius is uneasy about his moral character.
She enlists Sister James to keep an eye on things. Several weeks later, the young sister reluctantly files a report. Father Flynn has taken a special interest with unseen student Donald Muller, the school's only African-American pupil. The pair have met alone together in the rectory and sacramental wine was involved.
This tip off prompts Aloysius to wage all-out war. The battlefield is the parish, a gothic revival pile constructed from gray stone (designed by Daniel Conway). The convent is separated by a barren courtyard, a sort of no man's land where nuns and priests occasionally meet in passing
Sister Aloysius must be cagey — as she says, her "job is to outshine the fox in cleverness." But the church's rigid patriarchy puts her at a disadvantage. The priests protect one another. She knows this. And when the nun draws the boy's mother, Mrs. Muller (Tiffany M. Thompson), into the battle, she is astonished by the dignified parent's strangely practical response to the allegations of sexual abuse.
As Shanley's work compellingly unfolds in suspenseful, humor-imbued scenes, a clear outcome becomes increasingly elusive. Sister James wants to believe the seemingly kind priest with whom she shares values and aspirations. But Sister Aloysius remains undeterred. She doesn't have actual proof, but she's determined to "take him down."
Dressed in the order's unique black habit of bonnet and short cape, Sarah Marshall gives a nuanced performance, coupling an air of physical frailty and discomfort with ramrod conviction. Despite everything, she is the children's fiercest guardian. As Father Flynn, Conn moves freely from delivering relatable sermons on doubt and gossip to instructing how best to shoot free throws from the foul line. He's alternately likeable and suspect.
While Shanley's play denies audiences a firm conclusion, it brilliantly leaves us uncertain and questioning what we've seen.