October 3, 2019 at 4:25 pm EDT | by Patrick Folliard
Round House's 'School Girls' is breezy comedy set in Ghanian boarding school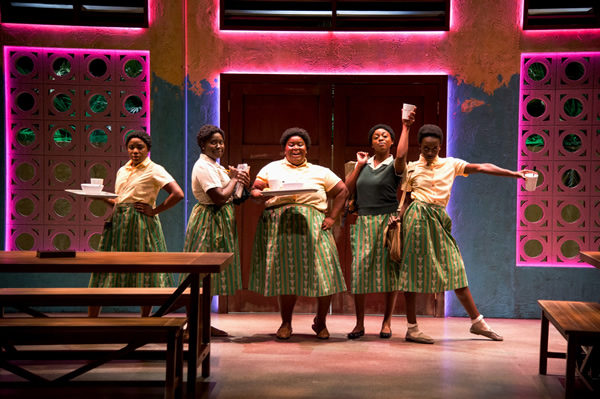 'School Girls; Or, The African Mean Girls'
Through Oct. 20
Round House Theatre
4545 East-West Highway
Bethesda, Md.
$46-78
240-644-1100
Round House Theatre's production of Jocelyn Bioh's "School Girls; Or, The African Mean Girls" starts off so-so. But what first feels a facile teen comedy soon erupts into something entirely different.
Set in a girl's boarding school in Ghana in 1986, the action unfolds in that most storied of high school proving grounds — the lunch room. Rendered by the consistently excellent Paige Hathaway, it's a simple, high-ceilinged structure painted with splashes of bright blue and pink and filled with serviceable wooden tables. Here's where, uniformed in yellow blouses and happy, green-patterned skirts by Ivania Stack, the Aburi school's top clique congregates.
Paulina, played as poised, pretty and vicious by Kashayna Johnson, is the school's very own Regina George, a true mean girl. With the wave of a hand or snap of her fingers, she demands obedience from her cowed classmates. As resident diva, she runs the show; and when angered she's not above dropping the harshest of "f-bombs" or hurling the most decimating insults.
Deftly directed by Round House's associate artistic director Nicole A. Watson, the 85-minute comedy boasts an engaging eight-person cast (all people of color), including both familiar and new faces.
Besides Paulina, the Aburi squad includes Ama (the versatile Awa Sal Secka), a sensible girl not entirely intimidated by Paulina; Nana (out actor Jade Jones), who is singled out as the target for Paulina's incessant body-shaming jokes; and groveling cousins Mercy (Debora Crabbe) and Gifty, played hilariously by rangy, nonbinary actor Moriamo Temidayo Akibu.
When we meet the girls, they're in the lunch room buzzing about the upcoming visit from a recruiter for the Miss Ghana beauty pageant. Paulina believes she's a shoo-in to be selected to compete. The friends dare not disagree. And while Headmistress Francis (Theresa Cunningham) is more concerned with developing her students' brains and character, she can't help but be interested when she learns that if one of her girls wins the pageant, a sizeable donation will be made to the cash-strapped school.
But things go awry when Ericka (Claire Saunders), a friendly new student from Ohio arrives on the scene loaded down with superior beauty products, chocolate bars from her father's factory and a new boom box and New Edition cassettes (standout Bobby Brown is the fan favorite). She immediately threatens Paulina's top dog status.
What's more, Ericka is biracial (black and white). Not surprisingly, in a culture entrenched in colorism like Ghana, the topics of hair straightening, skin bleaching and complexion come quickly to the fore. Ericka's new friends are impressed that her looks (read hair and skin) come without effort.
Soon after, snooty pageant recruiter Eloise Amponsah (Shirine Babb) arrives dressed in a "Dynasty"-esque power suit and heels. Vying for her attention, the girls don their most colorful 1980s finery and present a show choir performance of Whitney Houston's "The Greatest Love Of All." Houston's song, a mid-'80s beauty pageant talent staple, was served up in many harrowing interpretations over the years, and that's no different here.
Still, with her pleasing presence, tousled curls and light skin, Ericka catches Eloise's eye. The recruiter and former beauty queen (Miss Ghana 1966) is determined to bring a viable contestant back to contest and Ericka is it. But when Paulina learns that she's now effectively out, the fallen queen bee threatens to ruin all pageant possibilities for everyone involved.
"School Girls" is a crowd-pleasing show, boosted by strong performances and uplifting design. The playwright's humor, along with adroit direction makes an entertaining yet compelling examination of a sticky subject.