Round House's 'School Girls' is breezy comedy set in Ghanian boarding school
Strong cast features newcomers, vets in consistently excellent piece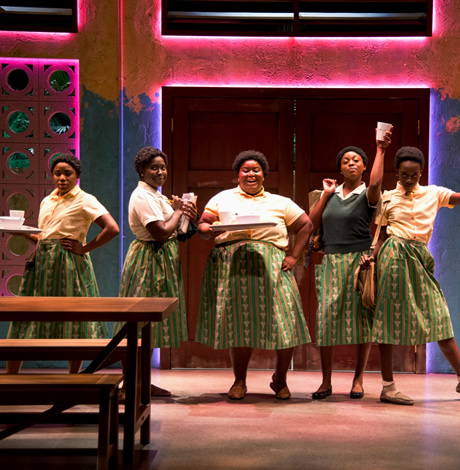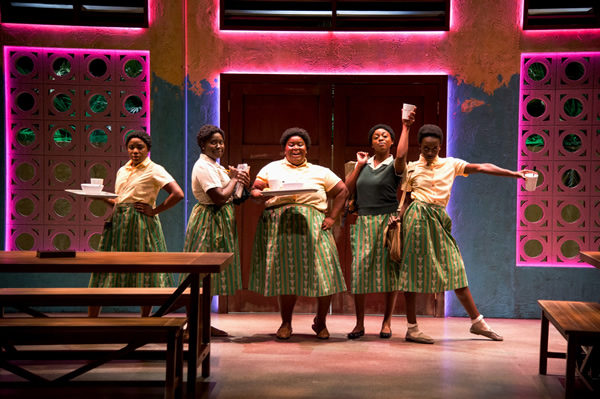 'School Girls; Or, The African Mean Girls'
Through Oct. 20
Round House Theatre
4545 East-West Highway
Bethesda, Md.
$46-78
240-644-1100
Round House Theatre's production of Jocelyn Bioh's "School Girls; Or, The African Mean Girls" starts off so-so. But what first feels a facile teen comedy soon erupts into something entirely different.
Set in a girl's boarding school in Ghana in 1986, the action unfolds in that most storied of high school proving grounds — the lunch room. Rendered by the consistently excellent Paige Hathaway, it's a simple, high-ceilinged structure painted with splashes of bright blue and pink and filled with serviceable wooden tables. Here's where, uniformed in yellow blouses and happy, green-patterned skirts by Ivania Stack, the Aburi school's top clique congregates.
Paulina, played as poised, pretty and vicious by Kashayna Johnson, is the school's very own Regina George, a true mean girl. With the wave of a hand or snap of her fingers, she demands obedience from her cowed classmates. As resident diva, she runs the show; and when angered she's not above dropping the harshest of "f-bombs" or hurling the most decimating insults.
Deftly directed by Round House's associate artistic director Nicole A. Watson, the 85-minute comedy boasts an engaging eight-person cast (all people of color), including both familiar and new faces.
Besides Paulina, the Aburi squad includes Ama (the versatile Awa Sal Secka), a sensible girl not entirely intimidated by Paulina; Nana (out actor Jade Jones), who is singled out as the target for Paulina's incessant body-shaming jokes; and groveling cousins Mercy (Debora Crabbe) and Gifty, played hilariously by rangy, nonbinary actor Moriamo Temidayo Akibu.
When we meet the girls, they're in the lunch room buzzing about the upcoming visit from a recruiter for the Miss Ghana beauty pageant. Paulina believes she's a shoo-in to be selected to compete. The friends dare not disagree. And while Headmistress Francis (Theresa Cunningham) is more concerned with developing her students' brains and character, she can't help but be interested when she learns that if one of her girls wins the pageant, a sizeable donation will be made to the cash-strapped school.
But things go awry when Ericka (Claire Saunders), a friendly new student from Ohio arrives on the scene loaded down with superior beauty products, chocolate bars from her father's factory and a new boom box and New Edition cassettes (standout Bobby Brown is the fan favorite). She immediately threatens Paulina's top dog status.
What's more, Ericka is biracial (black and white). Not surprisingly, in a culture entrenched in colorism like Ghana, the topics of hair straightening, skin bleaching and complexion come quickly to the fore. Ericka's new friends are impressed that her looks (read hair and skin) come without effort.
Soon after, snooty pageant recruiter Eloise Amponsah (Shirine Babb) arrives dressed in a "Dynasty"-esque power suit and heels. Vying for her attention, the girls don their most colorful 1980s finery and present a show choir performance of Whitney Houston's "The Greatest Love Of All." Houston's song, a mid-'80s beauty pageant talent staple, was served up in many harrowing interpretations over the years, and that's no different here.
Still, with her pleasing presence, tousled curls and light skin, Ericka catches Eloise's eye. The recruiter and former beauty queen (Miss Ghana 1966) is determined to bring a viable contestant back to contest and Ericka is it. But when Paulina learns that she's now effectively out, the fallen queen bee threatens to ruin all pageant possibilities for everyone involved.
"School Girls" is a crowd-pleasing show, boosted by strong performances and uplifting design. The playwright's humor, along with adroit direction makes an entertaining yet compelling examination of a sticky subject.
In 'Trans Am,' a trans person telling a trans story
Lisa Stephen Friday shines in Keegan one-woman show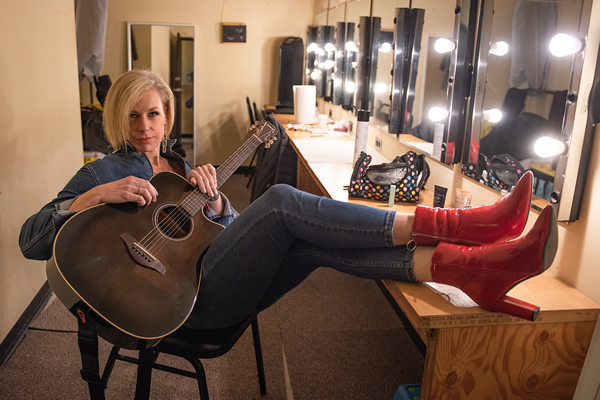 TRANS AM
Jan. 29-Feb. 26
Keegan Theatre
1742 Church St. N.W.
$55-$65
Keegantheatre.com
In the fall of 2020, Lisa Stephen Friday's one-woman show "Trans Am" premiered virtually at Keegan Theatre. "Honestly, streaming a dozen shows isn't something I want to do again. I was thrilled to do it but performing a live musical with no audience was daunting. Like performing to a black hole. Exhausting."
But now the trans woman performer is back at Keegan with a live world premiere of the same piece. "Trans Am" is 90 minutes of uninterrupted autobiographical stories and the music of Friday's cult-favorite NYC glam rock band Lisa Jackson & Girl Friday.
Her transition hasn't been easy and that's reflected in the work, but so is a happy default setting – Friday likes to laugh and make people laugh. The meat of the story is the intensity of time spent in the band, but also her youth in Georgia, other aspects of New York, and her move to D.C. "For me as a trans woman that story involves a very laborious journey to self-actualization. We live in a world that doesn't allow space for trans people. So, it's a lot," she says.
Work as a project manager for Barbizon, a leading provider of entertainment lighting systems, brought Friday to the DMV, specifically Dupont (Trump's election prompted a move from Alexandria to the gayborhood). She's currently dating a chef: "He's great at what he does and he's thrilled to see the show," she says.
BLADE: Was it tough writing a deeply personal show like Trans Am?
LISA STEPHEN FRIDAY: I wrote my story over five weekends. It was incredibly cathartic. There are fun memories with downtown queens, but also the time I went to the pharmacy and the pharmacist totally read me about getting hormones. That was jarring. It was definitely time for me to acknowledge the enormity of what it means to be trans in this country.
BLADE: Would you describe your professional experience as unique?
FRIDAY: Before transitioning, I went through the world as your typical 25-year-old cishetero male. Oblivious. I was a theater actor in New York, chasing roles like Chris in "Miss Saigon" or Marius in "Les Miz." These were my life goals. I look back and think how trite.
Coming out and transitioning meant I was no longer cast. The last time I went on an audition for musical theater was in 2003 for "Taboo" to play Boy George's friend Marilyn. The part went to a soap star. Instead, I found the downtown queer rock and roll scene. That's where I needed to be.
It took me a while to find clarity about who I was. A lot of what I talk about in the show is about finding that East Village crowd who said "honey, you're a woman." Surrounding yourself with community is the way to reach that.
BLADE: What's your history with "Hedwig and the Angry Inch."
FRIDAY: In the late '90s I asked to audition to replace Hedwig. In New York, they knew me as Steve Friday, a good rock and roll singer. I remember thinking I can't do this shit. No one knows that I sit around my house wearing women's clothes.
I cancelled those auditions because I was living in fear. For a while, I really regretted that. Then 20 some years later, I had an opportunity to do it at Keegan. But the pandemic stopped that.
The truth is I no longer feel that I need or want to play Hedwig. There is trauma in that story attached to medical transition. I'm a trans woman who has gone through all confirmation surgeries. I feel really uncomfortable standing on stage singing about an angry inch.
I know Hedwig's creators wrote that show from a loving place but it was written in 1998 and it's very dated. That said, it opened the door to a queer space in theater that didn't exist before.
Now with "Trans Am," Keegan can do something different. A trans person telling a trans story, which is a step forward from "Hedwig."
BLADE: With productions shutting down due to the Omicron surge, do you feel any trepidation about getting through the run?
FRIDAY: That fear is always there. For me it would be really disappointing. My life has been in the theater – performing or production. I'm hyper aware of everything the Keegan and all theaters are risking financially. So, I'm excited and grateful, but kind of walking on eggshells.
'Flight,' an astonishing tale told using diorama and figures
Afghan brothers embark on arduous journey to U.K.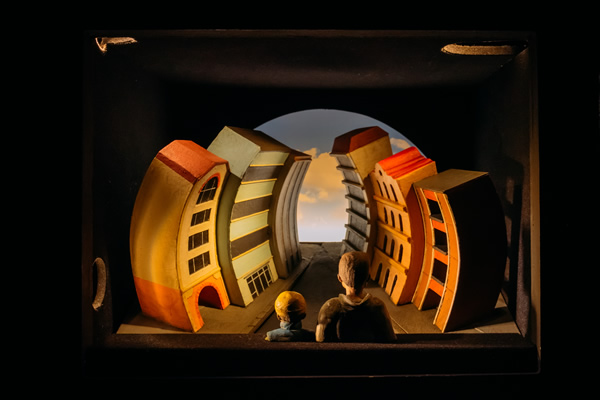 'Flight'
Through March 6
Studio Theatre's Stage 4
1501 14th St., N.W.
$42-$52
studiotheatre.org
I wish I could fly. It's a little boy's dream, and certainly one that would be helpful to young Kabir who along with his older brother Aryan is traversing thousands of miles escaping their battered homeland Afghanistan in search of a future in the U.K.
Their arduous journey is titled "Flight," an astonishingly moving tale told using diorama, tiny modeled figures, and voiceover. With neither live actors nor a traditional set, the Vox Matus (an innovative Glasgow-based theater company) production isn't Studio Theatre's typical offering, yet it serves as a compelling reopening lure after a long closure.
Despite seeming an ideal fit for the times, "Flight" wasn't crafted with pandemic in mind (it premiered at the Edinburgh International Festival in 2017). The hybrid theater/installation is a reassuringly distanced theater experience.
After ascending to Studio's third floor atrium, you're handed a boarding pass and in small groups beckoned up to Stage 4 where you're led to individual viewing booths. Then, seated comfortably and wearing head phones, you focus on over 200 small, brilliantly made dioramas, successively lit as they slowly pass by on a revolving carousel.
"Kabul, Tehran, Istanbul, Rome, Paris, London." The green-eyed orphaned brothers repeat their direct route to a better life with unyielding determination. And the more it's said, the more possible it seems. But minors traveling alone without passports is a perilous journey fraught with risk and miseries.
We meet Aryan and Kabir (voiced by Farshid Rokey and Nalini Chetty, receptively) just as they reach the Turkish coast and set sail to the E.U. in a rubber raft. Here, we're also introduced to the first of many faceless profiteers – ruthless but necessary to the journey – who gain from human desperation.
Soon the boys land in Greece and are forced into farm labor at meager wages. When the harvest ends, the brothers hop a truck to Athens. As they move onward, their longing to attend school in the West, London to be specific, grows more intense.
Throughout what becomes a two-year odyssey, they wear out multiple pairs of trainers, encounter harsh weather, exploitation, sexual violence, hunger, and the occasional random act of kindness. As kids, they take time for a game of soccer and a plunge in the sea at Nice. But inevitably, such moments are cut short by officials depicted as menacing, uniformed seagulls.
"Flight's" heavy themes and remarkable images blend well. The tiny tableaus chronicling the boys' flight fittingly range from extraordinarily realistic to fantastical, alternately portraying the vastness and claustrophobic aspects of their ordeal. The intricately made models' expressive faces, sometimes tear-streaked or bordering on joy, draw us to the likeable, intelligent brothers.
While Vox Motus' co-artistic directors Jamie Harrison and Candice Edmunds conceive, direct and design the company's innovative productions, collaboration with other artists is key to their success.
"Flight" is ably adapted by Oliver Emanuel from Caroline Brothers' 2012 novel "Hinterland." Enhancing the work's intimate storytelling are Simon Wilkinson's lighting design and composer and sound design by Mark Melville.
Each year more than 300,000 displaced children journey on their own. Behind that hideous number are individual stories; "Flight" effectively relays the personal story of two young Afghans, making them something other than a statistic.
After 45 minutes, the story ends. Slowly, you recede from the brothers' reality in which you've been deeply immersed. A silent, black clad usher gently taps you on the shoulder and leads you out of Stage 4. For past productions, the vast versatile space has credibly passed as a nightclub and a church basement, among other things. This time it's a window into an alternate world where a duly stamped official document means everything, sometimes including the difference between life and death.
'Nine Night' explores Jamaican custom of mourning
'Equally moving and hilarious in many parts'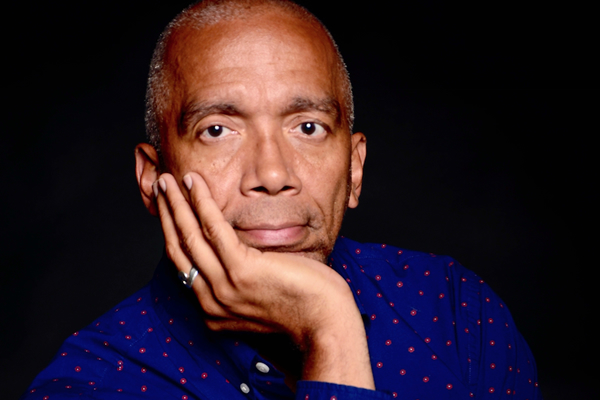 'Nine Night'
Through Jan. 30
(Begins streaming on demand Jan. 20)
Round House Theatre
4545 East-West Highway, Bethesda, Md.
$41-$56, and $32.50 (virtual)
roundhousetheatre.org
When Round House Theatre began making plans for the U.S. premiere of Natasha Gordon's "Nine Night," they asked out director Timothy Douglas to interview with the playwright about helming the production. "It's like we were separated at birth," says Douglas. "It felt right from the first moment we met on Zoom, and I when I learned Natasha wanted to work with me, I made it work."
A big success in London, "Nine Night" is a dramedy centered on the death of a family matriarch followed by the prescribed Jamaican tradition of exuberant mourning.
The end-of-life custom entails nine consecutive nights of serious partying to celebrate the life of the departed, but there's also a spiritual component. On the ninth night, it's believed that the spirit returns to its earthly dwelling. By celebrating and rearranging furniture, the revelers discombobulate the deceased so they don't want to stay, ensuring the spirit crosses over.
"In traditional Jamaican culture, nine night is a serious thing," explains Douglas. "And while I didn't set out to direct a dramedy. I found it equally moving and hilarious in many parts."
Gordon, the London-born playwright of Jamaican descent, possessed only a casual knowledge of nine night growing up. But when her grandmother died, her mother became overwhelmed with a devotion to cultural specificity, and the ritual was thrust on the family.
"From the playwright's perspective what happened was chaos," adds Douglas. "And going through that inspired her to write the play."
The work's central character draws from the Gordons' life experience straddling two different cultures. And while it was the play itself that really grabbed Douglas, he relates to that aspect too.
"It connected a lot of dots for me," says Douglas, 60. "Elders in my family are from the Caribbean and share similar ways of celebrating life and in particular the deceased. There was an immediate familiarity on a feeling level for me. And with every bit of specific research, it's unlocked things within in me rather than being introduced to me cold."
Douglas caught the theater bug in grade school, and it grew from there. When he attended Marymount Manhattan College it was transitioning from all women to coeducational, and though he was studying technical theater and not acting, he landed all the male leads in the college's plays.
It was a part during his last year at Marymount ("Beckett's 'Endgame' of all things," adds Douglas with a chuckle) that seemingly solidified his desire to be an actor. He went on to train at Yale followed by five or six years of acting professionally.
But then something changed. The director ardently explains, "I'm grateful to acting. It gave me focus, a way to communicate and navigate complicated life experiences. It saved my life." But after therapy and spiritual growth coupled with an epiphany experienced while acting in a play in West Hollywood, he knew it wasn't for him. He needed to direct.
While "Nine Night" has no LGBTQ characters as identified in the play, Douglas' upcoming project is a different story.
In spring, Douglas makes his first foray into staging opera with Terrance Blanchard's "Champion" at Boston Lyric Opera. It's based on the life of queer boxer Emile Griffith, the talented welterweight who regained the world championship in 1962 when gay sex was still classified as a crime in developed countries.
And to Douglas' astonishment, internationally famous mezzo soprano Stephanie Blythe is cast to play a supporting role in "Champion." He's both excited and terrified: "I'm incredibly lucky that she's a part of the production. But any hope of flying under the radar with my first opera is over."
At 18, Douglas made a beeline from Long Island to Manhattan. For many years he called New York home. Now he's in Boston where he is the distinguished artist in residence at Emerson College. But over the years, he's maintained a special relationship with the DMV. In addition to being sort of a staple at Round House, he's directed to much acclaim at Arena Stage, Studio Theatre, and Theater Alliance to name a few.
In fact, his professional directorial career kickstarted at D.C.'s Folger with "Richard III" in 1995.
"I was a complete unknown to them. I had no track record yet. But the Folger was at a point where they could take risks. They needed to replace a director, and on the recommendation of a costume designer who'd heard of me, Michael Tolaydo who played the production's titular role, agreed to take me on. That really changed things for me."
"Being pretty much a gun for hire, every time D.C. asks me back, I always say yes."