October 13, 2019 at 4:26 pm EDT | by Patrick Folliard
Actor Avi Roque prepares for 10 roles in 'Everybody'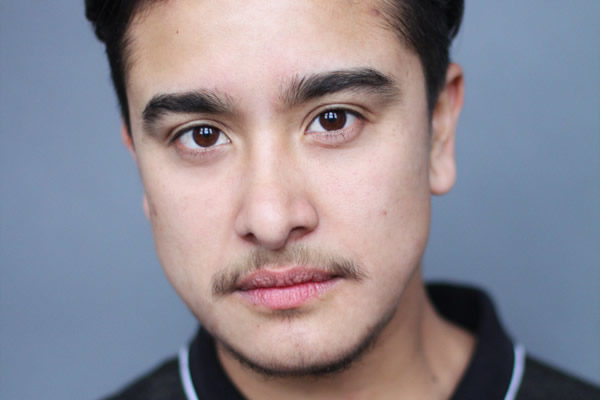 Avi Roque caught the acting bug in sixth grade. The Latinx trans/nonbinary actor was cast as Benedict in a Catholic primary school version of Shakespeare's "Much Ado About Nothing."
The San Francisco Bay-area native went on to study acting at California State University, Fullerton, and following graduation, relocated to Chicago where they began acting professionally and transitioned.
Now, Roque (pronounced Rō-kay) is poised to appear in the Shakespeare Theatre Company's season-opener "Everybody," out playwright Branden Jacobs-Jenkins, ("Octoroon," "Gloria") contemporary, fun, gender-inclusive take on the medieval morality play.
Staged by trans director Will Davis ("Colossal"), the plot is fairly simple: God assigns Death (Nancy Robinette) to let Everybody know their time is up. Everybody is encouraged to bring a friend along for the final journey. What's complicated is that at the top of each performance, some of the actors are assigned their parts from a lottery resulting in the possibility of 120 variations.
In a recent phone interview, Roque, 30, described their initial attraction to acting as "a search for some kind of escape; finding a way to feel free." But was this what they had in mind?
WASHINGTON BLADE: Is learning "Everybody" as difficult as it sounds?
AVI ROQUE: It's a gargantuan task and it's really challenging. I'm learning different tracks that consists of multiple roles, 10 parts in all, including (title character) Everybody. We're in week four of rehearsal and I'm feeling anxiety and overwhelmed. But hey, what a great exercise. (They laugh.)
BLADE: Does having a gay playwright and a trans director make it easier?
ROQUE: Having work written by or created by other people from the LGBTQ-plus community does make me feel a little more relaxed. But I'm also entering institutions where I'm not sure where they're at in the trans/nonbinary learning curve. Are they able to support or accommodate me? So sometimes that's the bigger picture.
BLADE: What does trans/nonbinary mean for you in terms of casting?
ROQUE: Looking back on my previous works, I can see that most of the things that I was auditioning for were very related to my trans/nonbinary identity. For instance, when I did "The Crucible" for Steppenwolf for Young Adults in Chicago, they cast me as Mercy Lewis/ Ezekiel Cheever. Of course, trans can mean many things; it doesn't look one way. Not long ago, I was considered for the role of a cisgender male. I was definitely down for this. They were seeing me as the person with the energy vibe and the essence that felt right for the character and less about other things. But to be honest, I don't feel as much of an abundance of that kind of casting as I'd like. My last show in January was "Tiny Beautiful Things" at the Old Globe in San Diego and it was about letter writing. There were multiple letters and I played multiple characters. One of the letters was written by a trans man. I was told I wasn't cast only because I was trans. I was told I was there because of my skill. But still, I wonder.
BLADE: Is it changing?
ROQUE: I do feel shifts and it's exciting. I think ultimately my goal is to get to a place where, yes, I am trans/nonbinary but we're not commenting on it or teaching about it.
BLADE: Do you find yourself being a teacher?
ROQUE: Sometimes.A friend said to me, 'Trails don't blaze themselves,' so I feel like a trailblazer and I really care what I can do to make it easier for the next person. I want them to feel less anxiety and pressure and be able to just exist and do their work.
BLADE: Any thoughts on those who don't like your pronouns, or are slow to understand nonbinary?
ROQUE: I value people who make an effort to rewire their brains. Because that's really what it's about. I've arrived a place — it's taken time — to just meet people where they're at. All I can do is say my piece and affirm who I am. Whether anyone else wants to get on board or not, I have no control over that. Sometime it's hard because all I'm really asking for is respect. I'm a human being who uses they/them pronouns. Change is scary and that's when resistance comes into play. And not everyone has the capacity to change depending upon where they are in their own lives. With our actor who's playing Death, Nancy Robinette, I feel her desire to absorb and learn about trans/nonbinary. I'm grateful for this.
BLADE: What's on the horizon for you?
ROQUE: I'm planning a big move to L.A. at the beginning of the new year. Chicago really helped me to grow. I transitioned in Chicago. I grew as an artist in Chicago. But now it's time for a change.
BLADE: And your personal life? Are you taken?
ROQUE: (They laughs.) Yes, I'm in a very new relationship. It's quite a love story. It's long distance, but we're together. So yes, I'm taken.