October 18, 2019 at 4:21 pm EDT | by Patrick Folliard
BLADE 50: D.C. theater's 'great queer way'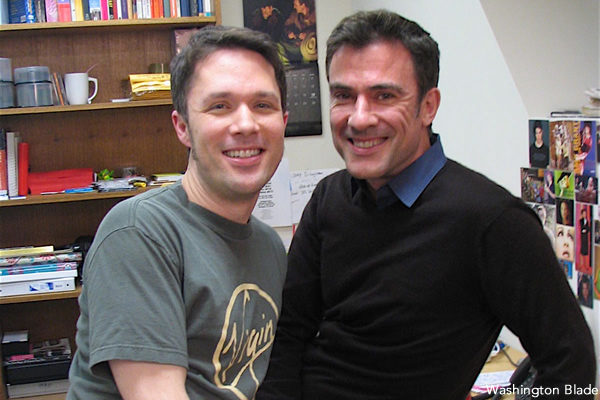 Theater is a wondrous beat – challenging, layered and entertaining.
The beauty of the beat extends beyond what's playing. It's a glimpse into the human experience and a reflection of our times. And seeing the LGBTQ faction of Washington-area theater become increasingly visible on and off stage, makes it even more gratifying.
As reviewer and interviewer, I've seen work ranging from not good to heartrendingly beautiful, regardless of being seated comfortably in a state-of-the-art auditorium or on wobbly chairs in unheated back rooms. I've spoken with big stars in upmarket restaurants and well-appointed green rooms, but more often it's been with hardworking, less-celebrated theater professionals via phone during a rehearsal break or a stolen moment at a day job.
What those profiled typically have in common is a willingness to share their passion and push their latest project. But not all — a famous New York director replying monosyllabically to thoughtful questions comes to mind.
Anyone familiar with the D.C.-area theater scene has been inspired by its smaller operations. Challenged with soaring rents and other costs, past and present companies like Rorschach, Factory 449: Ganymede Arts (originally known as Actor's Theatre of Washington) MetroStage, WSC Avant Bard (formerly Washington Shakespeare Company), American Century Theater, Rainbow Theatre Project, Taffety Punk, Spooky Action Theater, Theater Alliance, etc., have all produced good work.
The big theaters inspire too. During those heady, venue-expanding boom days of the 2000s, out artistic directors raised many millions and led the way. Michael Kahn added size and possibilities to the Shakespeare Theatre Company with the glorious Harman Center for the Arts. On the waterfront, Molly Smith worked magic in creating Arena Stage at the Mead Center for American Theater. Signature Theatre's Eric Schaeffer moved his company from a repurposed garage to a dramatic new two-theater situation at Arlington's Village at Shirlington.
Happily, the beat collides with divas.
Ten minutes into an interview in a quiet lounge at the Kennedy Center, Eartha Kitt dropped her imperious demeanor and said, "You've passed my test." Without further explanation, she spoke candidly about a hard but exciting life.
A lively Elizabeth Ashley in town to play the titular character in the Shakespeare Theatre Company's production of Shaw's "Mrs. Warren's Profession" asked if I moonlighted with the health department. Not waiting for a reply, she lit up and chain smoked for an hour while explaining the importance of hard work and loyalty in the theater.
A few hours before climbing on stage as Lady Bracknell at the Lansburgh, the great Siân Phillips slid into a cramped basement office wearing full stage makeup, a blood red kimono and matching turban. She prefaced her best anecdotes with, "this is off the record."
Interviews with some of the great out men of theater include a tête-à-tête in a Watergate kitchen with Broadway's perky composer Jerry Herman before he greeted his eager, Champagne-sipping public assembled in the other room; a long and lovely talk with playwright Terrence McNally, one of the nicest and more forthright men in the theater; and an exhilarating, masterclass-like conversation with actor Andre De Shields who pointed out August Wilson's exclusion of queer characters from District Hill, the black Pittsburgh neighborhood where many of his plays are set. De Shields said, "Trust me, we were there."
It's been exciting to witness the enduring careers of out folks who are willing to share (and re-share) their stories with the Blade, including (among numerous others) actors Sarah Marshall, Michael Russotto and Will Gartshore; director Serge Seiden (Mosaic Theater Company); and the exquisitely talented costume designer Robert Perdziola.
Equally compelling are the newer careers and stories of trans actors Dezi Bing and Dane Figueroa Edidi, out actors Justin Weaks and Jade Jones, and nonbinary actors Avi Roque and Moriamo Temidayo Akibu, and myriad others.
The Kennedy Center has proffered unforgettable fare for review with Cate Blanchett playing Blanche in "A Streetcar Named Desire," Kathleen Turner's genius turn as Martha in "Who's Afraid of Virginia Woolf?" and the "Loveland" sequence with Bernadette Peters backed by a bank of roses in a revival of Sondheim's "Follies," stunningly staged by Eric Schaeffer.
Looking back, productions continue to resonate for a million, sometimes inexplicable, reasons. Among the many, there's Molly Smith's alive and diverse "Oklahoma!" at Arena; Olney Theatre's unique and sexy football play "Colossal," staged by trans director Will Davis; out director Matthew Gardiner's terrific, exceptionally cohesive "West Side Story" at Signature; and Forum Theatre's beautiful rendering of out playwright Steve Yockey's "Blackberry Winter," a moving dramedy about Alzheimer's disease and caretaking performed brilliantly by out actor Holly Twyford.
It's been a thrill and an education.