October 24, 2019 at 8:04 pm EDT | by Patrick Folliard
Young actress relishes role in new Rorschach production 'She Kills Monsters'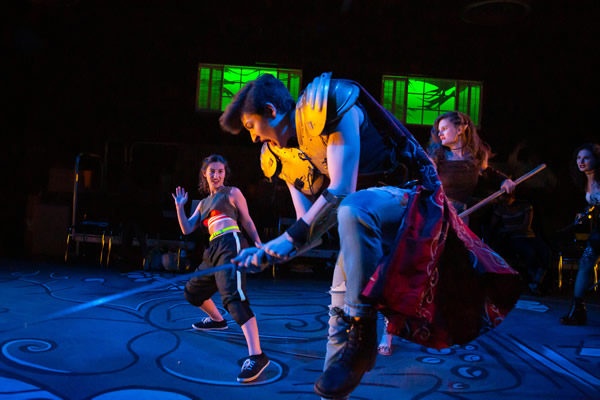 'She Kills Monsters'
Through Nov. 10
Rorschach Theatre
Atlas Performing Arts Center
1333 H St., N.E.
$10-40
The title sounds scary. But in fact, Qui Nguyen's play is a comedy about grief.
Granted, sometimes grief can be frightening — overwhelming, enveloping and seemingly endless. But Nguyen sets a funny, stage combat-filled 1990s story against the world of Dungeons & Dragons (D&D), the fantasy, role-playing table top game in which geeks become warriors.
Bored with her life in Athens, Ohio, Agnes Evans yearns for a change when suddenly her entire family, including 15-year-old younger sister Tilly, is wiped out in a car crash.
Fast-forward three years and Agnes, still grappling with grief, is teaching at Tilly's high school. While cleaning out the family home, she comes across Tilly's D&D module (essentially a notebook containing a game scenario) and with the help of a D& D player, delves into a part of her late sister's life that she never knew.
Now at Rorschach Theatre, "She Kills Monsters" is directed by Randy Baker and features Christina Day as Agnes and Alanna McNaughton as Tilly.
"I love Tilly," says McNaughton, a queer actor who has lived in D.C. since January. "This play and Tilly have been on my radar for a while."
In the game, says McNaughton, 23, Tilly is a strong knight who carries a broad sword. And because she's also the dungeon master, she has created a fantasy land of queer empowerment exclusively inhabited by gay characters, and a safe space to come out.
Inspired by high school archetypes, the production's costumes use elements associated with power, but reclaim them for the nerds and the queers, McNaughton says. Tilly wears spray-painted football shoulder pads stolen from a jock and is rocking a Breeders band T-shirt.
While exploring Tilly's world of D&D, straight Agnes sees a lot: After catching her younger sister making out with her demon queen girlfriend, she encounters a demon man who loves men and meets a flirty elf who insists Agnes just hasn't met the right girl yet.
Unlike Tilly, who acknowledged her burgeoning sexuality in small-town Ohio, McNaughton explored her identity in a less threatening environment. Part of a liberal family in California's Bay Area, McNaughton sort of came out in middle school. When her mom reacted "Honey, we all love our girlfriends," McNaughton was comforted but dissatisfied with the reply.
It was while studying theater and political science at Boston University that McNaughton began to actively explore queer history, queer spaces and talk about her identity. It's also where she played the lead "Hamlet" in a program called Femina Shakes.
"I was a broody young gal, so a character who is so caught in their own mind appealed to me," she says. "Working with an all-female design team and all non-cis male performers was an empowering way to play the part."
Another seminal college acting experience for McNaughton, was assaying Edward/Betty in brilliant British playwright Caryl Churchill's "Cloud Nine."
"As a queer performer, it was exciting to play both a young boy who is figuring out his identity and sexuality, and a closed-off, uptight older woman who's trying to figure out her life," she says.
When not acting, the high energy McNaughton works in a reproductive health space in D.C. She finds both endeavors to be complementary and maintains that her day job informs the type of work she does as a performer.
While "She Kills Monsters" mostly focuses on Agnes' growth, McNaughton says it's an opportunity to watch powerful queer characters living fulfilling, magical, adventuresome lives as humans and monsters without the burden of their whole story being about their identity. They just get to be.
"It's relatable to anyone who has ever dealt with grief, felt like an outcast or identified as a nerd. That's a lot of Venn diagram overlaps."